The dresses I *thought* I would love
Jul 31, 2010 07:57PM ● By Anonymous
No to mermaid or trumpet dresses. Those just wouldn't look good on me.
No to pickups. A lot of my friends have had lovely pickups on their skirt (Google "pickup wedding dress" if you don't know what I mean), but I'm just not a fan.
Yes to v-necks. I wanted to stray away from strapless because it's so common in bridal fashion these days, but I wasn't completely close-minded about it. Little did I know how much better I'd like how strapless looked on me.
No to dropped waists. That just wouldn't be flattering on my figure.
Yes to flowers and ribbons. These are my favorite types of embellishements.
No to excessive beading. I'm just not a blingy person. For example, right now, the only jewelry I'm wearing is my engagement ring. I meant to put on a silver necklace in the car, but forgot about it.

So I had a good list of what I wanted and didn't want when I went in to my first appointment. I'd suggest making that same list so you don't get flustered when a bridal consultant asks what you're looking for. I had also printed out some examples of dresses I (thought) I loved so I could try them on.

So what was I looking for? Keep in mind, you're looking at dresses of models because I just couldn't bear the thought of putting the pictures of myself in these dresses on the Internet. You will, however, see later photos of my dress sessions when the results were a little more favorable.
Gosh, these dress is beautiful. That flower is so pretty. However, that flower hit at the widest part of my waist. See, this is why you have to try stuff on - you just don't know until you do.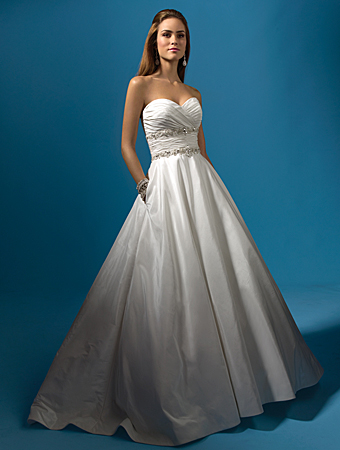 I loved this Alfred Angelo dress so much that I was nearly positive it would be "the one" ... until I put it on. Then I discovered that the way that middle section cut me made my torso look about three times shorter than it actually is.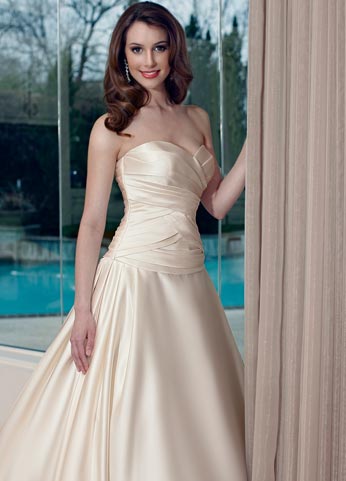 (Da Vinci Bridal)

I actually fell in love with the Sophia Tolli version of this dress, but the store I went to only had the similar Da Vinci Bridal version of it in stock. I loved the unique design of the fabric criss-crossing across the front. However, that criss-crossing made for a really bulky dress and it almost felt like I was wearing padding on the front of me. Is this a hockey game or a wedding?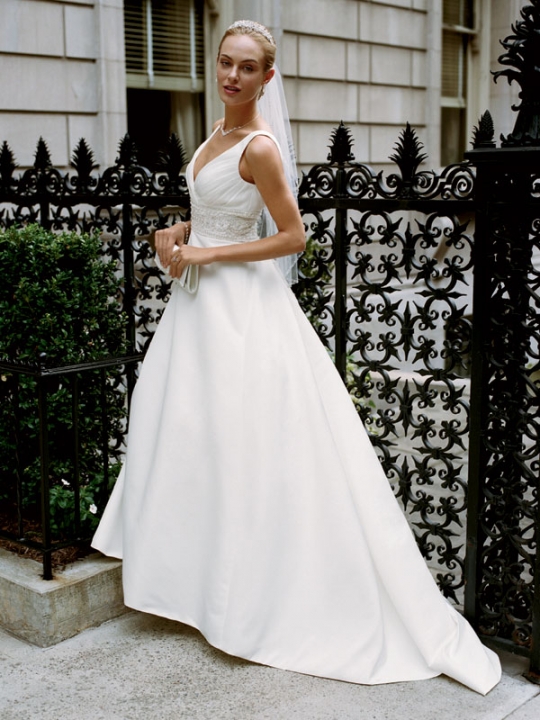 (David's Bridal)


For someone who wanted a V-neck dress, I actually didn't try too many on. I quickly found that strapless was much more flattering. This particular dress made me look very top-heavy and matronly, as lovely as it is.

What was your experience in trying on dresses? Did you find the research you did before heading shopping worked out for you?