The Floating World: Ukiyo-e Prints
Mar 03, 2011 08:43PM ● By Anonymous
The original works depicting beautiful women, actors, theater, landscapes, narrative scenes, and decorative themes created with cherry wood, hempseed oil, and boars tusks (among many other tools) will be on display from March 3 through April 16.
The artwork is provided by the Lauren Rogers Museum of Art (LRMA), which is located in Mississippi and has extensive collections of European and American art, Native American baskets, Japanese woodblock prints, and British Georgian silver, as well as a comprehensive art history library. The LRMA opened in 1923 as a memorial to Lauren Eastman Rogers, who passed away at 23-years-old and was the only son and grandson of one of the town's founding families in Laurel, Mississippi. During the 1920s, Wallace B. Rogers (the father of Lauren Rogers and an avid art collector) donated 142 Japanese ukiyo-e woodblock prints to the museum.
"The term ukiyo-e 'means images of the floating world' and represent a time period in Japan where the urban entertainment districts, then known as Edo, were popular," says LRMA Art Curator, Dr. Jill Chancey. "With the guidance of internationally known ukiyo-e print expert Frederick Gookin, Rogers was able to create a great collection that include the superb works of renowned artists Hiroshige, Housai, and Utagawa."
In addition to the gallery's display of ukiyo-e works, Mitchell Gallery Art Educator Lucinda Edinberg will lead several events that provide insight regarding the assembly process, history, and subject matter. "Depending on the age of my audience, I can present cultural contexts [for ukiyo-e woodblock prints] that everyone can appreciate and understand," says Edinberg. "We have showcased Japanese art at the Mitchell Gallery in 1991 and 2001, so this year it is special to bring attention to a collection that goes beyond the drawings and sketches that we've shown in the past." Edinberg, along with other special guests, will host the following ukiyo-e events at the Mitchell Gallery: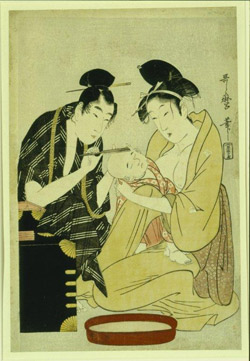 March 4: Member Preview Reception. Be the first to view the exhibition at this elegant wine and hors d'oeuvres reception, from 5–7 p.m.
March 13: Opening Reception and Family Program. Art Educator Edinberg will lead a tour of the "Ukiyo-e Prints" exhibit followed by a hands-on workshop from 3:30–5 p.m.
March 15: Lecture. Senior Associate Curator of Japanese Art at the Freer Gallery of Art and Arthur M. Sackler Gallery, Ann Yonemura, will lecture on the ukiyo-e prints exhibit at 7 p.m.
March 17: Book Club. Join members of the Mitchell Gallery Book Club for a tour of ukiyo-e prints, followed by a discussion of the novel Snow Country by Nobel-Prize winning author Yasunari Kawabata from 2:30–4:30 p.m. Registration is required.
March 20: Sunday Afternoon Tour. Art Educator Edinberg will lead a tour of the ukiyo-e prints exhibition at 3 p.m.
March 23: Seminar. Artist Ebby Malmgren and St. John's tutor Nina Haigney will lead an exhibit-related seminar at 7 p.m. Registration is required.
April 6: Art Express. Art Educator Edinberg will give a lunchtime gallery talk on the ukiyo-e prints exhibit from 12:15–12:45 p.m. 
For more information, visit Stjohnscollege.edu, Lrma.org, or call The Mitchell Gallery at 410-263-2371.