The Garfield Center for the Arts at the Prince Theatre
May 18, 2011 04:36PM ● By Anonymous
The story begins at the turn of the 20th century after moving pictures were invented. L.Bates Russell, owner of Bates Russell Motor Company in Chestertown, gave them a venue when he put up a movie screen in his parking lot and charged admission.
In 1909, after purchasing a building named Stam's Hall, he remodeled its second floor theater for $15,000, and renamed the imposing structure the Chestertown Lyceum.
By 1926, movie theaters had become so profitable, Russell renovated the butcher shop next door, and called it the New Lyceum. He charged adults 30 cents admission—children 25 cents. In those segregated days, African Americans were not allowed in the building. In later years, they were allowed to climb up a separate stairway and take a bench seat in the balcony designated for them.
Meanwhile, Charles E. Prince bought the building in 1957 and renamed it the Prince Theatre, which eventually fell into disrepair and closed in 1993.The nonprofit Prince Theatre Foundation, established in 2002, then purchased it in 2008.
"Our mission was to use it as a performing arts center," says Philip Dutton, Foundation Board President. "We envisioned it as a place for arts and entertainment, performing arts education and community enrichment."
"We began a three-year capital campaign in January, 2008 to restore the building," Dutton continues. "Our goal was to raise $750,000. By the following summer, we had already raised over that amount. We ended up with about a million pledged dollars for the restoration."
Lucia Foster, the theatre's Executive Director, comments that it currently has 120 volunteers who average about 2000 hours per month.
"We produce four-main stage theatrical productions each year—one of those being our annual 10-minute play-fest, which includes eight to 10 short plays, often written by local playwrights. Concerts and Open Mic performances by local musicians are popular, too."
Children also take part in the theatre. "Our educators go into the schools and run drama programs with elementary and middle-school students," says Foster. "Students come to the theatre to produce plays such as the recent Wind in the Willows. "Our programs enable kids to cultivate their talents."
In spite of the theatre's success, the staff soon discovered that African Americans weren't attending or auditioning for theatre events. In 2009, they met with the African American Heritage Council of Kent County to discuss the reason. It shortly became clear that the deep wounds of segregation inflicted during the theatre's early days were still raw.
Healing began during an emotional Reconciliation Celebration held in March 2010, when people from both the White and African American communities met at the theatre to discuss those days of racial injustice that held such bitter memories for the latter.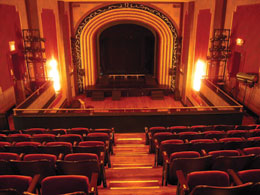 "We engaged in a ceremony where we were able to acknowledge the past," says Foster. "It was the healing component of being able to ask for and grant forgiveness. We were then able to move forward as a united community. It was our best moment."
Karen Sommerville, Founding Director of the AAHC says, "We all sat down together and acknowledged what had happened in the past, and we realized that we were all the richer for the diversity among us. We realized that this theatre is a vital part of our community. It's a place where we can let our imaginations soar."
Although funding for salaries and operating expenses remains a challenge, and the full-time staff has been cut from three to one, Foster stays optimistic.
"We're continuing our struggle to be relevant and to continue to use art as a way to transform our community."
The Theatre's Grand Reopening will take place on September 30th and October 1st at 8 p.m. to celebrate the lobby's renovation. In the meantime, the Theatre will remain open for performances and their annual summer camp.