Flounder Genovese by Sam's Pizza & Restaurant
Jun 20, 2011 01:12PM ● By Anonymous
He's done everything possible in the restaurant business, from prep work to owning restaurants. He's now worked with owner Sam Kelidis for 11 years (in multiple restaurants), and here, he shows us how to make a customer favorite that stays true to his southern Italian heritage, Flounder Genovese
What's Up? How did your culinary career begin?
Chef Costagliola: I moved to the United States in 1972 and worked in food preparation at a restaurant in Long Island, New York. In 1973, I moved to Maryland and owned/operated Mama Lucia Restaurant and Pizza in Easton. Since that time, I've continued to work in or own several Italian restaurants in Talbot and Caroline counties.
WU: Describe the culinary influence present in your dishes.
CC: My Southern Italian heritage has influenced my cooking. I cook dishes that include products that are native to Southern Italy. This includes seafood, as well as tomato-based dishes.
WU: How did you come to work at Sam's Pizza?
CC: I worked with Sam at his previous restaurant in Ridgely. When he opened this restaurant in St. Michaels, I came here to work.
WU: What do you like most about your job?
CC: I enjoy creating and cooking new dishes, but what I like most is knowing that our customers enjoy the food we serve.
WU: What makes this dish special to you?
CC: I created this dish when I owned Neal's Italian Café. It is a dish that I based on an appetizer, Clams Impernello, which I also created. This dish became a customer favorite, so I bought it to Sam's.
WU: Is this a traditional recipe?
CC: This recipe incorporates traditional crab imperial stuffed into flounder with marinated diced tomatoes and pesto, topped with Asiago cheese.
WU: How difficult is it to prepare at home?
CC: I think it is very simple to prepare.
Flounder Genovese
Serves 4
Ingredients:
Four 5-ounce flounder fillets
1 pound crab meat (lump preferred)
2 large Roma tomatoes
1 tablespoon green peppers, finely diced
1/8 teaspoon Old Bay seasoning
1/8 teaspoon lemon pepper seasoning
½ teaspoon Worcestershire sauce
¼ cup chicken stock
2 tablespoons melted butter
1 tablespoon olive oil
¼ teaspoon salt
1/8 teaspoon black pepper
1/8 teaspoon oregano
½ clove garlic
2 tablespoons mayonnaise
1 egg
Shredded Asiago, mozzarella, provolone, or any other cheese of your choice
¼ cup pesto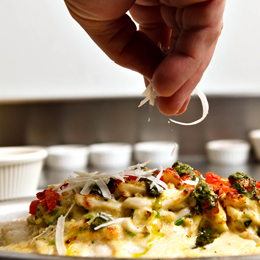 Step One: Preheat the oven to 425 degrees. Dice the tomatoes and put into a medium-sized bowl. Crush the garlic and chop very finely, and then add to the tomatoes with oregano, black pepper, olive oil, and salt. Mix thoroughly and set aside.
Step Two: Place the crab meat in another bowl. Add the green peppers, mayo, egg, Old Bay, lemon pepper, and Worcestershire sauce. Mix together and set aside.
Step Three: In an 8x10 baking dish, pour in chicken stock so it covers about an eighth of an inch of the bottom of the pan. Add the melted butter. Place the flounder in the pan and spoon the crab meat mixture on each fillet. Top with the diced tomato mixture. Bake for 10 to 15 minutes.
Step Four: When the fish is cooked, drizzle three to four lines of pesto diagonally across the fish. Top with cheese and let it melt. Serve with your favorite type of potato, vegetable, and glass of wine. Enjoy!
Flounder Genovese
At Sam's Pizza & Restaurant
1110 South Talbot Street
St. Michaels
410-745-5955
SamsPizzaStMichaels.com