Gov. O'Malley Builds with Habitat for Humanity
Jul 27, 2011 07:06PM ● By Anonymous
Putting faith into action, Habitat for Humanity of the Chesapeake brings people together to build decent, affordable homes that change lives, empower families and strengthen communities. Habitat for Humanity of the Chesapeake's Interfaith Coalition brings faith partners together to build communities, build relationships, and build homes. As the Interfaith Coalition works together, they also build bridges of understanding and tear down walls of indifference and ignorance between the faiths. The Coalition's Peace by Piece logo captures the spirit of these interfaith partners. One of the faith partenrs provides the volunteers with a Kosher lunch at the build site as participants exchange questions about the three faiths (Christian, Jewish, and Muslim) during lunch breaks.

On the day Gov. O'Malley participated in the Interfaith Coalition build on Clay Street with some of Maryland's legislators, he said, "Here we are, Delegate (Ron) George and I--a Republican and a Democrat--working side-by-side to build walls. And we can do that because you have set the example by having Jews, Christians and Muslims working side-by-side building homes and understanding." He continued addressing the crowd by saying, "There has not been something this big happen on Clay Street in many years. You should be proud of what you are doing here."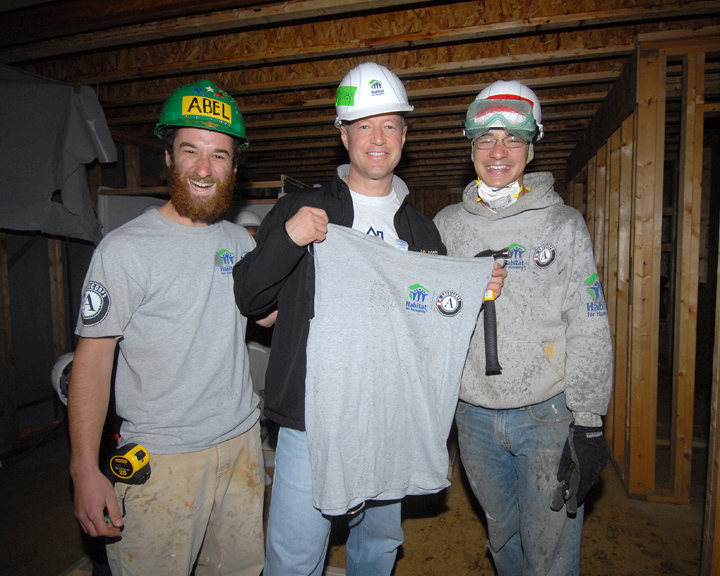 Left: as volunteers look on, Gov. O'Malley greets Habitat for Humanity homeowner Wanda Mitchell. Wanda will soon be taking residence in the Clay Street house built by the Interfaith Coalition, after personally contributing over 300 hours of "sweat equity" to qualify for her 0%-interest HFHC mortgage.
Right: Habitat for Humanity of the Chesapeake's AmeriCorps volunteers Abel Fillion (left) and Daniel Wolfe present Gov. O'Malley with a "customized" AmeriCorps t-shirt.

The more than 200 HFHC Interfaith Coalition volunteers are working toward completion of the Clay Street homes this fall. Together, members of the Coalition have shared a Muslim Iftar (breaking of the fast during Ramadan) at a mosque in Gambrills, celebrated a Taize (a Christian prayer and meditation service) at the Ark and Dove Presbyterian Church in Odenton, and participated in Hannukah festivities at a local temple.

Habitat for Humanity of the Chesapeake's current Anne Arundel County Interfaith Coalition represents 10 faith organizations, including:

St. Anne's Episcopal Church, Annapolis
First Presbyterian Church, Annapolis
St. Mary's Catholic Church, Annapolis (the Governor's parish)
First Baptist Church, Annapolis
Islamic Society of Annapolis
Anne Arundel County Muslim Council
Temple Beth Shalom, Arnold
Annapolis Jewish Young Professionals (AJYP)
Greater Annapolis Interfaith Network (GAIN)