Wedding-Day Playlist: Music to Get Ready to
Sep 29, 2011 04:22PM ● By Anonymous
At this point in the day, it was pretty early. So we were eating breakfast.
Drinking mimosas.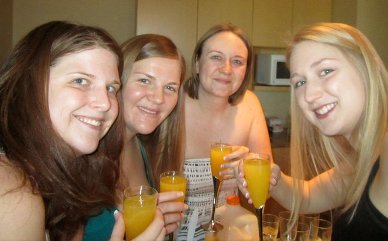 And getting our hair done.
Bridesmaid Lauren took on the task of providing background music for all of this. She took her job very seriously! 
While she filled out the list, I did request some songs specifically pertaining to marriage and wedding (or just that made me happy!) that I wanted to hear. So without further ado, here are some great songs for your wedding-day playlist to get you in the mood:
"I Do," Colbie Callait
"Love and Marriage," Frank Sinatra
"Today I Met the Boy I'm Going to Marry," Darlene Love
"Going to the Chapel," the Crystals
"Ever After," Carrie Underwood
"This Will Be," Natalie Cole
"Marry You," Bruno Mars
"Wishing and Hoping," Dionne Warwick
"White Wedding," Billy Crystal
"So This is Love," Cinderella
What songs would you want to listen to when getting ready for the wedding?