Shore Things
Oct 02, 2011 07:08PM ● By Anonymous

Celebrate in Style
If you've been to Chestertown during the past few months, you've surely seen the renovation going on at the Prince Theatre. And on October 1st, you can finally celebrate its completion with a Black Tie Gala featuring John Davidson in concert. The Grand Opening of the Garfield Center for the Arts at the Prince Theatre includes a pre-concert Cocktail Party with music by the Dick Durham Trio, an intermission "Champagne and Dessert," the presentation of the annual Kenny Award, and a post-concert meet and greet with John Davidson. Prices range between $75 and $125, and things kick off at 6:30 p.m. For more info, visit Princetheatre.org or call 410-810-2060.

Artisans on Display - photo cutline below
The Rotary Club of Centreville's 40th Annual Artisans' Festival brings over seventy five artists and crafters from throughout the Delmarva Peninsula to the Queen Anne's County 4-H Park on October 1st and 2nd. From 11 a.m. to 5 p.m., they'll be exhibiting a wide range of treasures ranging from paintings, pottery and basketry to stained glass, wood carving, and jewelry. Proceeds benefit the Rotary Club of Centreville. Check out Centrevillerotary.org for more information.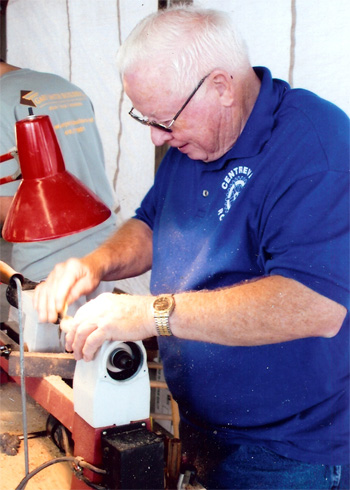 Dick Phillips, a longtime member of the Rotary Club of Centreville, demonstrates his woodworking lathe.
The Ways of the Bay

Celebrate "the Pearl of the Chesapeake Bay" at Tilghman Island Day, October 15th from 10 a.m to 4 p.m. Taking place throughout Tilghman Island, the festival showcases the island's unspoiled and authentic atmosphere. Highlights include a row boat race, boat docking contest, workboat race, live auction, trophy presentation, and crab picking and oyster shucking contests. And, in case you need more reason to go, all proceeds from the $5 fee go to the Tilghman Volunteer Fire Co. for the purchase of fire and rescue equipment. For more info, visit Tilghmanmd.com or call 410-886-2677. Photo by Carly Lesser.
Savor the Season
If you're looking for an event that packs in all that fall has to offer, check out Fall Into St. Michaels. The festival runs through each weekend between October 15th and October 30th, and features events ranging from a 5k Walk/Run and ghost tours to a pumpkin pie contest and Halloween parade. Visit Tourtalbot.org for more information or call 410-745-6073.

Land Ahoy!
It's close, but not quite winter yet. So, there's still time to think about being out on the water. Between October 6th and October 10th, the United States Sailboat Show will take over the Annapolis City Dock. It's recognized as the nation's best and biggest in the industry, and features new sailboats, sailing accessories, equipment, and services. And, the following weekend (10/13–17), its powerboat counterpart is setting up too. Also at the Annapolis City Dock, the United States Powerboat Show features new boats, services, and accessories. Find out more at Usboat.com or by calling 410-268-8828.