Degas' Dancers at the Barre: Point and Counterpoint
Oct 03, 2011 06:32PM ● By Anonymous
October 1, 2011–January 8, 2012

"When you bring related works together you see new things," explains Chief Curator Eliza Rathbone, who organized the show. "It's a thrilling process of discovery for the viewer."

The exhibit of approximately 30 works will include examples of all media from prints, drawing, sculptures, and oils to mixed media such as pastel over a montype print. "There is a rich range of technique represented," says Rathbone. Five pieces included are from The Phillips Collection and the remainder are borrowed from 24 different lenders, arriving from places as far away as Copenhagen and London.

Even assembling a small Degas collection takes time, particularly when a curator is looking for specific examples. Rathbone started the process more than two years ago. Edgar Degas (1834–1917) was recognized by collector Duncan Phillips, founder of The Phillips Collection, as one of the great artists of the 19th century, according to Rathbone. "He drew upon the foundation laid by artists of the past and influenced art of the future," she explains. "One artist learns from another. Degas is one of the great fathers of Modernism."
Dancers at the Barre, early 1880s–c.1900. Oil on canvas. 511⁄4 x 381⁄2 in. The Phillips Collection, Washington, D.C. Acquired 1944.
While Degas tackled a variety of subject matter from portraits and nudes to cafes and street scenes, he is best known for his pieces related to ballet, which fascinated him. "Degas went to the ballet frequently," says Rathbone. "He knew all the positions that the dancers took, practicing and resting, and he knew the music very well," she says. "Degas composed his images placing the dancers in different poses and positions, rhythmically related to one another."

One of the goals of the exhibition is to attempt to uncover the history behind Degas' late masterpiece in The Phillips Collection, Dancers at the Barre. The painting has been assigned a range of dates, but recent conservation treatment of the painting at the Phillips reveals evidence that Degas began the painting in the 1880s and reworked and completed it around 1900. The exhibition showcases how Degas slightly alters the composition and manipulates the figures in the painting to create a highly deliberate com position, yet one with a great sense of movement.

Another painting in the exhibition, Dancers Practicing in the Foyer, borrowed from Copenhagen, has a similar story. "It has an earlier painting underneath the canvas," says Rathbone, "which was revised in 1900…Degas was always moving forward towards work that was more colorful, more suggestive of movement. He was always redefining and evolving." The Phillips Collection considers itself to be America's first museum of modern art and its sources. Founded in 1918, it opened to the public in 1921, eight years before the Museum of Modern Art in New York. In Washington, it predates the National Gallery of Art by two decades. The exhibit, which will not travel, will be open to the public for 10 weeks, so take the opportunity to see the ballet dancers as seen through the eyes of Edgar Degas.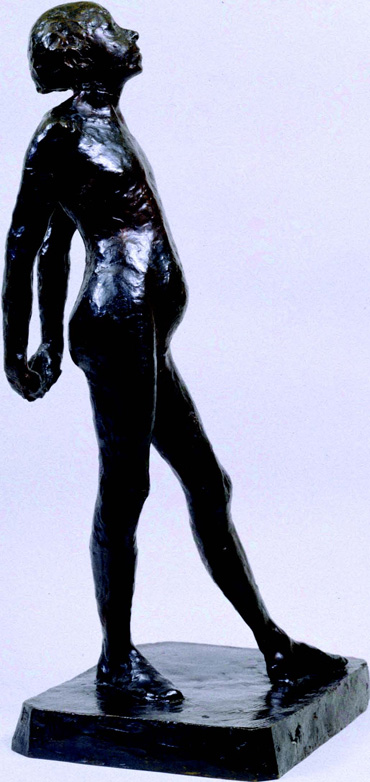 Nude Study for Little Dancer of Fourteen Years, XIX, 1879–80. Bronze, 273/8 x 119/16 x 11 5/16 in. Private Collection
Where: 1600 21st Street, NW, Washington, D.C., near the corner of 21st and Q Streets, NW.
When: Tuesday to Saturday 10 a.m. to 5 p.m., with extended evening hours on Thursdays until 8:30 p.m., and on Sundays from 11 a.m. to 6 p.m.
Admission: $12 for adults; $10 for visitors 62 and over and students with valid ID; free for members and visitors 18 and under.
To visit The Phillips using Metroline, take the Red Line to the Dupont Circle station. Make sure to use the Q Street exit from the station to avoid several minutes of extra walking. At the top of the escalator, go left (west) on Q Street to 21st Street, NW.