Before & After Motivation
Oct 30, 2011 11:10PM ● By Anonymous
In our continuing fitness series, we share another inspirational story of fighting the odds and losing the weight.

Karen Devoy was always in good shape. She watched her weight and worked out...even staying fit after having two kids (boys, now 11 and 13). Divorced for eight years, she was in a wonderful relationship and on top of the world. All that well-being came to a screeching halt two years ago when Karen became ill. "How is it that one day I am a healthy 37-year old with no history of medical problems or severe weight issues," she wonders out loud, "and then all of a sudden I wake up to what would be the start of a two-year nightmare."

The first symptom was hives, first on her arms and later over her entire trunk. Allergies were ruled out when she developed joint pain and stiffness and exhaustion. It was determined that her condition was autoimmune-related, with heavy doses of steroids required to just get her through the day.

These aren't the same steroids that athletes abuse, but they can have major side effects. Not only can these cortisone-based drugs cause weight gain all on their own, they can also trigger round-the-clock hunger. You also have to be weaned off steroids—something that can be problematic and time consuming. The slow process finally paid off: Karen was symptom free and able to stop taking the drugs. "I was just one of those small percentage of people who will never really know why their autoimmune system decided to go haywire," she says with resignation.

Very slowly, Karen regained her strength. She began a doctor-supervised diet regime which involved liquid shakes, supplements, and one "normal" meal a day…high protein, light on the carbs. But the once energetic and active woman needed to "move" again. It was time to get back in touch with her pre-illness personal trainer, Thomas Strong at Evolutions Body Clinic. Karen considers herself especially lucky to have previously worked with Strong. "He knew just how much I was capable of, just how much he could push me," she says. And just how to work off the 60 pounds she had gained.

The 35-year-old Strong, an Annapolis native, laughs when asked why he got into the fitness field. "With a name like Thomas B. Strong, there was no other place for me to be." He has a degree in exercise science from Salisbury University and works with about 200 people a month. He works with clients one-on-one or groups of two, three, or more. "The best way to get results and keep motivation," he believes, "is to work with a partner or in a group setting. "The buddy system…seeing others' accomplishments helps keep you going. And it's a terrific way to make new friends. Karen recently told me, 'Workout together and make friends forever.' It's really the new social medium."
Karen's social life is doing just fine, thank you. Her wedding to her longtime beau (he stuck by her throughout her illness) is planned for June 16, 2012. The future looks very bright indeed for Karen Devoy.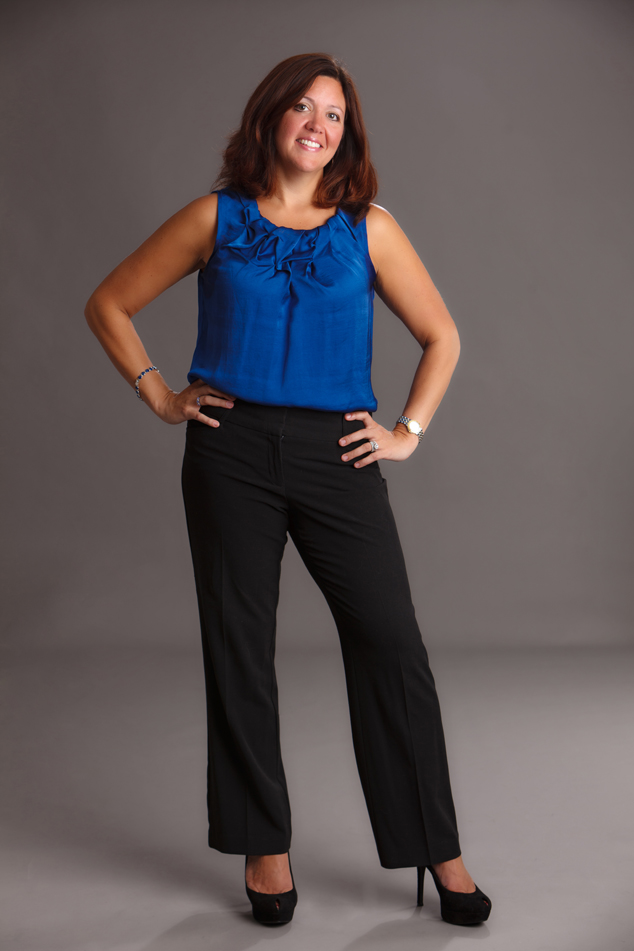 (left) Karen may have been smiling, but she was very concerned about the change in her weight caused by medication.
(right) Today, a much happier and healthier Karen Devoy shows off her 60-pound weight loss.