What's Up? with Real Estate
Nov 17, 2011 10:44PM ● By Anonymous
This month's What's Up? With Real Estate truly proves that there's a home for every owner and an owner for every home, no matter its unusual location, age or appearance. And despite Annapolis' seemingly small geographic area, its diversity of neighborhoods, home styles and pricing is greater than you think.
Saefern

Primary Structure Built: 1978
Sold for: $750,000
Original List Price: $824,900, reduced to $799,950
Last Sold/Price: 1989/$529,000
Bedrooms: 4 Bathrooms: 3.5
Living Space: 4,552 square feet Lot Size: 2.66 acres

What do you do when you have to relocate south from the hustle and bustle of New York City? In the case of these homeowners, find a unique, contemporary house nestled in a private corner of the woods with a water view, but still only five minutes from Annapolis Mall. "If you spent 10 years in front of Grand Central Station, trust me, anywhere in the woods is great," says new homeowner Steve Nulty, a West Point graduate who readily admits USNA's setting is stunning.

Just like that, out with the Big Apple, in with Annapolis. Originally considering Arlington and Alexandria, the buyers opted for this location because of its privacy, high-quality craftsmanship, and affordability. A similar home and lot in those other cities would easily surpass $2 million.

This custombuilt house touts endearing details: a curved staircase, a separate den/hobby room and rec room, a library with built-in bookshelves and vaulted ceilings.

Other fine features include a second-floor screened porch, a well-designed mudroom off the garage and ample lower-level storage. Most impressive, though, are its floor-to-ceiling windows that overlook Saefern Lake and a lushly treed lot, creating the sensation of living in a tree house. "It's incredibly peaceful," adds Nulty, and the deer and fox neighbors are quite friendly.

(Source: Amy Juras (listing and selling agent), Champion Realty, Inc., 410-353-2123, amy@househuntress.com, www.HouseHuntress.com.)


St. Margaret's/Mill Creek

Primary Structure Built: 1969
Sold for: $867,000
Original List Price: $897,000
Last Sold/Price: Custom built in 1969, never re-sold/ land originally purchased for $18,000
Bedrooms: 3 Bathrooms: 2
Living Space: 2,456 square feet Lot Size: 2.25 acres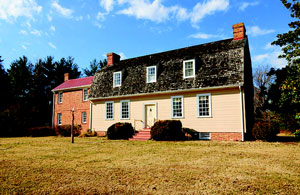 A fascinating subsection of real estate, reproduction period homes, is particularly unique to this part of the country. Modeled after Wright's Chance—an early tobacco plantation home from the 1700s in Centerville, Md.—this replica had never been sold since it was painstakingly put together in 1969. The original homeowners used photos and measurements to create the reproduction with meticulous woodwork, molding, hardware and brick details, only modifying the blueprints with a kitchen and family room addition. So enamored with the period, they intentionally opted for no central air (a feature the new homeowners intend to modify, we're told).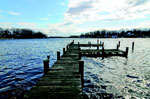 If its reproduction appeal wasn't enough, the home came with a coveted separate parcel of waterfront across the street, which includes a 60-ft. pier with two deepwater slips (and 60 feet of bulkhead). Mill Creek is a favorite waterway of local large-boat sailors as it has no bridges and provides easy access to the bay. Coupled with an enormous lot, it's no surprise, then, that the home was on the market for only a week.

(Sources: Linda Patterson (listing agent), Associate Broker, Long & Foster Real Estate, Inc. 443-994-3400, linda.patterson@LNF.com. Carrie Mock (selling agent), The Carrie Mock Group, Long and Foster Eastport, 410-507-1073, carrie.mock@longandfoster.com.)


Eastport

Primary Structure Built: 1930
Sold for: $715,000
Original List Price: $739,000
Last Sold/Price: 2005/$725,000
Bedrooms: 3
Bathrooms: 2.5
Living Space: 1,794 square feet
Lot Size: .22 acre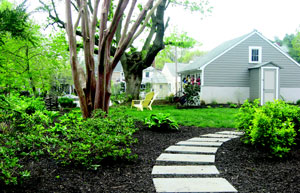 As the new owners of the justprofiled St. Margaret's/ Mill Creek home, these sellers were no strangers to realestate renovations and reproductions. In 2005, they purchased this property—at the time a 2-3 resident apartment building in complete disrepair—and restored it to a charming, single-family residence in the heart of a desirable neighborhood. Indeed, the fully renovated home evokes a sense of enchanting maritime living, which thrilled the buyers, transplanted from Colorado.

Beautiful 1930s-style hardware, light fixtures and built-ins mix seamlessly with modern granite countertops, a steam shower and high-efficiency appliances and windows. Despite its 81 years of age, the rooms flow together nicely and the layout feels spacious and open. Every area of the property includes a delightful surprise, whether it's the hand-painted ship compass mural on the dining room ceiling, a cut-glass chandelier over the "Champagne bubbler" soaking tub, or a stone, manicured walkway to the spacious detached garage in the backyard.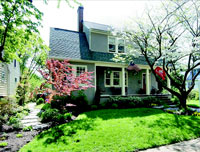 Within walking distance to Eastport's restaurants, shops and marina, the home is centrally located to Annapolis' favorite spots. How fitting that this town's flag motto boasts: "We Like It This Way."

(Sources: Carrie Mock (listing agent), The Carrie Mock Group, Long and Foster Eastport, 410-507-1073, carrie.mock@longandfoster.com. Sandy Young (selling agent), Realtor, Coldwell Banker Annapolis Plaza, 410-980-0162, spyoung@cbmove.com.)