Easton Choral Arts Society
Nov 29, 2011 10:40PM ● By Anonymous
More than 60 singers of the
Easton Choral Arts Society
will be performing the Christmas portion of George Friederich Handels
Messiah
at the Avalon Theatre in Easton this month. The traditional and festive program also features four soloists, eight instrumentalists, and several special guests.
Handel's Messiah is an oratorio, which is a large-scale musical work for orchestra and voices that is typically a narrative on a religious theme and performed without the use of costumes. The Christmas portion consists of three parts and the Easton Choral Acts Society will perform several portions of the oratorio including "Hallelujah Chorus," "The Trumpet Shall Sound," and "Worthy is the Lamb." "The 'Hallelujah Chorus' is a crowd favorite," says artistic direction Wes Lockfaw. "Modern audiences are very receptive to performances, especially during the holiday season."

The event includes a carol sing-a-long at the end of the performance, encouraging audience participation from even the youngest of carolers. The performance has some special guests lending their talent to the work. National guest artists include: Georgiann Gibson (soprano, soloist), Bonnie Forgacs (mezzo soprano), John Wesley Wright (tenor soloist), and Robert Cantrell (bass).

"For many people, Messiah is an annual tradition and they will go quite a distance to hear a live performance of the popular oratorio. I am very excited to be at the Avalon Theatre, which serves as a hub of the performing arts, and plan to make this performance an annual Eastern Shore tradition," says Lockfaw.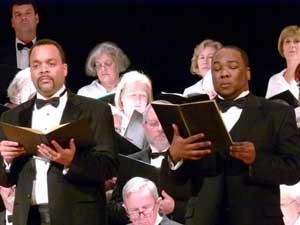 For more information, visit eastonchoralarts.com or call 410-200-0498.