Be Our Guest
Dec 04, 2011 11:08PM ● By Anonymous
If you've ever stayed at a grand, five-star hotel, you know how it feels to be pampered. Why not offer your holiday guests a similar experience?
Experts and homeowners agree that the most important element in making your guests feel welcome is providing them with a comfortable bed. It doesn't matter if you have a separate guest room or are transforming a kid's or a spare room into a guest room; give your guests the luxury of comfort. Accommodating your guest in a worn out, small uncomfortable bed is nothing short of insulting, so at a bare minimum, purchase a full-sized bed with a good mattress. If the room does double duty, consider adding a comfortable full or queen-size futon that will save space and provide a good night's rest. The key to a comfortable bed, in addition to the mattress, is plush bedding. Chose a down comforter or a soft quilted bedspread, luxurious linens, and lots of soft pillows.

Severna Park homeowner Bridget Elis agrees. "The bed is likely the focal point in the room and having inviting linens is the best way to say 'welcome, we are glad you are here!'"
Sweet Guest Suites
Elis and her husband, Jay, wanted to have a room where their family and friends could visit and stay with them. "This way we can have guests at anytime and we don't have to play musical beds," she says. "When we say, 'we have plenty of room, come stay with us,' we really do!"

While Elis says she loves vibrant colors—which is evident in the rest of her home—she didn't want anything overpowering for the guest room. "It was important to keep things simple for that room," she says, "so, I picked a buttery yellow for the walls and wanted to do everything else in white. White provides a relaxed and tranquil feel."

Most of the furniture in this dreamy guest room is repurposed. Elis re-painted a natural pine bed frame white and added other repurposed furniture such as a comfortable wicker rocking chair and a mirrored table to incorporate some glamour.

"The bedding I think is the best part," says Elis. "I knew I wanted big fluffy pillows and lots of textures to create a bed that you just want to fall into. As of right now the guest room is nicer than our master bedroom!"

When another couple from Annapolis recently built their home, they built it with guests in mind. The wife's brother and dad both live outside the state, and they wanted to include two spaces that would provide a home-away-from-home.

"My dad visits a lot and I wanted him to have his own space to get away from the kids if he needs to," says the mom of four young boys. "I made sure we had a comfortable place with a TV and a comfortable chair. If you can fit a guest room into your home plans, do it. Having a separate guest area really makes everything easier and more harmonious." Her rooms also include the essentials—each has a comfortable bed with extra blankets, a separate closet or armoire for clothes, an empty dresser, a nightstand with a reading lamp, a big comfortable chair, and a television.


Inviting Adjustments
Even if your home doesn't have the luxury of separate guest quarters, you can still transform your office, den, craft room, or even kid's room into a guest haven by following a few simple steps.

First, clear room clutter by packing things in labeled boxes and storing them elsewhere for the time being. Provide guests with plenty of counter space by clearing the nightstand, leaving only a reading lamp and alarm clock. Keep the dresser clear for personal items as well.

Storage space is also important especially if your guest will stay longer than a day or two. Make sure there is a dresser with at least a few empty drawers and a place to hang clothes (a closet or wardrobe). Create room in your closet and empty the contents of the top dresser drawer into a box, and slip it under the bed or onto the closet floor. Or consider purchasing several over-the-door clothes hangers and a luggage rack so you don't have to disturb your things.

Your guests probably won't mind that Disney comforter as long as its clean and fresh smelling, but another idea would be to keep a fresh set of linens and comforter aside, especially for guests. A quick run through the dryer on a low setting with dryer sheets will freshen everything up.

Adding a small television set, a radio, an iPod docking station or a bouquet of fresh flowers will provide those little extra touches that let your guests know they are welcome to stay. Another nice gesture would be to include a chair and ottoman next to a floor lamp or table with a reading lamp. It provides your guests a private place to sit and relax, plus it gives you a small reprieve so you don't have to entertain them the entire time.

No doubt your guests will be using the bathroom during their stay and if you don't have a separate guest bathroom, make sure yours is clean. Provide fresh, fluffy towels every day and make sure supplies— toilet paper and soap—are always available. A thoughtful idea is to provide a little welcome basket or bowl filled with necessities such as travel-size liquid soap, shampoo, conditioner, toothpaste, toothbrushes, mouthwash, and a shower cap.

Whatever you do, think about what would make you comfortable when staying away from home and then incorporate it into your space, too. If need be, visualize that five-star hotel when designing your guest room. ■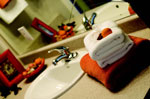 VIP Guest List
Use this as a handy checklist before guests arrive:
✔comfortable and quality mattresses/sleep sofas
✔luxury linens
✔luxury towels
✔plenty of pillows
✔reading lights
✔space: in closet, tabletop or desk for laptop, personal items
✔toiletries: most guests will bring their own, but keep spare toothbrushes, shampoo, and toothpaste just in case
✔comfy robe and slippers
✔book and magazine choices
✔little extras such as a small TV, iPod station, alarm clock
✔soothing or cheery colors
✔fresh flowers in a small vase
✔add a chair or loveseat
✔water glass and carafe
✔empty dresser drawers, line with scented paper, or provide a luggage stand
✔gourmet chocolate on their pillows as an extra special touch