Army-Navy Game
Dec 07, 2011 11:03PM ● By Anonymous
First played in 1890, the games between these two legendary service academies have offered fans glorious action, emotional moments, and thrilling finishes during its 121-year history. (There were 11 years in which the game was not played.) For service members, their families, and friends region wide, the Army–Navy Game signals winter's start; it's an annual ritual of getting together, huddling around the TV, and watching the game with perhaps the crackle and warmth of a nearby fireplace. This year's event will be held Saturday, December 10th, and for the first time, at FedEx Field in Landover, Maryland, giving locals the opportunity to put on their wool coats, don earmuffs, and enjoy the game live.


Traditionally held on the first Saturday after Thanksgiving, the nationally-televised game was moved to the second Saturday in December, so as not to conflict with the many other collegiate conference championship games. Last year marked only the second time since 1963 that both teams entered the game with winning records; a credit to the progress both programs have made in a very competitive sport, especially when recruiting top talent is made considerably more difficult by each academy's service requirement upon athletes' graduation.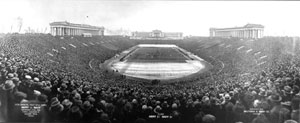 Though Navy has dominated recent contests with a win streak that dates back to 2002, Army has had its share of bragging rights over long stretches. From 1922–38, Army won 11 of the 15 games played. Another stretch, from '84–96, saw Army win 10 of 13. Each class of cadets and midshipmen likely have a most memorable game etched in their minds, but there were several in the history of this rivalry that are considered all-time greats. The 1926 game was played before a crowd of 100,000 at Chicago's Soldier Field. The brand new stadium was erected to honor the servicemen of World War I. With Navy entering the game undefeated and Army with but a single loss to Notre Dame, this game decided the collegiate national championship. The teams fought to a grueling 21–21 tie, but the championship was awarded to Navy. Twice more, the Army– Navy Game had national championship implications, both in '44 and '45 (with each team ranked No. 1 and 2); Army won both times.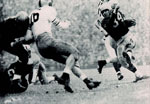 Longtime fans will recall Navy quarterback (and NFL Hall of Famer) Roger Staubach's heroics in the 1962 game at Philadelphia's Municipal Stadium, in which he threw for two touchdowns and ran in another, en route to defeating the favored Army team, 34–14. More recently, the '92–'95 and 2000 games were each decided by two points or less. All time, Navy leads the series 55–49, with the teams playing to a tie seven times (most recently a 3–3 snoozer in 1981).

Who will win this year's contest? As of press time, each team held a 2–5 record with hopes to rebound in their late October and November games leading up to their date with each other. Both the Midshipmen and Black Knights have employed the hard-to-defend triple option offense this season, while both defenses have struggled to limit opposition scoring. It would seem to be anyone's game for the taking. Go Navy, Beat Army. Go Army, Beat Navy. Enjoy!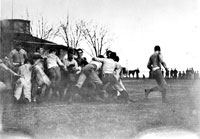 Army–Navy Game Day
When: Saturday, December 10th; kickoff at 2:30 p.m.
Where: FedEx Field, Landover, MD
Tickets: $30–185, available for purchase online at ticketmaster.com

For complete details about the Army–Navy Game, including directions, hotel/lodging, and other events planned around the weekend, visit armynavygame.com.