Holiday Cocktails
Dec 09, 2011 06:21PM ● By Anonymous
Above Left: White Christmas Cosmo
½ ounce Cointreau
½ ounce fresh lime juice
1 ounce vodka
2 ounces white cranberry juice
Add all ingredients to a strainer fill with ice. Shake and strain into a chilled martini glass and garnish with a lime.
Middle: Candy Cane Cocktail
1 candy cane, crushed, for garnish
2 ounces raspberry vodka
4 dashes white creme de menthe
2 1/2 ounces cranberry juice
Ice cubes
Place crushed candy canes on a small plate or saucer. Wet the outside rim of a chilled martini glass with water. Holding the glass by the stem, rotate the rim to coat with candy.
Combine vodka, creme de menthe, cranberry juice, and ice in a shaker; shake until well combined. Strain into prepared glass.
Left: The Grinch

2 ounces Midoro
½ ounce lemon juice
1 teaspoon simple syrup
Maraschino cherry for garnish
Combine all ingredients into a shaker with ice; shake and strain into a chilled cocktail glass. Garnish with a maraschino cherry.


---
Exclusiv Vodka's Spiced Pear

2 oz Exclusiv Vodka
1 oz Bailey's
1/2 oz pear puree
1/4 oz cinnamon schnapps
Dash of honey
Shake and pour in a martini glass with a sugar/cinnamon rim.
---
Exclusiv Vodka's Hot Holiday Cider

1 1/2 oz Exclusiv Vodka
4 oz Hot Apple Cider or Apple Juice
1/2 oz Buttershots Liqueur or Monin Caramel Syrup
1 teaspoon ground cinnamon
Garnish with whipped cream and caramel sauce

Serve in a glass coffee mug.
---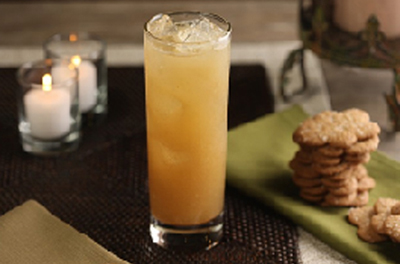 The Gingerbread Man
In a mixing glass, muddle three dials of fresh ginger. Add:
1 ounce Lucid Absinthe
.5 ounce simple sugar
a dash of ground cinnamon
a dash of gound nutmeg
.5 ounce fresh lemon juice
.25 ounce green chartreuse

Shake thoroughly with ice, and then strain over ice into a highball glass.


---
Cinnamon-Apple Manhattan
For the infusion
1 bottle bourbon
2 apples, sliced
4 cinnamon sticks
Combine the apple, bourbon, and cinnamon and let sit for at least seven days. Strain the bourbon and discard the apples and cinnamon.
For the Drink
2 ounces infused bourbon
1 ounce sweet vermouth
2 dashes Angostura bitters
Combine the bourbon, vermouth, and bitters in a cocktail shaker with ice. Strain into a cocktail glass and garnish with a cherry.