Inspirational Abstract Design Exhibit
Dec 11, 2011 11:17PM ● By Anonymous
Imagine creating a skirt entirely from the short coarse leaves of a palm tree. And from that same fiber, known as raffia, also create nets, mats, baskets, and even the walls and roofs of homes. A groundbreaking new exhibition currently on view at the Textile Museum in Washington, D.C., through February 12th, explores these creations. Titled "Weaving Abstraction: Kuba Textiles and the Woven Art of Central Africa," the exhibit features approximately 150 objects—created by "people of the lightening, people of the cloth, people of the king," as they often are referred to by themselves and cultural historians— and demonstrates the wide range of objects by various ethnic groups who live in the central region of Africa today known as the Democratic Republic of Congo.
A relatively wealthy culture, due to their regional control of the ivory trade, much of the Kuba's time was devoted to artistic and spiritual pursuits. Kuba designs use a system of "sacred geometry"—symbols only fully understood by members of the culture. The Shoowa, a subset of the Kuba people, were especially skilled at a textile technique which created a plush or velvet-like texture. The striking designs created in Kuba textiles were admired, collected, and influenced many early 20th-century artists including Henri Matisse, Paul Klee, Sonia Delauney, and artists of Harlem Renaissance.

Baskets, hats, belts, accessories, skirts, and prestige panels (sometimes referred to as "velvets," which were collected by Kuba men and indicated wealth and status) are all part of the exhibit at the Museum, located at 2310 'S' Street NW in Washington, D.C. and open Tuesday through Saturday 10 a.m.–5 p.m. and Sunday 1–5 p.m. An $8 donation from non-members is requested. Visit textilemusuem.org for more information.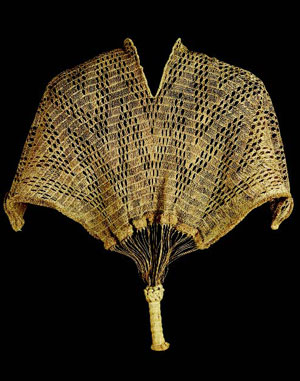 Exhibit-Related Events

In conjunction with this exhibit, the Textile Museum will host the event series "African Art and Culture Series." The series is billed as "six multi-sensory experiences around African craft, culture, food, and dance. The series began in November, but continue with two events in December and two more in January. They are:

Computational Perspectives on African ArtSunday, December 4 at 2 p.m. Join Ron Eglash, computer scientist and ethno-mathematician, as he demonstrates how computing simulations of African designs can reveal fractals and other underlying algorithms connected to indigenous knowledge systems.

Cuisine and Culture in Central AfricaSunday, December 11 at 2 p.m. Join author and culinary expert Fran Osseo-Asare for an introduction to Central African cuisines and food cultures.

Art and Culture in the Congo Basin: Where the Sacred Meets the Secular Sunday, January 8 at 2 p.m. Constantine Petridis, Curator of African Art at The Cleveland Museum of Art, will showcase the artistic creativity from cultures across the region.

West African Dance ConcertSunday, January 29 at 2 p.m. KanKouran, known internationally for its authentic traditional West African Dance will offer an electrifying display of choreography and polyrhythmic drumming from Senegal, Mali, and Guinea.

Fees: per program, $20/members; $25/nonmembers. For the series, $120/members; $150/non-members. Children age 5 to 12 (limit 2 per ticket), Free. Advance registration is required; space is limited. Call 202-667-0441 ext. 64 to register.