The Live Wire
Dec 27, 2011 10:31PM ● By Anonymous
It's not every day that you run across a band that'll proudly identify itself as specializing in "redneck rock & roll." But, that's the kind of steel-toed Eastern Shore honesty you get from the Centreville-based Roadhouse Clams.
Founded about two years ago, the band now consists of a group of Eastern Shore musicians who go by the monikers Pacifico Rik, Feedback Keith, Lightning Collins, Bucket Owens, Derek Daytona, and JJ Goodman.

These guys don't pretend to be anything fancy. "We're just some schmoes from QAC!" says vocalist and electric guitarist, Pacifico Rik. 
And, that's part of their charm. They don't worry too much about a formal creative process, and they don't try and force inspiration. "An idea can hit you anywhere, at any time," says Rik, "you just need to be ready to do something with it when it does."

"He'll take a phrase that he'll hear in passing," he adds when speaking about multi-instrumentalist Feedback Keith. "And the next thing you know, he's built a great song around it."

Whereas other bands deal with esoteric subject matter, or otherwise hedge on the side of cautionary covers, the Roadhouse Clams keep their songs original, simple, and relevant to the area. "Because our songwriting is so straightforward and accessible," says Rik, "we're able to perform our original music setlist not only in concert venues, but also in bars where the norm is usually a cover band."


And, when they do break out the covers, don't expect them to stick to their country roots. They're perfectly happy to perform their renditions of "Brick House" by the Commodores and the Journey Classic "Don't Stop Believing." But Rik attributes the core of the Clams' sound to a mash-up of everything from early Rolling Stones and The Who to Credence Clearwater Revival and Johnny Cash.

After the successful release of their first album, the Roadhouse Clams are back in the studio. But, in keeping with their laid-back style, they don't have any concrete plans from there.
"We've found that when we just keep on playing Clams music with a decent attitude and a good time doing it, positive things will happen," says Rik. 

Do check them out at Facebook.com/The-Roadhouse-Clams. You never know when they might show up in your area.


Playlist
A selection of notable artists playing area venues.

1/6–7 Pat McGee Band at the Birchmere, Alexandria
Pop/rock band has a new album out

1/7–8 Johnny Winter at Rams Head On Stage, Annapolis
One-of-kind legendary blues/rock guitarist

1/10 Eric Johnson at the Soundstage, Baltimore
Precision power guitarist known for epic solos

1/11 Bootsy Collins at the Soundstage, Baltimore
The myth, the man, the legend…bassist Bootsy!

1/12 Blame Sally at the Night Cat, Easton
Four-piece all-female folk/rock outfit

1/13 G. Love & Special Sauce at Rams Head Live, Baltimore
Blues/folk/street-beat fusion

1/13 Chris Jacobs Band at the Night Cat, Easton
Former member of regional fave, The Bridge, calls the shots in his new band

1/14 Chopteeth AfroFunk Big Band at the Avalon Theatre, Easton
12-piece jazz/world/pop/funk band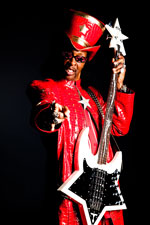 1/15 Ellis Paul at the Night Cat, Easton
Nationally established pop/folk vocal sensation

1/19 NRBQ at Rams Head On Stage, Annapolis
Four decade rockers once billed "Best Bar Band in America"

1/20 Aztec Two-Step at the Avalon Theatre, Easton
Folk/rock acoustic duo celebrates 40th anniversary

1/21 Ozomatli at 9:30 Club, D.C.
Latin/urban/hip-hop/rock band

1/26 Miranda Lambert at 1st Mariner Arena, Baltimore
Pop-country megastar

1/27 Catie Curtis at the Night Cat, Easton
Lilith Fair alum brings folk-pop savvy to live concerts

1/27 Big Head Todd & The Monsters at 9:30 Club, D.C.
Alt-rock, pop-funk trio

1/29 Ryan Montbleau Band at the Night Cat, Easton
Hard jamming blues rock outfit

1/31 Robert Earl Keen at Rams Head On Stage, Annapolis
Southern-tinged storytelling and guitar picking

2/3 Charlie Mars at the Night Cat, Easton
Folk/rocker, always a big Night Cat draw

2/10 ZoSo at the Avalon Theatre, Easton
The ultimate Led Zeppelin experience

2/11 Kinobe & the African Sensation at the Night Cat, Easton
Ugandan multi-instrumentalist and composer

2/17 Vance Gilbert at the Avalon Theatre, Easton
Fock/rock singer, songwriter, and guitarist

2/20 John Mayall at the Avalon Theatre, Easton
Renowned guitarist dubbed the "Godfather of British Blues"

2/24 Dr. Ralph Stanley at the Avalon Theatre, Easton
Banjo picker, singer…Bluegrass legend

2/27 Hot Tuna at Rams Head On Stage, Annapolis
Jorma Kaukonen and Jack Casady perform acoustic blues