Annapolis People to Watch 2012
Jan 03, 2012 06:25PM ● By Anonymous
There's a lot of history tied to our communities, but there are also many "springs" welling with fresh life; new stories, little pockets of inspiration, and the young people who are making it happen. Call them risky, visionaries, or any other word that conjures spirit and drive, but make no mistake, this class of People to Watch (each is 40 years of age or younger) has gusto and a passion to lead their communities. They're hoping to make each little spring flourish into, perhaps, something bigger and better for all. Enjoy meeting our finest ten of the region's next generation.

Andy Poxon
Blues/rock Guitarist, 17

Andy Poxon not only plays the guitar like he's a ringin' a bell, he slays blues licks with abandon, rocks like Richards (as in Keith), and has already developed mature vocals at the impressionable age of only 17 (he's the one making an impression). He's a prodigy, sure, but he's also a determined student of the guitar. Though he studied violin and piano at a young age, the Crofton-ite first picked up the guitar at age nine and knew instantly that the instrument felt perfect in his hands. "I've always known that I would be a guitar player and a musician," he says. By the time he began attending South River High School, Poxon's dynamite red afro took off, as did his music career. He assembled a three piece band—bringing in drummer Mike O'Donnell and bassist Russ Wasson—and began playing evening gigs at local venues. Between the music, school, family, and friends, Poxon's life was exceptionally busy. Nonethless, he graduated high school a full year early and is now attending Towson University. He credits his parents as lifelong inspirations—both mom and dad being classically-trained musicians. Poxon's influences are many; he's like a sponge absorbing anything he sees and hears. "I have lots of inspirations, both musical and in general," he says. "Whenever I see someone succeed, they are an inspiration to me. It doesn't matter what their field is, or what they're successful at, it just matters that they've set a goal and reached it." Consuming as it may be, Poxon's work ethic is paying off. Last September, he opened for famous blues guitarist Duke Robillard and now there is a chance of him producing Poxon's next album; a longer term record deal may be in the near future. "I am excited because I can see my work already starting to pay off as more and more opportunities open up," Poxon enthusiastically says. "I am seeing my dream of playing music for a living come true."

Michael Brian Marshall
Software Engineer, 29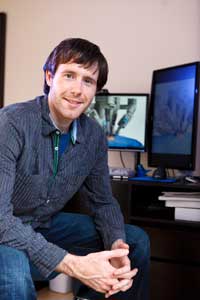 Imagine you need a fast, safe surgery with a quick recovery time. Sure, it requires the deft hands of a top surgeon, but the reality is that the expert hands of software engineers are also at play. Enter Michael Brian Marshall, who is engineering fiber optic shape sensing as a means for robotic surgical control. Sounds like a mouthful but, put simply, the 29-year-old Edgewater resident is making significant contributions to medical technology. A graduate of Virginia Tech (Bachelor's and Master's degrees in computer engineering), Marshall chose engineering because "I had a natural talent for math and science…and as an engineer, I solve problems in any field," he says. After graduating, he founded two start-up companies; both had short life spans. "When you work on the bleeding edge of technology, sometimes you get cut," he reflects. But Marshall credits those as learning experiences. "[It] helped me learn how to deal with a fast-changing world and view potential catastrophes as opportunities." His enthusiasm for the field never wavered and Marshall soon landed a position with Blacksburg, VA-based Luna Technologies. Telecommuting from his home office, he's contributed to many projects, most recently creating a new kind of position sensor that tells the surgical robot where its "arm" is while performing surgery inside the body. He draws everyday inspiration from his wife, Carrie, but also "the great technical creations of our time: skyscrapers, microprocessors, space travel, modern plumbing," he says. "The greatest of our achievements, while perhaps envisioned by a single man, require the efforts and dedications of hundreds or thousands." He acknowledges his role is one part of a greater collective sum. "I do a small part, but together with my company, we are pushing the limits of what is surgically possible. Pushing through the technological barriers to solve problems and turn science fiction into science fact is very rewarding."

Carl Simon
State Budget Policy Analyst & Habitat for Humanity Volunteer, 26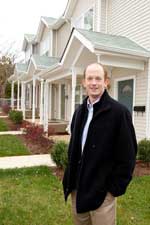 Carl Simon is a young man who channels greatness through mind, body, and spirit. He has whip-crack smarts; the native Massachusettsian first earned a Bachelor's degree in political science and environmental studies from Guilford College (Greensboro, NC) and then a Master's of public administration from the Maxwell School of Syracuse University (in 2009). He plunged headfirst into a challenging economy ("There clearly were not as many opportunities for a young professional in 2009 as there were in 1999," he says), but ultimately accepted a Governor's Policy Fellowship with the State of Maryland, which led to a full-time budget policy analyst position with the department. Today, he makes his home in Arnold and works with the Governor's StateStat office and multiple agencies to develop a better way to track the cost efficiency of Maryland's Chesapeake Bay restoration efforts. In his free time, Simon helps restore everyday lives. He's a red hat volunteer supervisor with Habitat for Humanity of the Chesapeake, putting his well-honed carpentry skills to good use (his apprenticed under his father, a general contractor) on many local projects, including the recent Clay Street build. Last October, Simon also traveled to Buenos Aires, Argentina participating in Habitat's "Build Louder" trip. "I love days volunteering for Habitat for Humanity," he says. "Days are spent working alongside [other volunteers] assembling and standing up walls, installing windows, or putting on the final coat of paint. By the end, we all come away with a sense of satisfaction and an increased understanding of the people in our community." That community spirit is something Simon especially enjoys with the synagogue Temple Beth Shalom in Arnold. "The Rabbi explains it best when he says the most important part of the synagogue is fostering a 'kehillah kedosha,' a holy community," says Simon, who recently became a trustee on the Temple's board, where he brings the perspective of a young professional who's wise beyond his years. "Trust your instincts, and when in doubt, go for it," Simon states, smiling.

Christiann Wallace
Marketing Director, 31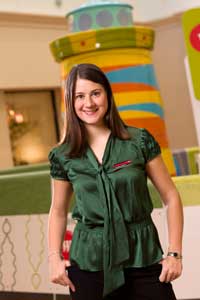 The ebb and flow of our local economy; from trickling to bustling commerce. There is, perhaps, no better barometer of how well local business is booming than the shopping mall. It's here that Westfield Annapolis Mall's Marketing Director Christiann Wallace sees, firsthand, the pulse of retail business and she works tirelessly to keep that pulse pumping. Wallace, a Long Island native who graduated magna cum laude from Dowling College in New York, joined the Westfield family in her home state as a shopping concierge in 2003 and within 10 months was promoted to marketing director. "I was beyond thrilled," she says. "It was then that my passion [for marketing] skyrocketed and since then, keeps getting more intense." Seven short years later, she was asked to transfer to the higher volume Annapolis location, considered one of Westfield's pillars. It's her job to keep businesses, the public, local nonprofits and organizations, and entertainment interests engaged, happy, and informed. And she's passionate saying, "One of the things I love most about my job is that no day is the same. I am able to work with all of the departments in the mall and collaborate on new ideas, strategies, and events." As the marketing director, she is responsible for the overall strategic marketing plan of the mall, overseeing consumer marketing; building and protecting the Westfield brand; retail, management, and sales partners; gift cards; and the marketing budget. It takes strong initiative to drive all of that traffic and Wallace credits family values and her mother as inspirations. Wallace considers the mall a hub of the community; it is, after all, where a large percentage of us shop, dine, and seek entertainment. "Community to me is best described as many people coming together from different places (schools, businesses, residences) to create a warm, inviting, safe atmosphere," she says. "I am fortunate to work with many community organizations including Anne Arundel County Public Schools, Girl Scouts, and the Conference and Visitor Bureau. In many ways, we act as a community center for many groups." From commerce to community, Wallace is set on ensuring responsible growth and positive experiences for all.

Jennifer Cochran
Marketing Business Owner, 39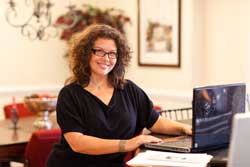 She's an idea person, go-getter, and friend to entrepreneurs, just like herself. In 2007, Jennifer Cochran founded Branches Professional Services Provider—a grassroots start-up that provides Annapolis-based businesses website, social media, and marketing solutions—after following a rather unusual and challenging path. Growing up an only child and bouncing from locale to locale during childhood (Virginia, Florida, New Jersey), Cochran picked up a number of jobs in the restaurant industry during her teen years. This set her early career path as a restaurant manager, which she followed until 2003, when she did an about-face and decided to pursue a degree in archeology from the University of Tennessee. [There she was "mucking in dirt" when she made her biggest find…boyfriend-turned-husband, Shawn.] The two hit it off and she learned of his desire to open a restaurant…but where? "Being head over heels in love and somewhat disenchanted by the overwhelming amount of dirt involved in archaeology, I happily picked up and moved once again…to Annapolis," says Cochran. The couple hopped right into the local restaurant scene, managing several restaurants. They were in the midst of planning their own café when tragedy struck. "I was injured in a car accident. That was the day my life changed forever," Cochran remembers. "I was no longer able to lift, bend, sit too long, stand too long, lay down too long, or do the activities I loved. I had to look for a way to reinvent myself and change our long term plans." She recalls driving up Main Street in Annapolis with Steve and pointing out the many "For Lease" signs, when she had her "ah-ha" moment. "I knew I could do something about losing our mom-and-pop businesses. Once the challenge entered my mind, I couldn't ignore it. And, that's how Branches was born," she says. "Our mission, both professionally and personally, is to strengthen our communities by strengthening the independently-owned businesses that drive our local economy. And, what better, more beautiful place to plants our roots and grow business from the ground up than in Annapolis."

Keith Villones
Co-Founder of Annapolis Rotaract Club, 28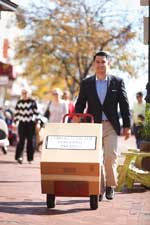 Villones draws inspiration from those closest to him and provides it tenfold to those farthest away. He cites his father—a 1967 immigrant from the Philippines who settled in Severn—as the most influential person in his life, teaching him the value of ambition and hard work, and molding Villones into a career-minded and philanthropic achiever. As a child, Villones and family would make yearly trips to the Philippines to learn of the family's humble roots and to give back to his father's third-world village on the outskirts of Manila. Seeing poverty firsthand instilled a respect of and desire to help those less fortunate. This ultimately led to Villones' co-founding the Annapolis Rotaract Club (an off-shoot of the Annapolis Rotary, inclusive of the area's younger generation) and their upcoming international service program called The Children of the Philippines Project. Villones says, "This will be our third project in the Philippines, but this year we really want to make a 'sustainable' difference." For the next six months, Annapolis Rotaract will be collecting youth clothing, toys, and supplies to be delivered to several orphanages in the Philippines. "I will be making the trip in the summer of 2012 to deliver these goods and also assess their needs beyond the basic supplies," says Villones, who has also learned physical and mental discipline during his now 23-years of karate (he competes internationally and holds several world titles in his martial art). The Towson University alum's aspirations include becoming a graduate gemologist, a career inspired by his current sales and marketing position with Zachary's Jewelers in the heart of downtown Annapolis. Villones says he's inspired every day, whether it be from a collection bin full of donated goods or from evening Rotaract meetings. "We all want to give back to our community and also have some fun doing it," he says of the club. "Stop thinking of what you are going to do for your fellow man and start doing," he enthuses.

Meghan Tieff
Fitness Model, Personal Trainer, Entrepreneur, 36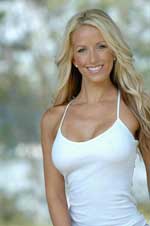 She's a model mother, a fitness guru, and devoted to helping others realize their potential. She's 36-year-old Meghan Tieff (wife to musician Dave Tieff, class of 2009's People to Watch), whose maintaining her runway looks and, as a personal trainer, motivating others to achieve similarly, all the while pregnant with the couple's second child. In fact, her pregnancies inspired Tieff to develop pre- and post-natal fitness programs and DVDs; she's even documenting her current pregnancy, "through social media to help motivate and inspire women who are pregnant or planning on having children," she says. Tieff, who grew up in nearby Bowie and attended Archbishop Spalding High School followed by the University of Maryland (College Park), credits 19 years of ballet instruction as her fitness foundation and famous trainers Denise Austin and, more recently, Jillian Michaels as influential. Though she has made a fine career modeling—including photography for UnderArmour, Shape Magazine, and Natural Muscle among many others—Tieff is at her best when helping others feel theirs. "When I taught my first [fitness] class I knew immediately that this was the right profession for me," she says. "I just love making people push themselves beyond their personal boundaries. That's what a trainer does—gets you to go farther than you would go yourself." Her goals include expanding her modeling and personal training careers, and, more immediately, "I want to help expectant mothers stay in shape. My plan is to make my pregnancy a docu-series on how to be fit before, during, and after having a baby," says Tieff, who currently resides in Crofton. She says fitness, like success, is as much a lifestyle as it is a mindset. "Fitness is not a fad diet, an infomercial, or the latest ab machine on TV—it's a lifestyle, and anyone can be fit if they make up their mind to do it."

Michael Prokopchak
Professional Landscaper, 37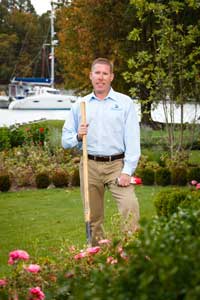 Making the world more beautiful one yard at a time is a credo that landscapers share; the very best of which are able to see beyond the decay and trouble areas of neglected properties and transform them into lush, gorgeous, aesthetic horticultural gems. Mike Prokopchak—founder/owner of Walnut Hill Landscape Company—truly loves this challenge, has an educated eye for detail, and gets his hands dirty in order to make his landscaping clients stand out in their neighborhoods. "The best day in my life occurs often," he says. "I enjoy the satisfaction of seeing the smile on a client's face when we complete a project and they say 'Thank you'." The 37-year-old, who currently lives in St. Margarets with his wife and three children, grew up in Harwood, attended Southern High School, and, at age 16, bought his first pickup truck and began designing and building landscapes. Prokopchak furthered his skills, earning a degree in Landscape Architecture from Temple University in 1996. He says the year, 2005, he and his wife bought their farmhouse in St. Margarets, complete with 2.5 acres and several outbuildings, was when inspiration struck to start his own design firm. The property, which dates back to the 1770s, was named "Walnut Hill" and with the help of his brother Matthew, the namesake company was born. Despite the long hours he puts into Walnut Hill's many landscaping projects, Prokopchak is also a volunteer firefighter/EMT at West Annapolis VFD, coaches youth lacrosse, and enjoys spending time boating on the Chesapeake Bay with my family. His values are centered around building enduring relationships and strong communities. "I give back to the community and donate to local charities. I was also pleased to be able to donate my time to design and help construct the Anne Arundel County 9/11 Memorial," says Prokopchak, whose goals include expanding business, but also spending more time with his family in the area he love so much. "I feel very privileged to have grown up in the Annapolis area and to live in such a beautiful place."

Miranda Darden
Projects Planner for Arundel Community Development Services, 36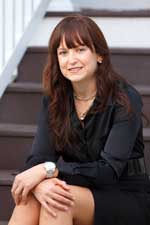 Coming from small-town Virginian roots, Miranda Darden understands the importance of community and what it means to help those closest to you. And she's built a career in Annapolis and Anne Arundel County for the past 12 years, doing exactly that; helping to enable financially stressed families and individuals afford quality housing. Darden, who holds both Bachelor's and Master's degrees in Urban Planning from the University of Virginia, is projects planner for Arundel Community Development Services, Inc. (ACDS). ACDS is a nonprofit agency under contract with Anne Arundel County to administer housing and community development programs. "Our agency manages the County's allocation of federal housing and community development funds, which is roughly $7 Million annually," she says. "I've spent the last seven years managing all of the multifamily rental projects that ACDS provides gap financing for." Having transplanted from rural Suffolk, Virginia—home of Planters Peanuts, where in grade school she was the "Peanut Princess" at the annual Peanut Festival—to Annapolis, Darden believes that "community means a place that you feel like you belong." To this end, she says her professional goal is to continue "the mission of providing affordable housing for people who need it. Everyone deserves a safe and decent place to live, and I am proud that I have helped to create almost 900 high quality affordable apartments in one of the wealthiest counties in Maryland, and in the country." Darden is currently on the Board of Directors of the Boys & Girls Clubs of Annapolis & Anne Arundel County (BGCAA), which she became involved with several years ago. She co-founded the Young Advocates (YAs), a group of young professionals "who work to further the mission of the BGCAA through volunteering, fundraising, and networking opportunities," says Darden, who enjoys running at Quiet Waters Park and recently completed her first half-marathon. "Believe in yourself, never underestimate yourself," she says encouragingly. "Strive to be stronger and better tomorrow than you are today, and never take anything for granted."

Sean O'Neill
Financial Advisor and Business Strategist, 40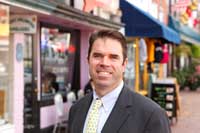 Sean O'Neill seems to have a hand in almost all aspects of the Annapolitan community, from business to pleasure. He's a "pentagon" of influence, holding five demanding company and organizational positions: a Financial Advisor for RBC Wealth Management; President of the Annapolis Business Association; a board member of the City of Annapolis Alcohol Beverage Control Board; Vice-President of the Annapolis Musicians Fund; and Immediate Past President for the Admiral Heights Improvement Association. O'Neill—whose Irish family roots instilled within him the values of hard work, perseverance, and honesty—graduated from Broadneck High School and earned a Bachelor's degree in English from Arizona State University. He recalls an inspirational memory of his maternal grandmother, an accountant and civil rights activist in New York. "During a dinner [with her], I was talking about some kind of injustice I thought I was experiencing, and at the end of telling the story, I said, 'it's just not fair, but I guess life isn't fair.' My grandmother put down her fork, she pointed her crooked finger at me, looked me straight in the eye, and said in her deep New York accent, 'then Sean-y, you make it fair.' It was a very powerful moment that I cherish to this day." O'Neill, a married father of two, has taken those words to heart and says he gets excited to help people realize that their goals are attainable, "If they remain focused and maintain discipline, then they can afford to do the things they want to do someday." As President of the Annapolis Business Association, in particular, he wants "to see Annapolis be the kind of town where you can walk into a shop, and the owner knows you by name. There is so much potential in this town and it is only a matter of leveraging our resources to make this happen." The Annapolis Musicians Fund, which he co-founded seven years ago, distributes financial assistance to musicians who fall ill or injured. "I believe that the word 'community' means 'to do your part'. If you do not get involved, then you are a spectator, not a community member," he says emphatically. Taking a cue from his grandmother, he adds, "Stop complaining. If you don't like something and you have a better solution, then work to get it changed. This is the best part of this country we live in."