The Academy Art Museum
Jan 05, 2012 10:34PM ● By Anonymous
The collection of works demonstrate Kertész's prowess in playful observation of everyday life. Currently on display at the Academy Art Museum (AAM) in Easton is the exhibit André Kertész: On Reading, which runs through January 15th.

"This exhibition is organized by The Museum of Contemporary Photography, Columbia College, Chicago," explains AAM curator Anke Van Wagenberg. "The exhibition tour is organized by Curatorial Assistance Traveling Exhibitions, Inc., Pasadena, California, and the Academy Art Museum is the last venue of the touring exhibition."

Kertész was a Hungarian-born photographer who started taking photographs in Budapest in 1912 and is known for his groundbreaking contributions to photography, especially photojournalism. He had a knack for creating dynamic compositions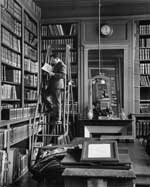 and photo essays. A prominent member of Henri Cartier-Bresson's circle (a famous French photographer), Kertész is known for changing the course of photographic art and influencing many generations. Cartier-Bresson once said, "Whatever we have done, Kertész did first."

More than 100 black-and-white photographs are on display in chronological order, beginning in the Healy Gallery with the earliest photographs taken in Budapest, Hungary, Paris, and New York, and continuing in the Lederer Gallery with the International Period, which was from 1965 until his death in 1985.

"We are thrilled to have the opportunity to display the On Reading series of photographs of Kertész, who was so very important and influential in the art of photography. We hope to have many visitors, adults and children alike, and that the exhibition will inspire both the visual arts as well as reading," says Wagenberg.

For more information, visit academyartmuseum.org or call 410-822-2787.