Real Estate Innovations
Jan 24, 2012 09:18PM ● By Anonymous
On the west side of side of St. Michaels, near the public park and dock on San Domingo Creek, there is a site that once held a modest 1930s craftsman style cottage—no longer. 208 West Chew Avenue is now a 4,000-plus-sqare-foot example of architectural design and energy efficiency. This home offers innovative qualities not readily found in historic neighboring properties and it's just what the new owners were looking for!
This home was designed and built by local architect Christopher Britton. It offers a traditional but open floor plan with four bedrooms, four full baths and one half-bath. The home has a walk-in sauna, a steam shower, heated floors and energy star appliances, and that's just the beginning. There are multiple decks and porches all floored with mahogany and offering great views of the nearby park and creek—it is definitely in harmony with its natural surroundings. The light shines through the many strategically placed windows and nicely fills the interior spaces. There is finished attic space with roughed-in plumbing available for a fifth full bath, and a potting/storage shed in the back.
The geothermal heating and cooling system uses the natural temperature of the earth to heat and cool, and can cut energy use up to 70 percent over what is needed to fuel conventional systems. The solar photovoltaic power is a renewable energy source that converts solar radiation into direct current and generates some of the energy needed to run the household. This home is a rare find in this small and historic waterfront town.
This energy efficient home had all of the right qualities for the new owners; good location: great design; move-in condition; and manageable lot. They stated that even though the 4,000-plus-sqare-foot space is larger than their home in Connecticut, this was actually "downsizing" for them. The lot was much more manageable than the acreage they have up north and the efficiency and design of the nearly new home make it much easier to maintain. They were pleasantly surprised that the paint colors and fresh design of the home melded pleasantly with their traditional furnishings.
The original craftsman cottage was purchased in 2003 for $230,000. The new home was constructed and finished in 2009, and listed for sale in July of 2009 for $998,000. Several years ago this would have been a realistic price, but deteriorating market conditions wouldn't allow it. It road the declining path of the recent market and sold for $679,000 in August of 2011, even though the 2011 assessed value is $911,000.
Contributions: The gracious and helpful new owners and listing agent William H. Marquess IV "Skipper" with Coldwell Banker Chesapeake Real Estate (www.cbchesapeake.com); Buyers' agent was Cornelia C. Heckenbach of Lacaze Meredith Real Estate (www.stmichaelsmdwaterfront.com)
Rancher Footprint Becomes Contemporary Colonial
In 2008 visitors and residents alike would have passed by the non-descript ranch home, without hesitation, on the corner of E. Chestnut and Water Streets in St. Michaels. Not so any longer. That corner is now enhanced by an attractive two-story contemporary colonial…and passersby and grateful residents do notice.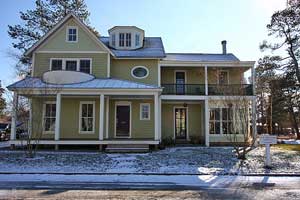 In 2009, this circa-1970 rancher was taken down to its footprint. The owner's imagination and foresight are evident in the resulting transformation. The cheery and bright exterior is mirrored on the inside. The home takes advantage of every opportunity to let natural light in. There are two second-story bedroom suites connected by an open walkway overlooking first floor living areas. Windows along the walkway allow light to shower throughout the home and the creative use of space incorporates a sitting area and open office. The main floor has open but defined living spaces with two sitting areas, dining room, beautifully equipped eat-in kitchen, and an additional suite that is designed to accommodate first floor sleeping quarters or to be used as a private entertainment area.

The approximately 2,900-square-foot home is surprisingly private inside and out, as it sits on a modest but normal sized in-town lot. There are first and second story front porches and a wonderful tiled rear screened porch. A cozy and manageable garden area and shed with off street parking complete this easily maintained home. After the "extreme makeover," the home now fits comfortably into its historic surroundings and is surely an appreciated improvement to the neighborhood. The central location is within walking distance of the harbor, restaurants, boutiques, and all that the historic town of St. Michaels has to offer.

The seller purchased the original property in 2008 for $450,000, with plans to transform it into a more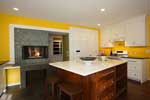 traditional structure that fit in with neighboring historic homes. The project went on to tax the owner's creativity, patience, and bank account. The project got off to a late start while awaiting approval by the Historic Commission, necessary for demolition and construction to begin. Very unfortunate timing for the owner as market conditions started to deteriorate the same year. Following the total renovation the home was listed in 2010 for $899,000, in 2011 it was reduced to $599,000 and in August 2011 it sold for $590,000.

This was not a short sale or foreclosure. The seller stepped up to the plate and covered the losses. "With so much publicity about home owners walking away from debt, it is time to notice and give credit to the sellers that do pay off their debt even though they hoped to make a profit. This was an honorable client", stated listing agent Debbie Meredith.

Contributions: Debbie Meredith and Dave Nobles, Realtors with Benson and Mangold (www.bensonandmangold.com)