Waterman's Crossing
Jan 30, 2012 09:12PM ● By Anonymous
"But when you do rebuild, you can enjoy the spirit and soul of a home that you can never get with new construction." Greco and her husband, photographer Tom Bagley, loved the location of the house they now call Waterman's Crossing, with its intimate views of the pristine shorelines of Solitude and Edge creeks, combined with long views out toward Broad Creek and the Chesapeake Bay in Talbot County. They did, however, need to make some improvements that included adding more living space, as well as installing a new heating and air conditioning system, as well as insulation. The original brick structure had the ideal layout to accentuate water views from every room. "We added Tuscan columns, Palladian arched windows, imported Italian tile, and raised the ceilings," says Greco, who has visited countless Bed & Breakfasts while writing her cookbooks and producing her cooking show for PBS-TV. Many of her design inspirations come from the places she has visited.
 Located on a rise just 50 feet from the waterfront, the 2.5 -acre property is located outside of St. Michaels at the convergence of Edge, Solitude, and Broad creeks. Initially the owners named the property On the Edge of Solitude (for the two creeks) but then saw two classic Chesapeake Bay waterman boats crossing during their morning quest for crabs and decided to change the name to Waterman's Crossing.

"The kitchen was one of our greatest challenges; to create a space that was both pleasing and functional since I work and live in this room. That meant taking over a porch and incorporating it into the existing kitchen to double the size and end up with a 22-foot by 21-foot space for cooking and entertaining in luxury."

Serving food to friends and trying out new recipes is both work and pleasure for Greco, who also writes for the online cooking magazine Teflon. "The best kitchens have smart work areas," she explains, "Because if you cook a lot, you need the comfort of everything at hand or it can become very tiring and a waste of energy." Greco's kitchen is equipped with two large sinks to provide two work areas, and a five-burner gas cook top. Utilizing local, fresh ingredients is of primary importance to the Royal Oak resident who does as much shopping as possible at St. Michaels' and Easton's farmers' markets. "Food is celebratory, whether it's a special occasion or the daily meal," she says.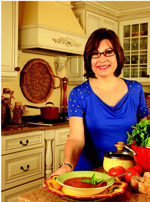 Bagley and Greco have traveled and lived throughout the United States and are sold on Eastern Shore living. "On the Eastern Shore, there's the space to think and really be," says Greco. While she may move on to a new house project someday, she plans to stay on the Eastern Shore, "Because of the geography of the St. Michaels-Easton peninsula, it can never become overcrowded with housing, people, or cars."

Special thanks to Gail Greco and Tom Bagley, and to Tom and Debra Crouch of Benson & Mangold Real Estate.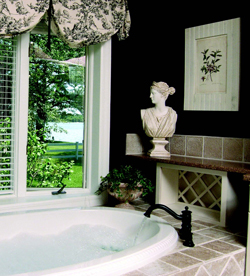 The master bathroom includes a large soaking tub with a bay window view of the waterfront.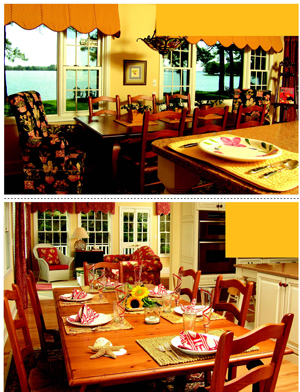 (top) The view from the sink and prep area looks out all the way to Broad Creek while the other sink looks onto the garden, winding drives, and fig tree.
(bottom) The kitchen table with cabriole legs and pine-stained top is from Spain and the country style ladder-back chairs with rush seats are from France.