Shore Things
Feb 06, 2012 10:14PM ● By Anonymous
The Great Outdoors
With attractions such as duck calling, oyster shucking, and beauty pageants, the National Outdoor Show educates newcomers, visitors, and locals about Dorchester County's rich and unique culture. Now in its 67th year, the show recognizes the county's resources, and draws attention to the talents of the folks who live there. The National Outdoor Show kicks off at 10:30 a.m. on February 25th and continues through the 26th at South Dorchester High School in Church Creek. To find out more, head to Nationaloutdoorshow.org or call 410-397-8535.


A Bargain on Books
This year, the Wye Parish Episcopal Church Books Café is getting a bit of an early start. Traditionally held at St. Luke's Chapel in Queenstown during the first week in March, the event opens on February 29th and wraps up on March 4th. Founded in 2003 by Queen Anne's County residents Jack and Joan Hennessey, the Books Café features more than 15,000 books sorted by author and category for sale at 90 percent off their original cover prices, as well as books on tape and DVDs. Books Café will be open Wednesday–Saturday, from noon to 6 p.m., and Sunday 9 a.m.–1 p.m. Call 410-827-8484 or visit Wyeparish.org for more information.
Get Ready to Masquerade
2nd Saturdays at the Foundry invites you to watch local artists at work. Sponsored by the Caroline County Co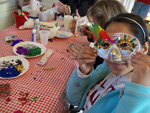 uncil of Arts, 2nd Saturdays are held each month from 2 to 4 p.m. at the Foundry in Denton. There, attendees get the chance to see artists from jewelers and pumpkin painters to basket weavers and plein air painters demonstrate their talents. On February 11th, visitors will get to make masks using supplied materials in preparation for the CCCA's Masqued Ball on March 2nd. To learn more visit Carolinearts.org or call 410-479-1009.
LiveJournal for Literature
The Rose O'Neill Literary House at Washington College in Chestertown will present BYOB: Blog Your Own Book: Using Social Media in the Literary World on February 29th at 4:30 p.m. The event will feature blogger Rebecca Joines Schinsky and author Joseph Wallace. Schinsky, who blogs at The Book Lady's Blog, is known for her informal and conversational reviews. A professional writer for more than 25 years, Wallace has written stories in a variety of genres from natural history to children's books. BYOB will focus on the rising use of social media in the book world. Visit Lithouse.washcoll.edu to find out more.


From Oslo to Annapolis
With a repertoire that ranges from Medieval to contemporary music, the Norway-based Nordic Voices have earned acclaim around the world. Hailed as having extraordinary vocal skills, the six-voice a cappella group visits St. John's College in Annapolis as part of the school's Concert Series. In "Lamentations: Old and New Music of Victoria, Gesualdo, Lasse Thoresen, and others," Nordic Voices will present an evening of sophisticated music-making. The concert begins at 8:15 p.m., and takes place in the Francis Scott Key Auditorium. For more information, call 410-626-2539 or visit Stjohnscollege.edu/events/AN/concerts.shtml.