Hello to Basmati, DiMeo's; Goodbye to Camtin Cafe
Feb 08, 2012 06:10PM ● By Anonymous
Let's start with the good news. 


· A new Indian restaurant, Basmati, has opened on Route 2 in the former location of The Blue Martini and Kava. Owner Debendra Sapkota is a native of Nepal who arrived in the United States about 11 years ago. After working in an Indian restaurant, he decided to follow his dream of opening his own restaurant. The menu features all the traditional Indian dishes, such as Chicken Tikka Masala, Biryani, and Tandoori. Amy and I visited for the lunch buffet last Friday, and despite having only been open less than a week, the restaurant was bustling. Amy had never tried Indian food before, and I love it, so we both took a little bit of each dish offered at the buffet -- and then went back to try a little bit more. Debendra also gave us each a mango lassis to try, a creamy drink that was quite delicious. We're definitely going back for another meal! Visit Basmatiofannapolis.com.
·  I haven't tried it yet, but as I was driving down West Street this morning, I noticed that DiMeo's Pizzeria is now open.
The former location of Philly Flash has been taken over by the group behind Carpaccio's to create what looks like a
casual quick-service pizza place. I'm looking forward to heading in there soon! Visit Dimeospizzeria.com.
However, the bad news is now here...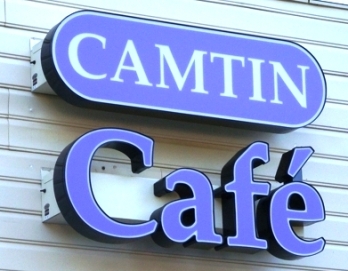 · My favorite place for a quick breakfast, Camtin Cafe on the corner of routes 450 and 424 in Crofton, has closed. I am really bummed about this because the low-cal breakfast burrito was to die for, and I loved treating myself to it every couple of weeks. The owner, Anthony, was one of the nicest guys I've ever met, always asking me about my husband and my house renovations every time I came in. Last weekend, I stopped at the liquor store in the same plaza and saw big "For Lease" signs in the window of the Cafe. Where will I stop for breakfast now? Anthony, best of luck to you, whatever your next move may be. And if you want to stop by my house to whip me up a low-cal breakfast burrito, I'd be OK with that.