Miss Shirley's Cafe
Feb 12, 2012 07:24PM ● By Anonymous
The restaurant was "lovingly created in memory of Miss Shirley's sassy charm and sheer joy in preparing food for those she loved," and owner Eddie Dopkin is dedicated to the task. On a windy but beautiful Sunday morning, we decided to check it out. It was no surprise there was a wait for a table, but it gave us a chance to appreciate the friendly and warm feel of the facilities, which includes a blend of regular tables, tall modern tables, and cozy booths.

The wait for a table was not very long, and when we were seated, Bruce, the manager, took care of our needs. The menu is complex but rich in choices, though you do have to remember that only breakfast and lunch are served. Everything sounded scrumptious, and we ordered a couple of glasses of freshly squeezed juices ($3.99) while we finalized our selection.

For our first choice, we shared the Amy's bagel ($14.99). A fantastic three-layer bagel sandwich, stuffed with succulent Duck Trap River Smoked Salmon, yellow tomatoes, Swiss cheese, cucumbers, Bermuda onions, and sided with capers, cream cheese, and a nicely tossed salad of spring mixed greens. It was so good that we got fired up for the dishes to come.

My dining companion chose the Garden Omelet ($14.99), a deliciously prepared egg-white omelet garnished with tasty vegetables such as broccoli, tomatoes, mushrooms, spinach, mozzarella and Peppadew peppers. Peppadew peppers are sweet and hint of the piquant type, native from South Africa. You may think that an egg white omelet might be boring, but au contraire—this one was superb. A nice accompaniment of savory grits and fresh fruit completed the dish.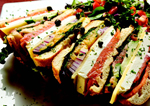 My selection was more manly, the Shirley's Affair with Oscar ($22.99). This dish received accolades from Food Network magazine as the best breakfast in Maryland. The Oscar preparation is well known, but the creativity of this one beat many of my previous experiences. Two small petite filets were cooked to my preference and topped with thick fried green tomatoes, laced in a delicious and rich buttery Hollandaise sauce and garnished with jumbo lump crab. It came with sides of savory grits and bacon and asparagus, and was simply excellent.

There isn't a traditional wine menu, but you can still have a spirited beverage if need be. Miss Shirley's offers a few specialty drinks such as the Mimosa or its spicy version of the Bloody Mary, composed of vodka, pickled okra, jalapeño peppers, celery, lime, and rimmed with Old Bay. You can also choose from a wines-by-the-glass list. It was a hearty way to start our Sunday, and we will definitely take advantage of it in the future.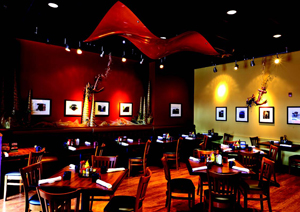 When to Enjoy:
7 a.m.–3 p.m. Monday to Friday;
7:30 a.m.–3:30 p.m. weekends and holidays

Expect to Pay:
Appetizers: $3.99–11.99
House Specialties: $6.99–22.99
Classic breakfast: $8.99–16.99
Soups and salads: $4.99–14.99
Sandwiches: $10.99–16.99
Cocktails and wine by the glass: $5.99–8.99

"You may think that an egg white omelet might be boring, but au contraire—this one was superb."
—Gilles Syglowski