Mitchum's Steakhouse
Mar 07, 2012 12:58PM ● By Anonymous
The building, which formerly housed a general store, now boasts high ceilings, a marble entranceway, and an open feel that gives the restaurant a swaying opulence without the pretension that often comes along with it. As you step onto the front porch, there's a striking juxtaposition of a rural Eastern Shore town and a steakhouse that would fit in downtown Washington, D.C. But any trepidation should be left at the door, as you'll find an approachable restaurant with inspired food and good execution.
When you roam in steakhouse territory, your best bet is always to stick to classic cocktails, upon which the bar program should be judged. A Hendrick's Gin Martini ($12.95) and a Maker's Mark Manhattan ($11.95) were our classics of choice, and both lived up to the expectations we put on them. They were balanced, used quality spirits, and were surprisingly large, seemingly far more than a standard size pour.
To begin our culinary trek through Executive Chef Chris DeLaurentiis' menu, we started with the Marvesta Sauteed Shrimp and Grits ($13) and the Veal Sweetbreads and Mushroom Ravioli ($13). The shrimp were pan-seared and well seasoned, locking in a crust of flavor on each bite. They were then served over a portion of grits loaded with locally sourced Chapel Creamery cheese. The dish stayed true to Southern technique and added a little bit of spice and texture with the inclusion of andouille sausage. An indulgent dish, to be sure! The mushroom ravioli were clearly made in house and were adorned in a thin veal stock reduction. The flavors were on both, but the thick-cut mushrooms and thick-cut sweetbreads made it a little tricky to get a single bite that included both. They were delicious apart, but even better together.
Veal sweetbreads and mushroom ravioli, served with cheddar cheese grits and veal reduction.

The menu isn't overwhelming, offering 11 main dishes, but it covers all of the traditionalsteakhouse offerings with seven cuts of steak, three seafood dishes, and a poultry dish offered. We moved through the entrée portion of the menu, picking a steak and a seafood dish in an effort to sample the depth of the menu. The Seared Diver Scallops ($28) were, cooked to a beautiful medium and accompanied by an appropriate seasonal accompaniment of sweet potato and collard greens. In the current times, when grocery stores source ingredients from around the world, it's too often that you find out-of-season vegetables adorning plates at restaurants where chefs aren't interested in taking the time to adapt to the changing seasons. It was a welcome relief to find fall and winter vegetables on this dish, taking an appropriate flavor combination to help fight the bite of the winter air. The second dish we tasted was the weekly Prime Rib special. At $20, served with your choice of a side, this dish is a steal. The prime rib had a heartily seasoned, salty crust around the edge, and the meat moved from medium along the edges to a beautiful medium rare in the center. It was cooked as well as we could have hoped and was really the standout dish of the evening. Served with a house-made au jus and French beans, it was a steakhouse meal as you hope a steakhouse meal will be.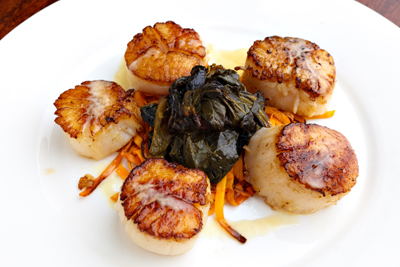 Seared diver scallops.
To complement these dishes, we indulged in a few glasses of wine from the extensive list that Mitchum's offers. With a bottle list that is well thought out and put together, including 13 selections by the glass and many more in the bottle, we were quite pleased with our options. The prices range from a $26 bottle of Pinot Grigio to a $300 bottle of Opus One, offering many varietals, regions, and price points in between. It's a fitting list for a steakhouse not only in Trappe, but in any major market you might dine in.

Mitchum's Steakhouse is really a gem in Trappe. A restaurant has so many moving parts that need to work in harmony to make it a wonderful meal and Mitchum's is firing on all cylinders. The space is stunning, with marble and wood floors, columns reaching to high ceilings, and an open layout that allows for breezy conversation. The service is casual, yet elegant—there when you need it and gone when you don't, always ready to answer questions and, if required, to give you a detailed history of the building, the food, and the concept. And the food was executed beautifully. In true steakhouse fashion, the center of the plate proteins are the stars of the show, but with this kitchen, don't sleep on the seafood. Whether it's a special event or just a bite at the bar, you'll find the trip to Trappe to be a worthwhile one.

Mitchum's Steakhouse
4021 Main Street, Trappe
410-476-3902; Mitchumsteakhouse.com

Dinner: 5–10 p.m. Tuesday to Saturday, 5– 9 p.m. Sunday

Appetizers: $7–13
Entrees: $24– 45
Desserts: $8–12