The Dish: East Meets West Tuna at Chart House
Apr 30, 2012 04:40PM ● By Anonymous
Executive Chef Chris LaCasse tells us the story behind The Chart House, as well as a little bit about himself, and shares the recipe for the tuna dish.
What is the Chart House's philosophy when it comes to food and dining?
Our culinary team strives to keep the menu fresh and relevant, continuously introducing new menu items while preserving guest favorites. We also pride ourselves in the highest service standards with constant training for our staff. Our loyal guests are always our top priority; without them, we wouldn't be here.
How long has Chart House been in Annapolis? Where did it start?

Chart House opened in Annapolis in 1979 in the historic Trumpy boathouse. The original Chart House opened in Aspen, Colorado, in 1961. Chart House celebrated its 50th anniversary last year.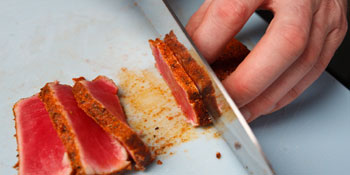 What do you think are the Chart House's three biggest selling points?

It almost goes without saying that when you think about a spectacular view in Annapolis you think Chart House, but we are more than that. We have an amazing staff that is committed to offering our guests service that matches our philosophy and a unique take on fresh seafood dishes.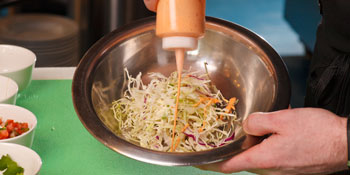 What was your first job in the restaurant industry? What did you learn?

I was a dishwasher at a ski resort in upstate New York where I grew up. I learned that a good work ethic and integrity will be rewarded when you are recognized by your peers and superiors. That is what turns a job into a career.
What do you like best about the Annapolis restaurant scene?

There are a so many different types of restaurants and there is always something new to try.  I've been here for almost a year and I feel like I haven't seen half of what Annapolis has to offer.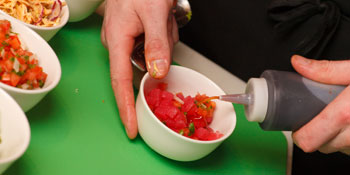 When you're off the clock, where do you like to go for a bite to eat?

I work late so usually it's Davis' Pub for a Crab Pretzel.  They have awesome pub food and great people.
 
Do you prefer beer, wine, or liquor? Which type/favorite cocktail?

I like a little bit of everything, but an IPA like Loose Cannon or a full-bodied Cabernet Sauvignon.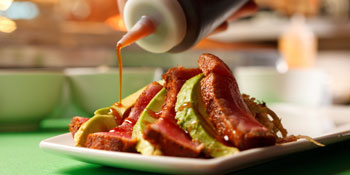 What's your favorite dish on the menu at The Chart House?

The Mixed Seafood Grill.  It has a nice tasting of several of our signature dishes.
What makes this tuna special or unique?

Lots of restaurants offer seared tuna or a tuna tartar; I think what makes ours unique is the duo of contrasting texture and flavor. Plus, we use the freshest ingredients available to really allow the tuna to be the star.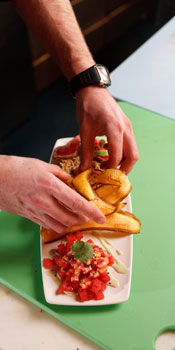 What beverage would you pair with this recipe?

Pine Ridge Chenin Blanc—Viognier. It has the tiniest hint of sweetness that really balances out the spice on the seared tuna.
East Meets West Tuna
Two 2-ounce pieces of sushi-grade tuna
2 ounces Cabbage Slaw (shredded green & red cabbage, julienne carrots)
3 avocado slices
6 fried plantain strips
1 teaspoon Pico De Gallo (diced tomatoes, onions, cilantro, lime juice, and jalapeño)
2 teaspoons wasabi cream
3 tablespoons Kim Chee dressing
3 teaspoons soy glaze
1/8 teaspoons black and white sesame seeds
Cajun seasoning
1 sprig cilantro

Seared Tuna

1. Take one piece of tuna, coat in Cajun seasoning on four of the six sides
2. Heat oil in a non-stick skillet over medium high heat
3. Sear tuna on the seasoned sides 20-30 seconds per side, set in refrigerator  
4. Combine cabbage slaw with 2-½ tbsp Kim Chee dressing and toss to coat
5. Mound the cabbage slaw on one side of a plate
6. Remove seared tuna from refrigerator and slice into 4 pieces.
7. Alternate tuna and avocado slices in fan pattern over the cabbage slaw, drizzle with 1 tsp soy glaze
Tuna Tartar

1. Cut tuna in ¼" cubes to make tartar
2. Mix the tuna tartar with 2 teaspoons soy glaze and 1 teaspoon Pico de Gallo
3. Drizzle Wasabi cream on the opposite site of plate and mound tartar on top
4. Drizzle remaining Kim Chee dressing over the tuna tartar and garnish with sesame seeds and cilantro
Serve with fried plantain strips