The Dish: Gambas a la Mexicana at Broadneck Grill
Jun 19, 2012 07:53PM ● By Anonymous
How did your culinary career begin?
I grew up in Pueblo Mexico, came to the U.S. at age 16, and missed the traditional dishes of my home. Twenty years ago, I started working here as a line cook with my brother, and found my passion is with food. Now as a chef, I try to incorporate fresh ingredients and spices from Mexico.


How often do you add new dishes to your menu?
Because we have so many regular customers, I try to have a new dish at least every two weeks. We also have blackboard specials every day.
What kitchen tool or gadget could you not cook without?
I cannot work without a sharp knife set. It's very important for prep work in our industry.
What's your favorite local ingredient?
Fresh jumbo lump Maryland crabmeat.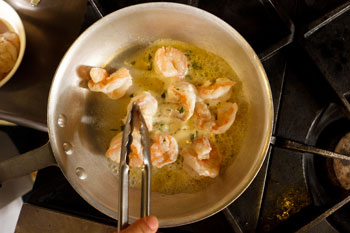 What do you like most about your job?
I find it very rewarding and gratifying to prepare delicious dishes for one guest or 800 guests. I also enjoy working with my kitchen staff. We all work as a team, which makes our kitchen run like a smooth engine.
What makes this dish special to you?
Gambas used to be a blackboard special only, and we added it to our menu because it was so popular.
What wine or cocktail should this dish be served with?
Our homemade sangria complements this dish well.
Gambas a la Mexicana
Serves 1
7 ounces shrimp
2 tablespoons garlic butter¼ cup white wine
¾ cup broccoli florets
½ cup mushrooms, sliced3 tablespoons tequila3 ounces ranchera sauce (recipe below)
3 ounces enchilada sauce (recipe below)
¼ cup taquito sauce (recipe below)
Peel and devein the large shimp. Melt the butter in a skillet over medium-high heat. Add the shrimp, broccoli, and mushrooms to sauté.
After the shrimp is half-cooked, no more than five minutes, add the tequila. Stir for one minute, and then add three ouces enchilada sauce, 3 ounces ranchera sauce, and ¼ cup of the taquito sauce. Stir until heated through.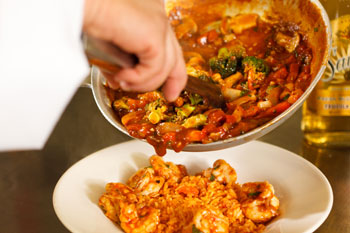 Serve over Mexican rice.
Ranchera sauce
The following recipes have been scaled down from restaurant quantities. Depending on how much you plan to eat, you might want to half the recipe.
½ cup oil1 ½ pounds julienne onions1 ½ ounces salt½ ounce ground black pepper½ ounce garlic puree½ tablespoon ground coriander½ tablespoon ground cumin½ tablespoon ground oregano
28-ounce can diced green chiles2 28-ounce cans diced tomatoes2 28-ounce cans water
2 ½ ounces cornstarch
1 cup waterIn a large stockpot, sauté the onions in oil until they are translucent, and then add the green chilies, diced tomatoes, and water. Simmer for 30 minutes.Whisk the cornstarch into one cup of water and add to the sauce to thicken. Simmer 10 more minutes.
Enchilada sauce
½ cup oil
½ pound diced onions
¼ pound chili powder
1 ½ ounces salt
1 ½ ounces sugar
½ ounce garlic puree
½ tablespoon cumin
½ tablespoon ground oregano
½ tablespoon ground marjoram
1 ½ ounce chicken base28-ounce can tomato puree6 ancho chiles
1 pound butter, melted2 cups flour
Sauté all the ingredients except chiles, butter, and flour in a large stockpot for 10 minutes, and then add 1 gallon water. Bring to a boil and add the ancho chili, butter, and flour. Combine thoroughly, lower the heat, and simmer for one hour.
Taquito Sauce
2 tomatoes, chopped
1 bunch cilantro, chopped
2 onions, chopped
1 teaspoon garlic powder
½ teaspoon ground coriander
1 teaspoon ground oregano
salt and pepper to taste
Lemon juice, to taste

Combine all ingredients and mix thoroughly.
Broadneck Grill is located at 1364 Cape St. Claire Rd, Annapolis.
410-757-0002
www.broadneckgrill.com