The Dish: Curried Risotto and Vegetables with Cod
Aug 31, 2012 05:00PM ● By Anonymous
Curried Risotto and Vegetables with Cod
Serves 1
Ingredients
• Half of one zucchini, sliced
• Half of one yellow squash, sliced
• Six grape tomatoes
• Half of one onion, chopped
• 1/2 cup corn kernels
• 6 ounces cod
• 1 cup Arborio rice
• 2 cups vegetable stock
• 1 cup coconut milk
• 1 tablespoon Thai red curry paste
• 3 tablespoons extra virgin olive oil, divided
• A pinch of salt, pepper, and coriander
Directions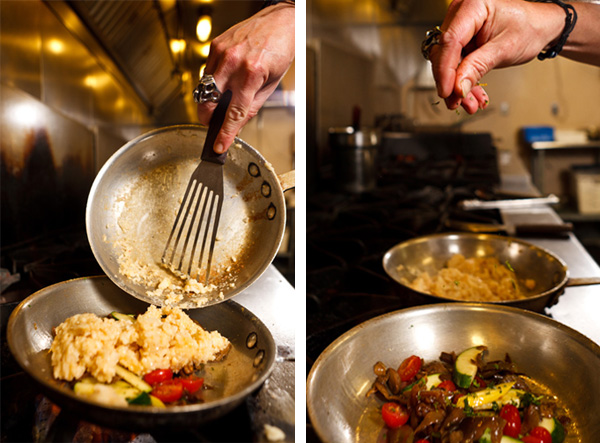 To make the risotto
Heat 2 tablespoons olive oil in a large skillet over medium-high heat. Add the rice and sauté until the grains are covered in oil. Add the vegetable stock. Cook until the rice is tender and has absorbed all the liquid.
For the vegetables
Preheat the oven to 400 degrees. Toss the zucchini, squash, tomatoes, onion, and corn with one tablespoon olive oil, salt, pepper, and coriander. Spread them out on a baking tray and roast until they are tender all the way through.
For the fish
Season both sides of the cod with salt and pepper. Sear the fish on both sides on the stove, and then pan roast it in the preheated oven until cooked all the way through.
Now put it all together...
Place the roasted vegetables in a large skillet over medium-high heat, and then add the rice. Deglaze the pan with coconut milk, and then stir in the red curry. Sauté all ingredients until they are thoroughly mixed and warmed through. Spoon into a shallow bowl and top with the fish.