What's Up? With Real Estate
Oct 30, 2012 07:04PM ● By Anonymous
Chartwell on Severn
Primary Structure Built: 1970
Sold For: $800,000
Original List Price: $850,000
Last Sold/Price: 1978/unavailable
Bedrooms: 5
Bathrooms: 3.5
Living Space: 4,871 square feet above ground; 5,000+ square feet with basement
Lot Size: .42 acre


Listed in February 2011, relisted in August 2011, delisted in November 2011, listed in May 2012 and almost immediately delisted again— first impressions might be that this Dutch colonial was not meant to sell. But sometimes, it's not the days on market or the price or the features that speak to you—it's the story the house tells, and in this case, oh, what a story.
Situated on the 12th tee at Chartwell Country Club, this Severna Park home was considered "iconic" to area residents, prominently overlooking the hilly golf course and known as the go-to spot for hot chocolate on snowy sledding days. Matt and Patricia McKenna purchased the home back in late '70s and raised their family there, with its hardwood floors, four fireplaces, screened porch and unique deck built around a beloved oak tree. Beautiful golf course views, a quiet street, large rooms, great closet space and a remodeled kitchen with granite/Corian and custom cabinetry rounded out the picture-perfect image. It is one of those homes that naturally convey a warm, loving vibe. But with the family grown and the passing of Mrs. McKenna, the home was placed on the market, albeit, reluctantly.
A year ago, after touring the property and loving its size, layout and location, "we tried to put in an offer, it fell through, and we walked away," says local Stacey Ireland.
The Ireland family continued to search for the right home, but kept coming back to the Chartwell on Severn residence. Mr. McKenna, who winters in West Palm Beach, remained hesitant about selling and ultimately declared if anyone was that eager to purchase it, they should pursue him in Florida. And that's how it came to be that both realtors, Mr. McKenna and Mr. Ireland ended up in a Florida restaurant near the airport for hours. "I didn't get a phone call the whole time and I was a nervous wreck," says Mrs. Ireland. Finally, a text message came through with a picture attached of Mr. McKenna and Mr. Ireland, arms draped over each other's shoulders, smiling, and with a hand-written note: "WE GOT IT!!!"
Thrilled with their new home, the Irelands are making minor changes such as repainting and removing some wallpaper, and might consider remodeling in the future to open up more rooms to the back views. For now, though, they plan on maintaining that warm, loving vibe with their young family.
Sources: Shauna Talbot (listing agent), Broker, Talbot Realty, 410- 693-0094, shauna100@verizon.net. David Orso (buyer's agent), MBA, Century 21 New Millennium, 443-691-0838, david@davidorso.com.
Bay Ridge
Primary Structure Built: 1980
Sold For: $870,000
Original List Price: $1,299,000
Last Sold/Price: 1987/$299,000
Bedrooms: 3
Bathrooms: 2.5
Living Space: 1,809 square feet above ground + 1,376 square feet in basement
Lot Size: .26 acre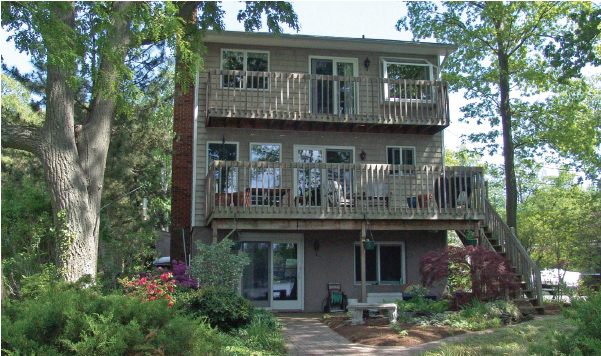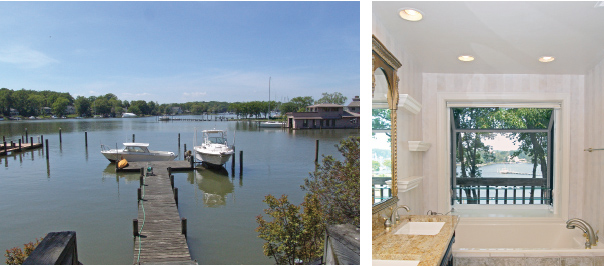 Listed and delisted in 2009, with a relisting and several price adjustments in 2011, this waterfront property proves great deals can be had by carefully tracking a home's listing history. "The market has definitely picked up, but prices still haven't recovered," notes Charles Buckley, associate broker with Long & Foster. "This was a really good price for a waterfront home," he adds.
Conveying numerous appealing waterprivilege features, this Bay Ridge residence includes 40 feet of bulk-headed water frontage, a private pier, boat slips, a 10,000-pound boat lift, a pier equipped with electricity and five feet of water depth. The property looks out to Lake Ogleton, which opens into the mouth of the Severn River, and offers easy access to the bay. The Bay Ridge community is known for lots of attractive amenities, including beaches, a pool, playground, clubhouse, marina and protected wooded areas.
The home itself is a unique blend of contemporary and traditional, with its shingled siding and double balconies (including one off the master bedroom) situated for spectacular water views. The master bathroom, attached to the master bedroom, was recently remodeled to include a two-person whirlpool tub, large shower, two-sink vanity and granite counters. A walk-out lower level encompasses a family room, wood-burning brick fireplace and wet bar. The main floor includes a traditional living room (overlooking a garden in the front of the home), dining room, kitchen layout.
Sources: Charlie Buckley (listing agent), Associate Broker, Mr. Waterfront Team, Long & Foster Annapolis, 410-266-6880, charlie@waterfronthomes.org. Brad Kappel (buyer's agent), Salesperson, Mr. Waterfront Team, Long & Foster, 410- 266-6880, www.waterfronthomes.org.