Get your Thanksgiving Off to a Running Start
Nov 15, 2012 10:40PM ● By Anonymous
Things have changed nowadays, though. We brine turkeys in organic apple cider to make the skin juicier. We pass up the salad course for Brussels sprouts cooked in bacon fat. When it comes to pies, we have six different kinds to accommodate nut allergies, gluten allergies, lactose intolerance, and Type 2 Diabetes. We happily throw ourselves overboard with our Thanksgiving meal, knowing full well that we won't be wearing our skinny jeans until February.
If you're like us, you're thinking about doing something a little different this year. Instead of waking up at 5 a.m. to put a turkey in the oven, consider starting your day with some sort of activity to get your heart pumping and your blood circulating. There are turkey trots and other road races around the area that allow you to get out for a good cause, as well as yoga classes, gym workouts, and pilates to get rid of any excuses you might try to come up with. If your Thanksgiving really is too crazy to allow for more than a brief walk outside, we even have post-Thanksgiving workouts to help your tummy get flat without any sort of crash diet or juice cleanse.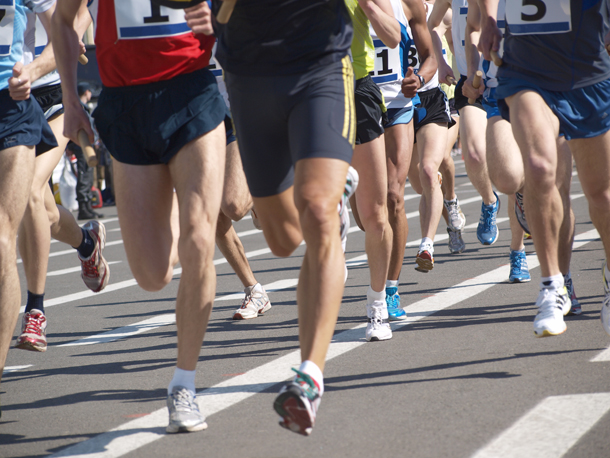 Who knows. You might be wearing your skinny jeans sooner than you think.
6th Annual Thanksgiving Turkey Trot with Fleet Feet Annapolis  features a 3 or 5-mile loop around beautiful Annapolis. 9 a.m. start time.
YMCA Camp Letts Turkey Chase  sends you around the scenic trails of the Smithsonian Environmental Research Center, where you might just see a wild turkey! 8:45 a.m. start time.
Flow Before Feasting Yoga Workshop  lets you get your down dog in before you get your grub on. Be ready to sweat. 9 a.m. at Whole Yoga in Odenton.
Great Turkey Chase 5 and 2 Miler   in Queenstown Harbor sends you around the golf course, letting you enjoy the spectacular Chester River waterfront. 8 a.m. start time.
Evolutions of Annapolis Thanksgiving Holiday Fitness Feat   gives you a 3-in one power workout to get you to earn that Thanksgiving meal with 30 minutes each of cycling, kettle bell, and barre workouts. Open to non-members, but call ahead to register.
Pre-Turkey Burn at Prana Yoga Studio  puts hot Vinyasa Yoga on the menu. Come ready to sweat like you've never before! 8 and 9:30 a.m. classes available.
2012 Gobble Cobble Turkey Trot  has you running around Baltimore's inner harbor for this exciting race. 8 a.m. start time.
Rest and Digest Yoga Workshop will use time-tested yoga to get your digestion back up and running after your big meal.
Get Back into the Pilates Swing  helps you get your flat tummy back with an energetic pilates workout that will have you fitting into your favorite jeans by Saturday night. Space is limited, though, so call ahead to register.