Small Works, Many Mediums
Dec 11, 2012 12:57AM ● By Anonymous
Luckily for local art lovers, the Maryland Federation of Art (MFA) will showcase an exhibit that achieves distinction— curated entirely of works no larger than 11 inches by 11 inches—and intends to provoke discussion.
In its 10th year, the annual Small Wonders exhibition continually strives to develop new themes each season, within the size caveat. This year, Juror Laura Amussen of Goucher College has selected a very different type of art exhibition. "The work is edgy, engaging, and exciting," says MFA Executive Director Joann Vaughn. "The exhibition has a current vibe to it and the work looks like art you would see in a much larger urban environment. This is art that communicates new ideas or presents old ideas in a new way. There is very little painted work in the show and, I think, no sailboats. The artwork tends to be mixed media, a lot of encaustic work, small sculpture— even some fi ber work, and lots of prints."
Proof Handmade by Ingrid Schindall, handmade paper with letterpress printing.
And being held through December 29th, the time for this type of exhibit feels perfect. "This is popular during the holidays because if people are going to buy art as a present, a smaller piece is often easier to gift than a large painting. Additionally, since the work is quite small, we can fi t more work into Circle Gallery on 18 State Circle [the MFA's main gallery], making for a very rich, intricate, and intriguing show," says Vaughn.
In keeping with the nonprofi t MFA's vision of bringing current and innovative art to the community, Small Wonders will present an eclectic, sophisticated exhibition of work by artists from all across the country—more than 50 artists have work in the show. MFA's Circle Gallery is open Tuesday–Sunday, 11 a.m.–5 p.m. To learn more about the Maryland Federation of Art and Small Wonders, visit Mdfedart.com or call 410-268- 4566.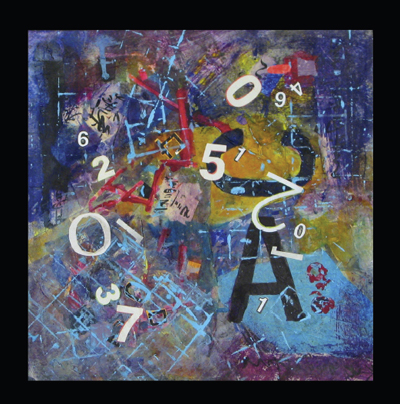 Floating Thoughts by Judith Kohn, mixed media collage.