Colonial Elegance in Annapolis
Jan 17, 2013 06:13PM ● By Anonymous
Annapolis is a small town with a big reach, and nowhere is that more evident than Slayton House, an elegant, unassuming residence near the waterfront that just so happens to have been home to several prominent historical figures, the focus of archeological findings, the site of a designer showcase, and, quite possibly, the most architecturally significant row house in the country.
Its newest owners, a young, professional couple who recently purchased the residence for $1.7 million, were interested in a property that incorporated some modern conveniences with traditional charm and vintage elements. They hit the mother lode with this 238-year-old Georgian townhouse.
Links to Significant Figures
Built by John Ridout in 1773–1774 as part of a three-unit structure, what originally was called the "Ridout Tenement" (now known as Ridout Row), is considered one of the earliest introductions to terrace or row houses in the United States, according to Historic Annapolis, a nonprofit preservation and education group. "The Row" is one of only a handful of surviving and intact pre-Revolutionary row houses in America. John Ridout's name figures prominently with this property and throughout Annapolis. Involved in the second-floor addition to the Whitehall plantation house and the building of the John Ridout House, he was also an agent for the Lord Lignonier slave ship thought to have transported Kunta Kinte, ancestor of Roots author Alex Haley. Interestingly, a Ridout descendant, Orlando Ridout IV, was a source of information in Haley's research and served as an advisor with the Kunte Kinte–Alex Hailey Foundation.
Hanging prominently in the foyer of the four-story residence is a copy of a 1774 letter from John Ridout to his mother-inlaw, Anne Ogle, describing the completion of the property and his hope that she can stay there "…after the present Dispute subsisting between these Colonies & G Britain shall be settled…," a fascinating reference to the Revolutionary War. Madame Ogle, the widow of Maryland governor Samuel Ogle and mother to Benjamin Ogle, also a Maryland governor, eventually did reside in this six-bedroom townhouse. With friends like Benjamin Franklin and George Washington (her daughter Mary's letter describing Washington's military resignation is considered an historic reference), Madame Ogle was one of the grande dames of early Annapolis society. The home's entrance hall, which has since been restructured as part of the dining room, traditionally would have been where a person of Ogle's stature would receive daily visitors.
Layers of History
Though some layout changes have been made, many of the original materials have survived because the house has largely been inhabited throughout the years, notes Orlando Ridout V, another descendant of the builder, an architectural historian, and current resident of the Row. With nearly 6,700 square feet of living space, those original elements are abundant. The walls at the base are more than two feet thick, all solid brick, according to George Brown, previous owner for seven years, and who, along with his wife, Patricia, lovingly maintained and renovated several areas of the house in painstaking detail and in adherence with historic-home guidelines.
The floors are Georgia pine, hand sawn over a pit so the board sizes are not standardized. Though covered with protective shingles, the roof is original, as are the ceilings, trim, and banisters. The dwelling is topped with masonry slab chimneys, distinctive to the new owners, who readily spot their roofline from around town.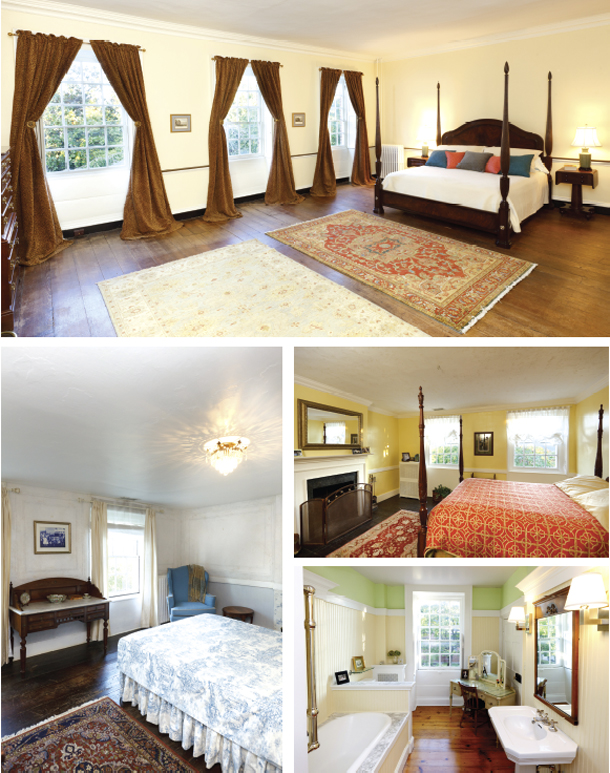 A common misconception is that Revolutionary-era bedrooms were small and dark quarters. In fact, the Slayton House's master bedroom is a massive open and airy space; the buttery yellow bedroom in this 238-year-old home, like most of the rooms, has its own fireplace; outfitting an historic home may seem a daunting task, but layering pieces, such as a vintage desk in one of the baths along with modern light sconces, helps unify the space. Light tones on the wainscotting walls bring out the richness of the marble tub and hardwood floors; the plaster ceilings, trim work, blue tiles, and wood floors in this guest room are original to the home.
As the decades passed, newer additions now stand as remarkable relics of their times, says Ridout V. Upgrades in the 1830s–1850s brought in Greek Revival influences, such as detailing above the entranceway doors. A top-floor window has etchings on the glass panes, believed to be initials or "graffiti" from the installer or manufacturer, dated 1878. Circular sandstone floor grates are an example of pre-1910 centralized heating (now returns for the HVAC system). A vintage telephone hardwired into the hallway is a rare survivor of Annapolis' earliest phone service. Inlay work around one fi replace (the home has seven altogether) is a unique glimpse of Victorian ornamental tile and, though unconfirmed, is thought to be Minton tile, the same used in the U.S. Capitol.
The new owners have a deep appreciation for antique pieces, and their furnishings and décor, including several mid-toearly 1800s pieces, fl ow seamlessly with the home's style and historically layered finishes.
Contemporary Influences
In 1923, the property was purchased by Naval Academy graduate Charles Slayton and his wife, Pauline, and it remained their family home for decades, eventually inherited by their son, Captain Morgan Slayton.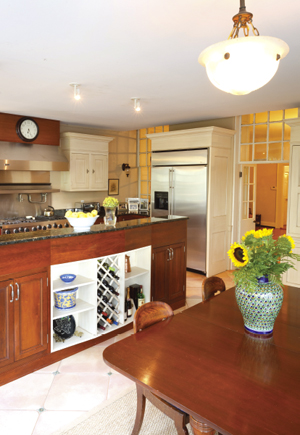 Captain Slayton had an illustrious naval career, receiving the Bronze Star during World War II and even hosting President Eisenhower while commanding the USS Des Moines. He went on to teach at the University of Maryland, worked for the Historical Committee for Annapolis, among other civic organizations, and most notably, willed this home to the Historic Annapolis Foundation upon his death in 1992.
The foundation researches and ensures the preservation of the historic fabric of sites in Annapolis and, in this case, had plenty with which to work. In the mid-1990s, it sponsored an archeological excavation of the premises. The backyard, which had 19th- and 20th-century gardens (still there today), was found to have been the site of several 18th-century outbuildings, or, in essence, a work yard, says Dr. Mark P. Leone, professor of anthropology at the University of Maryland, College Park, and director of the Archeology in Annapolis project.
In several parts of the home, including the lower-level's massive kitchen hearth, Leone's team uncovered African American "bundles," dating from before emancipation to the 1920s. These artifacts are thought to have been used by servants in West African folk traditions, he notes. As such, the house is not just an important piece of American architecture, "it is a very important culturally African space," Leone adds.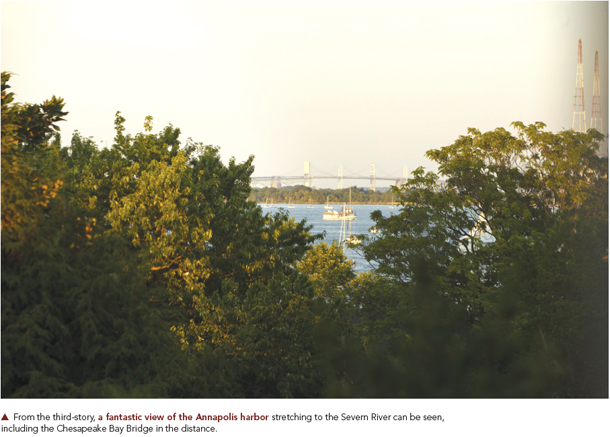 Historic Annapolis went on to attach interior and exterior easements to the Slayton House to protect the residence in perpetuity and then prepared to sell it to individuals willing to care for it. But first, the property was selected as a show house in 1997, an extensive project involving 22 spaces, several designers and a band of volunteers. The show home displayed nautical themes, modern colors, and updated finishes, a few of which are still visible today.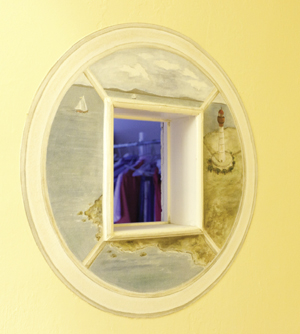 Making History a Home
Since then, Slayton House has reverted back to a private residence, but maintaining its historic elements is a never ending task. Windows in the master bedroom, for example, had sunk on one side while Brown was in residence. To fix them to historic standards, he had to find 3-inch-thick by 11-inch-wide walnut, a rare and expensive material with limited suppliers.
Likewise, the new owners hope to fully restore the 1,300- square-foot basement, which includes the original kitchen, but they anticipate it will be a long and complicated process. The basement currently serves as a storage area for an array of old materials, many of which cannot be thrown away because of their potentially historic designation. No doubt, the new owners' efforts will add another historic layer while unveiling more notable features of this Annapolis gem.