Footworks: "Steps & Stripes"
Jan 22, 2013 09:00PM ● By Anonymous
Footworks Percussive Dance commemorates The Star Spangled Banner's 200th anniversary with "Steps & Stripes" at a Maryland Hall performance on Friday, March 8 at 8 pm. Tickets are $25; $20 for children and Maryland Hall members.
"Steps & Stripes," which includes many guest artists and outstanding musicians, celebrates the multicultural history of Baltimore. Combining Irish music and dance with African music and dance, the show illuminates how these diverse cultures met and led to some of the beautiful and uniquely American music and dance we see today. Footworks uses clogging and tap, along with modern and hip-hop dance, to create a visual timeline of Baltimore's history.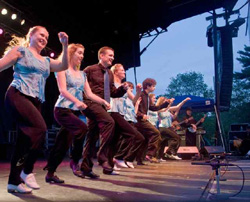 Maryland Hall is supported by a grant from the Maryland State Arts Council, an agency funded by the State of Maryland and the National Endowment for the Arts, and a grant from the Arts Council of Anne Arundel County. Additional support comes from sponsors including: COMCAST, Inovalon, Inc., ARINC, Bay Ridge Wine and Spirits, Towne Transport, Verizon, Wells Fargo, Sandy Spring Bank, M&T Bank, Loews Annapolis Hotel, Severn Savings Bank, Corporate Office Properties Trust, The Law Offices of Alexander & Cleaver and BankAnnapolis.
For more information or to order tickets, contact the Maryland Hall Box Office at 410-280-5640 or visit www.marylandhall.org. Box office hours are Monday - Friday from noon – 5 pm. Maryland Hall for the Creative Arts is located at 801 Chase Street, Annapolis.