Washington Redskins: Alfred Morris
Feb 12, 2013 08:18PM ● By Anonymous
Redskins rookie quarterback Robert Griffin III and his spectacular play have been the story of the season. Morris isn't that far behind, though. He finished the regular season with a team-record 1,613 yards (second most in the NFL) to help the Redskins to their first playoff berth since 2008. The 5-foot-9, 218-pound back provided Washington coach Mike Shanahan with the workhorse he's been seeking for the past two years. Morris, a native of Pensacola, Fla., was at his best late in the season. He rushed for more than 100 yards four times in the last six weeks during Washington's playoff push. We caught up with Morris right before the playoffs started.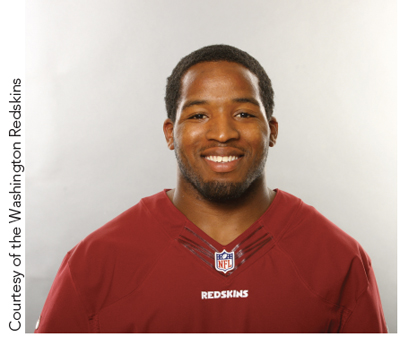 Your Mazda wouldn't start when you were heading to a practice at Redskin Park in late November. It sounded like you were ready to get another car and put that one in the garage for the winter because of the cold weather.
I still have it. I still drive it. I plan on keeping it as long as possible. Once the weather gets pretty bad, I am not going to drive it. I will lease a car or rent a car.
Why do you like the car so much?
It was my first car. It has a lot of sentimental value to me.
You are in select company being named a Pro Bowl alternate. What did you think of the selection?
It's an accomplishment, being a rookie. Usually, rookies get snubbed, based on what I have been told. It was never a goal of mine to make the Pro Bowl. It's just not my focus. I just go out there and give it my all every single day—one win at a time. The only thing I was thinking about was the postseason late in the season. I don't let the extra pressure get to me. I just go out there and do what I have been doing my whole life—that's playing football.
What kind of goals did you have?
I didn't have any individual goals. I just wanted to do everything to help my team win. When I first came in, I didn't think I was going to be a starter. My first goal was to make the team. After that, my goal was to climb the depth chart. I was able to do that faster than expected. I am just thankful I was able to get my opportunity, and I have made the most of it since.
Some players look at the preseason as a waste of time. What was your mindset?
When they gave me the opportunity, I wanted to make the most of it. The first couple of games, I got in the second half. I think it was the Chicago game, and I started that one. They say the third game is the most important. They actually keep the first string out there a lot and I was able to have a pretty impressive game. The coaches liked it enough and sat me in the fourth game. The first game [of the regular season] I was starting. I am thankful for the opportunity. I am just thankful to be here. I don't take it for granted.
Your season is the best ever for a Redskins running back. Did you know?
I don't think about that. My only focus is winning. I am team-oriented. I want to win and go to the postseason. I want the Redskins to return to glory. Making the playoffs would mean a lot, especially coming in as a rookie. To know you had a hand in getting us to that point is a great experience.
Mike Shanahan has a habit of discovering successful running backs in the lower rounds of the NFL draft. Two stars, Terrell Davis and Mike Anderson, were drafted in the sixth round. Was Washington the ideal spot for you?
It was definitely the perfect situation for me. I don't think I would have had as much success early on in any other offense as I am having here. I just found myself in the perfect place and I am thankful they drafted me.
Are you surprised that you became the starting running back in the opener and were so productive, so early?
I thought maybe during the fifth or sixth game I would get in there and get rolling and get some snaps. That was about it. I am so surprised it came early. I am not surprised with the way I have been performing. All I needed was an opportunity.
How would you describe your running style?
I am a power back, but I can make guys miss at the same time. I am not just one dimensional. I pride myself on that and continue to try and get better every day.
How important has RGIII been to your success?
He has been of significant importance. Without him, I don't think I would be having the season I am having. Having Robert in there, he's always a threat. Defenses always have to account for him no matter what. He is a phenomenal player. I am glad he is my quarterback.
It has to be exciting playing with him?
It's a lot of fun playing with him. Sometimes, I turn out to be a fan. I am watching him and saying, "Wow. I can't believe he did that." I am just watching him grow and get better and better. He is phenomenal.