All Signs Point WEST
Apr 09, 2013 08:12PM ● By Anonymous
Upon arrival, we were immediately seated in a cozy booth, where we could observe the lively conversation and comfortable atmosphere that gives West a traditional tavern feel.

After settling in, we started off with two unique West cocktails: the Johnny Hawkins ($10), a gin-and-tonic cocktail with fresh grapefruit, basil, and sea salt; and the Dancing Molly ($10), a rum, champagne, lime, wild strawberries, and black pepper concoction. Both were very refreshing and were served in a tall cocktail glass that allowed us plenty of time to devour the unique menu. Sustainability is obviously engrained in the menu, and unique combinations of flavors make it an interesting read.


Deciding to hit the "Taste and Share" sections of the menu first, along with the soup du jour, Randy, our server for the evening, took our order with a smile and energy that made us instantly comfortable. The soup du jour was a caramelized onion ($7) and was full of tender caramelized onions in a very good veal stock. A modest crouton with cheese was placed in the center, complementing the soup well, rather than overwhelming it.

Meanwhile, the Annapolis crab bisque ($8) was brought to the table by a team. As my bowl, with giant crab lumps and fresh made croutons, was placed in front of me, a second server poured the crab bisque in from a separate vessel. The three textures hit me as the velvet smooth bisque combined with the crab and crunch of the croutons for a great combination. The chef explained to me later how the crab stock is made from fresh crab bodies and used in the bisque. Next up were West garlic fries ($8)—fresh cut and served in a cool mini fryer basket with a subtle garlic and parmesan cheese coating—and grilled artichokes ($10), which, drizzled with a lemon olive oil, were tender and went well with the house ketchup and a flavorful remoulade.

Looking over the raw bar selection, I chose the Choptank Sweets on the half shell. I have a keen eye for quality oysters, and these scored very high marks in my book. Perfectly chilled and served with a cocktail sauce and cider vinegar, I can understand why they are called "sweets." Fresh whole wheat rolls with an olive oil and herbed butter were brought to the table as we made our way through the flurry of hors d'oeuvres.

Rockfish ($21) was my entrée choice, and it was as fresh as I have ever had. Two nice fi lets were grilled and artfully stacked on mashed red potatoes, Brussels sprouts, grape tomatoes, and one of my favorite garnishes on fish: deep fried fresh parsley. A glass of Alamos Malbec ($9) was a great complement to the flavor. As a side, the butternut squash risotto ($6) was served piping hot with a creamy texture and tender chunks of squash.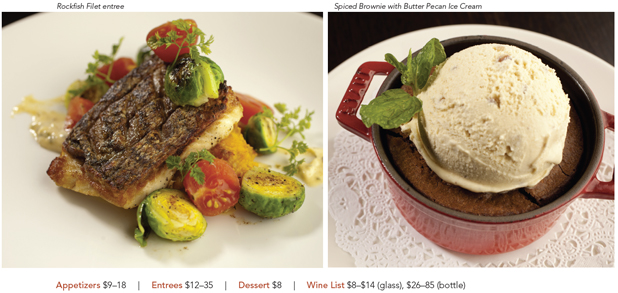 My guest ordered the hearth roasted vegetables ($12) and was presented with a variety of fresh-roasted, tender veggies, including tasty golden beets. A glass of Bartenura Muscato ($9), served in a stemless wine glass, was just sweet enough to contrast the roasted flavors of the plate. I had to taste the Margherita Pizza ($12) after watching the show all evening. The open hearth oven smells made me do it! The choice proved wise, with the fresh dough and basil blending perfectly together with the cheese and tasty sauce. For dessert, ricotta and orange zeppoles ($8) are a version of beignets that are served here with a fresh berry compote and powdered sugar. These were brought to us fresh from the fryer and were a perfect match for the compote.

West Kitchen and Tavern certainly has made its mark in contemporary dining. It's a relaxed upscale tavern concept with fresh and sustainable ingredients, a friendly staff, and a chef who will answer any questions you may have right at your table. I know I'll be back.

WEST Kitchen and Tavern
At Loews Annapolis Hotel
126 West Street, Annapolis
410-295-3225
annapoliswestkt.com