Nonprofits You Should Know
May 03, 2013 09:26PM ● By Anonymous


Annapolis / West County

21st Century Education Foundation, Inc.
Annapolis
410-222-5370
21st-education.org
Purpose: Match the needs of the public schools of Anne Arundel County and the resources of surrounding businesses, industry, and community.

Alliance for the Chesapeake Bay
Annapolis
443-949-0575
allianceforthebay.org
Purpose:Engages individuals, groups, businesses, other environmental organizations and not-for-profit groups to develop collaborative solutions to improve, preserve, and protect the Chesapeake Bay and all its resources.

American Diabetes Association
Baltimore (regional office)
410-265-0075
diabetes.org
Purpose: Funds research to prevent, cure and manage diabetes as well as educate the public about diabetes.

The American Red Cross of Anne Arundel County/Central Maryland
410-624-2000
redcross-cmd.org
Purpose: Respond to disasters, assist members of the military, teach lifesaving skills, and serve as one of the largest blood suppliers in the United States.

Annapolis Area Ministries
Annapolis
410-349-5056
annapolislighthouse.org
Purpose: Help those who are destitute, homeless, or in any trouble or need through the Light House Shelter.

Annapolis Maritime Museum
Annapolis
410-295-0104
amaritime.org
Purpose: Acquire, preserve, interpret, and exhibit artifacts, and photographic and archival collections that are part of the maritime history of the Chesapeake region.

Annapolis Opera Company
Annapolis
410-267-8135
annapolisopera.org
Purpose: Foster singer development and opera education in our community.

Annapolis Summer Garden Theatre
Annapolis
410-268-9212
summergarden.com
Purpose: Bring community-lead stage productions to downtown Annapolis during the summer.

Annapolis Symphony Orchestra Association
Annapolis
410-269-1132
annapolissymphony.org
Purpose: Provide support for a symphony orchestra in Annapolis.

Anne Arundel Cares
Annapolis
410-757-2811
aacares.org
Purpose: Raises money for nonprofit organizations in Anne Arundel County.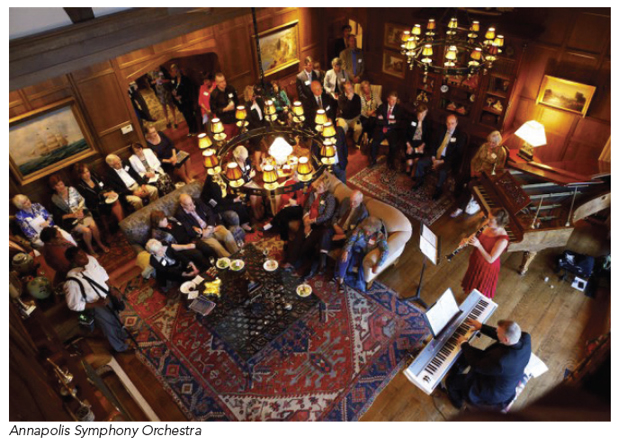 Anne Arundel Community College Foundation
Arnold
410-777-2515
aacc.edu/foundation
Purpose: Solicits, receives and administers private gifts, bequests, and donations to benefi t students and to enhance the quality of teaching and learning at the College.

Anne Arundel County CASA
Annapolis
410-267-7877
aacasa.org
Purpose: Court Appointed Special Advocates' mission is to advocate for and support abused and neglected children to ensure their right to safe, stable, and permanent homes.

Anne Arundel County Community Action Agency
Annapolis
410-626-1900
aaccaa.org
Purpose: Working in partnership with various governmental and non public organizations to alleviate the difficulties that beset households with low-tomoderate incomes.

Anne Arundel County Food and Resource Bank
Crownsville
410-923-4255
aafoodbank.org
Purpose: Assist those in need. It is a free resource bank and no fees are required for its assistance.

Anne Arundel County Library Foundation
Annapolis
410-222-7371
libraryfirst.org
Purpose: Provide a margin of excellence and innovation in library services, above and beyond what core government funding can provide.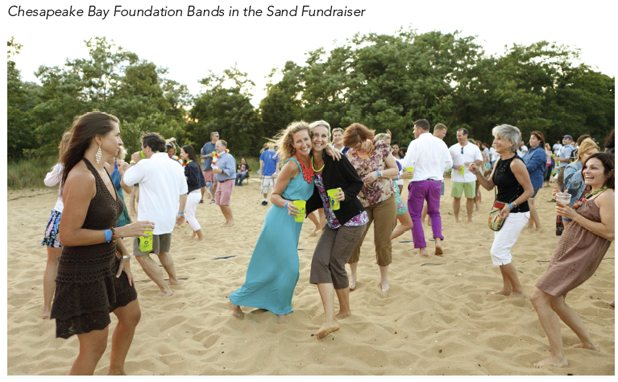 Anne Arundel County Literacy Council
Annapolis
410-269-4419
icanread.org
Purpose: Provide free one-on-one tutoring in basic literacy and English as a Second Language (ESL) to adult residents of Anne Arundel County.

Anne Arundel County Mental Health Agency
Annapolis
410-222-7858
aamentalhealth.org
Purpose: Coordinate a comprehensive array of services in the Public Mental Health System for Anne Arundel County residents.

Anne Arundel Medical Center Foundation
Annapolis
443-481-4747
aahs.org/foundation
Purpose: Enhance the health status of the people they serve by providing patients with compassionate, high quality services that will help alleviate pain, preserve health, and extend life.

Anne Arundel County Historical Society
Linthicum
410-768-9518
aachs.org
Purpose: Provide leadership in the preservation and exploration of shared history.

The Arc of the Central Chesapeake Region, Inc.
Annapolis
410-269-1883
thearcccr.org
Purpose: Advocate for the rights and respect of all people with intellectual and developmental disabilities living in Anne Arundel, Caroline, Dorchester, Queen Anne, and Talbot Counties.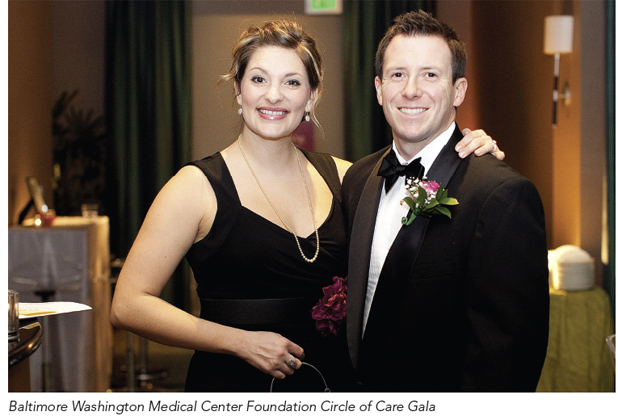 The Arts Council of Anne Arundel County
Annapolis
410-222-7949
annearundelartscouncil.org
Purpose: Encourage and invest in the visual arts, performing arts, and historic preservation for the people of our county; as well as well as create a financial support system for arts organizations.

Arundel House of Hope—The Fouse Center
Glen Burnie
410-863-4888
arundelhoh.org/programs-and-services/the-fouse-center
Purpose: To provide emergency, transitional, and permanent housing with supportive services for the homeless of Anne Arundel County.

Arundel Lodge
Edgewater
443-433-5900
arundellodge.org
Purpose: Provide psychiatric rehabilitation services to Anne Arundel County adults with severe and persistent mental illness.

Arthritis Foundation
Columbia
800-365-3811
arthritis.org/maryland
Purpose: Improves lives through leadership in prevention, control, and care of arthritis.

Assistance League of the Chesapeake
Millersville
410-956-5826
alchesapeake.org
Purpose: This volunteer organization is dedicated to improving the lives of children and adults through communitybased philanthropic programs.

Ballet Theatre of Maryland, Inc.
Annapolis
410-263-8289
balletmaryland.org
Purpose: Promote interest in and the enjoyment of the dance arts in Maryland.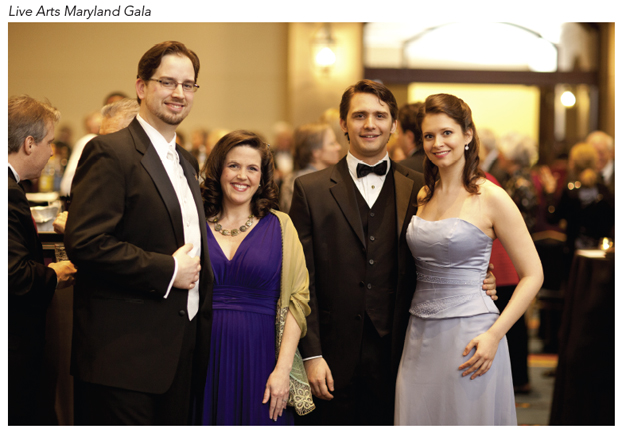 Baltimore Washington Medical Center Foundation
Glen Burnie
410-553-8560
mybwmc.org
Purpose: Provide the highest quality health care service to the community they serve.

Banneker-Douglass Museum
Annapolis
410-216-6180
bdmuseum.com
Purpose: The Museum, named for Benjamin Banneker and Frederick Douglass, is dedicated to preserving Maryland's African American heritage and serves as the state's official repository of African American material culture.

Bay Theatre Company, Inc.
Annapolis
410-268-1333
baytheatre.org
Purpose: Provide live performances of the dramatic arts and theatre education.

bello machre
Glen Burnie
443-702-3000
bellomachre.org
Purpose: Provides homes, support, and guidance to those with developmental disabilities.

Box of Rain Foundation, Inc.
Annapolis
443-254-0024
boxofrain.org
Purpose: Teach life-building skills through maritime experiences for local youth-atrisk, targeting kids 9 to 14 years old, in honor of the memory of Lee Griffin.

Boy Scouts of America, Baltimore Area Council
Anne Arundel County
443-573-2500
baltimorebsa.org
Purpose: Prepare young people to make ethical choices over their lifetime by instilling in them the values of the Scout Oath and Law.

Boys & Girls Clubs of Annapolis and Anne Arundel County
Annapolis
410-263-2542
bgcaa.com
Purpose: Enable all young people, especially those who need the most, to reach their full potential as productive, caring, responsible citizens.

Chesapeake Arts Center
Brooklyn Park
410-636-6597
chesapeakearts.org
Purpose: Provide entertainment and education for adults and children including classes and workshops in visual and performing arts in dance, theatre, visual arts, and music.

Chesapeake Bay Foundation, Inc.
Annapolis
410-268-8816
cbf.org
Purpose: Dedicated to the protection, restoration, and wise management of the Chesapeake Bay and its tributaries.

Chesapeake Bay Savers
Annapolis
410-988-3240
chesapeakebaysavers.org
Purpose:Restore the health of the Chesapeake Bay.

Chesapeake Bay Trust
Annapolis
410-974-2941
chesapeakebaytrust.org
Purpose: Provide grants to nonprofi t organizations, community associations, civic groups, schools and public agencies for citizen involvement projects relating to the restoration of the Chesapeake Bay and its tributaries.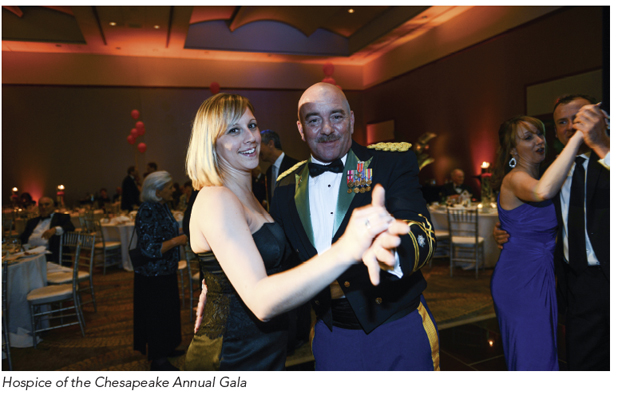 Chesapeake Children's Museum
Annapolis
410-990-1993
theccm.org
Purpose: Provide educational activities for children of all ages and income levels.

Chesapeake Environmental Protection Association
Galesville
410-741-1014
cepaonline.org
Purpose: Promote good environmental practices through education and advocacy.

Chesapeake Region Accessible Boating (C.R.A.B.)
Annapolis
410-626-0273
crabsailing.org
Purpose: Provide sailing opportunities for persons who traditionally have not had that option because of disability or economic circumstance.

Chesapeake Youth Symphony Orchestra
Arnold
443-758-3157
cysomusic.org
Purpose: Provide young musicians with comprehensive musical and orchestral training for elementary through collegeage students.

Children's Theatre of Annapolis, Inc.
Annapolis
410-757-2281
childrenstheatreofannapolis.org
Purpose: Provide arts education for 5 to 18 year olds though performances, workshops, technical stage training, internships, and apprenticeships in the theatrical arts.

Chrysalis House
Crownsville
410-974-6829
chrysalishouses.org
Purpose: Residential treatment and recovery center for chemically dependent women.

Colonial Players
Annapolis
410-268-7373
thecolonialplayers.org
Purpose: Provide entertainment, education, training, and encouragement to all members of the community interested in participating in the dramatic arts.

Community Foundation of Anne Arundel County
Annapolis
410-280-1102
cfaac.org
Purpose: Connect donors, nonprofi ts and community leaders to strengthen our county through philanthropy, creating a healthier community today and for generations to come.

The Coordinating Center
Millersville
410-987-1048
coordinatingcenter.org
Purpose: Help those with complex medical needs achieve a high quality life.

Food Link, Inc.
Annapolis
410-897-3941
foodlinkmaryland.org
Purpose: Fighting hunger in Anne Arundel County. No paperwork, no judgment, no rejections, and no waiting.

Four Rivers: the Heritage Area of Annapolis, London Town, and South County
Annapolis
410-222-1805
fourriversheritage.org
Purpose: Protect and strengthen the natural, historic, and cultural resources of the Heritage Area.

Friends Foundation
Annapolis
410-263-0122
friendsfoundation.com
Purpose: To join friends to raise money, help those in need, and contribute to the community.

Friends of Arundel Seniors, Inc.
Annapolis
410-222-4464
aacounty.org/aging/volunteeropps/friends.cfm
Purpose: This all-volunteer assistance organization is dedicated to helping seniors and the disabled.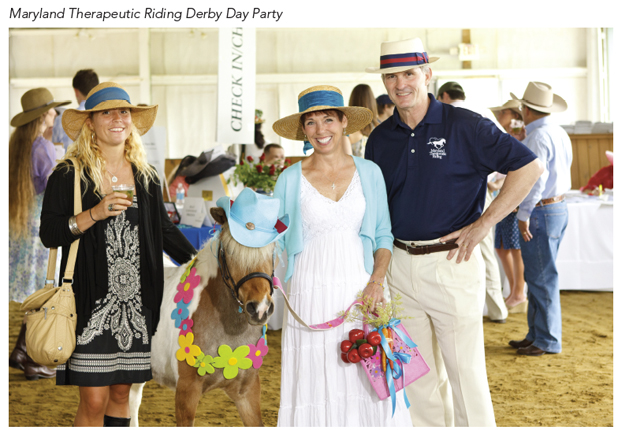 Friends of the Maryland State Library for the Blind and Physically Handicapped
Millersville
friendsmdlbph.org
Purpose: Provide support to and awareness of the Maryland State Library for the Blind and Physically Handicapped.

Girls on the Run of the Greater Chesapeake
Annapolis
410-972-4621
gotrchesapeake.org
Purpose: This nonprofit prevention program for girls in 3rd through 8th grade educates and prepares girls for a lifetime of self respect and healthy living.

Girls Scouts of Central Maryland
Anne Arundel County
410-358-9711
gscm.org
Purpose: Provide a place where girls are encouraged to share and explore their hopes and dreams. Girl Scouting builds girls of courage, confidence, and character who make the world a better place.

Habitat for Humanity of the Chesapeake
Baltimore (regional office)
410-366-1250
habitatchesapeake.org
Purpose: Work in partnership with families in need of housing to build simple, decent and affordable homes.

Hammond-Harwood House
Annapolis
410-263-4683
hammondharwoodhouse.org
Purpose: To preserve for public education and enjoyment the architecturally signifi cant Hammond-Harwood House museum and its collection of decorative and fi ne arts.

The Harbour School
Annapolis
410-974-4248
harbourschool.org
Purpose: Provide supportive, individualized education to students with learning disabilities, autism, speech impairments, and other disabilities.

Historic Annapolis Foundation
Annapolis
410-267-7619
annapolis.org
Purpose: Preserve the city's architectural legacy and unique historic character for future generations—and for residents and visitors today

Hope House Treatment Center
Crownsville
410-923-6700
hopehousemd.org
Purpose: Dedicated to providing men and women who are battling alcohol and drug addictions with the means to become healthy and productive citizens.

Hospice of the Chesapeake
Annapolis
443-837-1500
hospicechesapeake.org
Purpose: Offer help facing life-limiting illness and support for loved ones. Services are provided without regard to age, race, creed, religion, sexual orientation, diagnosis or ability to pay.

Isabel's Gift
Riva
443-562-6303
isabelsgift.org
Purpose: Assist families with children in the neonatal intensive care unit, providing them with comfort and supportive services.

James' Place, Inc.
410-480-2334
shatterthestigma.com/treasure.php jamesplaceinc.org/
Purpose: Raises funds to provide services to those with substance addiction and educates on the complex issues of substances.

Junior League of Annapolis
Annapolis
410-224-8984
jlannapolis.org
Purpose: This organization of women is committed to promoting voluntarism, developing the potential of women, and improving the community.

Kunta Kinte-Alex Haley Foundation
Edgewater
410-956-9090
kintehaley.org
Purpose: Spread Alex Haley's vision of a world that celebrates ethnic diversity while honoring humankind's common, universal experiences.

Langton Green
Annapolis
410-263-3225
langtongreen.org
Purpose: Help people with developmental disabilities to live with the highest possible degree of independence and quality of life.

Leadership of Anne Arundel, Inc.
Annapolis
410-571-9798
leadershipaa.org
Purpose: Provide people of diverse backgrounds with the education, resources, and networks necessary to become successful, proactive leaders.

Leadership Maryland
Annapolis
410-841-2101
leadershipmd.org
Purpose: A uniquely talented network of informed leaders representing business, nonprofits, government, unions, and education to be a catalyst for positive change in Maryland.

Live Arts Maryland
Annapolis
410-263-1906
liveartsmaryland.org
Purpose: Enhance community life through performing a wide variety of music and to provide education programs for musicians of all ages. Programs include Annapolis Chorale, Annapolis Chamber Orchestra, Annapolis Youth Chorus, and St. Anne's Concert Series.

Maryland Coalition Against Sexual Assault
Arnold
410-974-4507
mcasa.org
Purpose: Provide compassionate, accessible care for all survivors of sexual crimes, and accountability for all offenders.

Maryland Coalition for Inclusive Education (MCIE)
Hanover
410-859-5400
mcie.org
Purpose: Promote inclusion of students with disabilities in general education classrooms and neighborhood schools.

Maryland Federation of Art
Annapolis
410-268-4566
mdfedart.org
Purpose: Provide emerging and established artists with opportunities and enrich awareness of visual arts in communities across Maryland.

Maryland Hall for the Performing Arts
Annapolis
410-263-5544
marylandhall.org
Purpose: Provide entertainment and education for adults and children including classes and workshops in visual and performing arts in dance, theatre, visual arts, music, and health.

Maryland Theatre for the Performing Arts
Annapolis
410-268-5854
mtpa.co
Purpose: Create a world-class performing arts center in our state capital to confi rm Maryland's commitment and support of the importance of the arts in our society.

Maryland Therapeutic Riding
Crownsville
410-923-6800
horsesthatheal.org
Purpose: Provide therapy to special needs individuals with a range of physical, mental, and emotional disabilities using high quality therapeutic riding program.

Next Gen of Anne Arundel County
Annapolis
Aacnextgen.com
Purpose: Grow a sustainable giving circle through the work of young philanthropists and the support of the Community Foundation of Anne Arundel County.

Omni House
Glen Burnie
410-768-6777
omnihouse.org
Purpose: Comprehensive psychiatric rehabilitation services and outpatient mental health clinic services for adults with severe and persistent mental illness.

Opportunity Builders, Inc.
Millersville
410-787-0700
obiworks.org
Purpose: Provide adults with developmental disabilities a motivational environment offering vocational training, employment services, recreational activities and support services.

Oyster Recovery Partnership, Inc.
Annapolis
410-990-4970
oysterrecovery.org
Purpose: Coordinate the Maryland effort to restore the oyster community of the Chesapeake Bay.

Parents Place of Maryland
Glen Burnie
410-768-9100
ppmd.org
Purpose: Resource center for families with children who have disabilities or special health care needs.

Partners In Care, Inc.
Pasadena
410-544-4800
partnersincare.org
Purpose: Assist older and disabled adults to remain independent in their own homes by helping with transportation, handyman chores, and other neighborly tasks.

Patuxent Riverkeeper
Upper Marlboro
301-579-2073
paxriverkeeper.org
Purpose: Protect, restore, and advocate for clean water in the Patuxent River and its connected ecosystem.

Providence Center
Glen Burnie
410-766-2212
providencecenter.com
Purpose: Provide day programs for nearly 500 adults with developmental disabilities.

Robert A. Pascal Youth and Family Services
Severna Park
410-975-0067
rpascal.org
Purpose: Provide exceptional, comprehensive psychiatric and psychological care for children, adolescents, adults, and families in Anne Arundel County.

Sarah's House
Ft. Meade
410-551-7722
catholiccharities-md.org/sarahs-house
Purpose: Provide safe shelter, daily meals, personal, as well as professional, casework support for those in need.

Severn Riverkeeper
Annapolis
410-849-8540
severnriverkeeper.org
Purpose: To protect and restore the Severn River for our families and future generations.

South Riverkeeper
Edgewater
443-534-2847
southriverfederation.net
Purpose: Through the South River Federation, to protect, preserve, restore, and celebrate the South River and its interdependent living community.

Spa Creek Conservancy
Annapolis
410-279-5554
spacreek.org
Purpose: Dedicated to the stewardship of the Spa Creek watershed through education, preservation, mitigation, and restoration.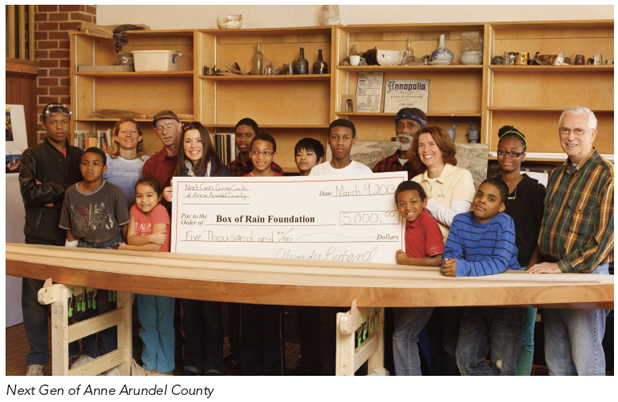 SPCA of Anne Arundel County
Annapolis
410-268-4388
aacspca.org
Purpose: The SPCA exists to protect animals in Anne Arundel County from acts of cruelty and neglect.

Special Olympics Maryland
Baltimore
410-242-1515
somd.org
Purpose: Provide year-round sports training and competitions to children and adults with intellectual disabilities and other closely related developmental disabilities.

The Summit School
Edgewater
410-798-0005
thesummitschool.org
Purpose: Educate children with unique learning styles to their full potential. Serving bright students with dyslexia and other learning differences.

Vision Workshops
Annapolis
410-990-1611
visionworkshops.org
Purpose: Provide innovative, dynamic, educational and life-changing experiences for youth from underserved communities using the tools of photojournalism.

We Care and Friends
Annapolis
410-263-2874
wecareandfriends.org
Purpose: Support the building blocks to create strong families and communities in areas affected by drugs, poverty, and crime in Annapolis and Anne Arundel County.

Wellness House
Annapolis
410-990-0941
annapoliswellnesshouse.org
Purpose: Provide strength and support for people and families living and coping with cancer.

West/Rhode Riverkeeper
Shady Side
410-867-7171
westrhoderiverkeeper.org
Purpose: Support the mission of stopping pollution, enforcing environmental law, promoting restoration, and advocating for better environmental policy.

YWCA of Annapolis and Anne Arundel County
Arnold
410-626-7800
annapolisywca.org
Purpose: Provide environments where women and girls thrive.

Eastern Shore

CAROLINE COUNTY

Adkins Arboretum
Ridgely
410-634-2847
adkinsarboretum.org
Promotes the conservation and restoration of the Chesapeake Bay region's native landscapes.
Ellie Altman, Executive Director

Benedictine Foundation
Ridgely
410-634-2292
benschool.org
Assists individuals with disabilities in becoming as independent or semiindependent as possible.
Barry Smale, Director of Foundation
Scott Evans, Executive Director of Programs and Services for Benedictine School

Caroline Hospice Foundation
Denton
410-479-3500
carolinehospice.com
Provides in-home, end-of-life care for county residents, including supplies, primary caregiver respite, bereavement assistance, and clergy services.
Autumn Muehlbauer, Executive Director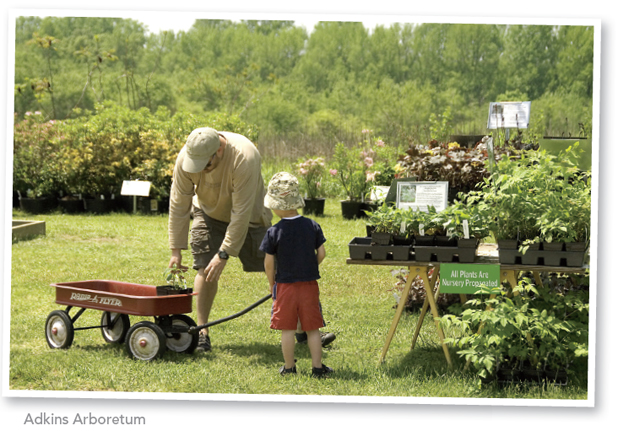 Rebuilding Together Caroline County
Denton
410-479-2929 (for information on home repairs/architectural salvaging only)
admin@rebuildingtogethercaroline.org
rebuildingtogethercaroline.org
Provides free services to Caroline County homeowners who are elderly or disabled, or households with children that face necessary but unaffordable dwelling repairs.

St. Martin's Ministries
Ridgely
410-634-2497
stmartinsministries.org
Helps meet basic human needs of impoverished people while respecting and affi rming their dignity, and addressing root problems that perpetuate the cycle of poverty.
Patricia Gamgort, Executive Director

DORCHESTER COUNTY

Baywater Animal Rescue (Formerly Dorchester Humane)
Cambridge
410-228-3090
baywateranimalrescue.org
Provides and encourages humane treatment of animals.
Suzette Stitely, Executive Director

Cambridge Main Street
Cambridge
410-477-0843
www.cambridgemainstreet.com
Preserves, enhances, and promotes the Main Street District of Cambridge.
Mari Stanley, Executive Director

Cambridge Rotary Club
Cambridge
cambridgemdrotary.org
The Cambridge chapter of the worldwide network of business and professional leaders united for fellowship and community service.
Jefferson Hubbard, President

Delmarva Community Services
Cambridge
410-221-1900
www.dcsdct.org
Helps senior citizens and persons with developmental disabilities maintain an independent lifestyle within the community.
Santo Grande, Executive Director

Dorchester Center for the Arts
Cambridge
410-228-7782
dorchesterartscenter.org
Enriches Maryland's Eastern Shore through quality, engaging programming in the visual, literary, musical, and performing arts.
Mickey Love, Executive Director

Dorchester General Hospital Foundation, Inc.
Cambridge
410-228-8182
shorehealth.org
Supports and encourages quality health care and medical services in the Dorchester County, MD community through Dorchester General Hospital, Inc.
Ida Baker, Executive Director

Eastern Shore Area Health Education Center
Cambridge
410-221-2600
www.esahec.org
Recruits and retains health care professionals and builds healthy communities through educational opportunities and collaborative partnerships.
Jacob F. Frego, Executive Director

Friends of Blackwater
Cambridge
410-228-2677
www.friendsofblackwater.org
Assists Blackwater National Wildlife Refuge, Martin National Wildlife Refuge, and Eastern Neck National Wildlife Refuge in carrying out their educational, interpretive, and public-use missions.
Marty O'Connor, Executive Director

Nanticoke Watershed Alliance
Vienna
410-430-3273
www.nanticokeriver.org
Seeks to conserve the natural, cultural, and recreational resources of the Nanticoke River watershed.
Shelly Baird, Executive Director

Richardson Maritime Museum
Cambridge
410-221-1871
www.richardsonmuseum.org
Preserves and promotes the boat-building heritage of Dorchester County and the Chesapeake Bay.
Jane Devlin, Executive Director

KENT COUNTY

Chester River Health Foundation
Chestertown
410-810-5660
chesterriverhealth.org
Solicits and accepts gifts that support Chester River Hospital Center, Chester River Manor, and Chester River Home Care & Hospice.
Maryann Ruehrmund, Executive Director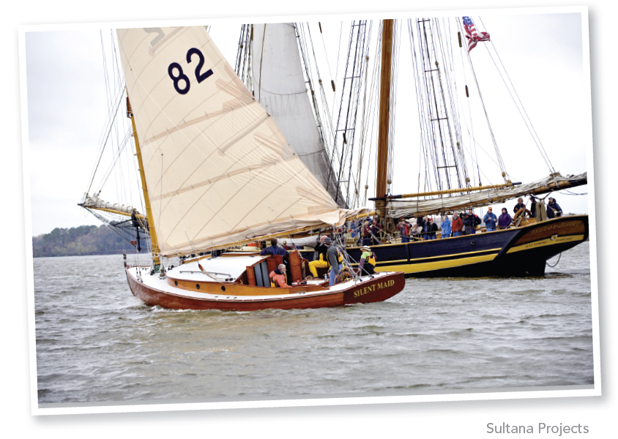 Chester River Association
Chestertown
chesterriverassociation.org
Advocates for the health of the Chester River and the living resources it supports.
Heather Forsyth, Executive Director

Echo Hill Outdoor School, Inc.
Worton
410-348-5880
www.ehos.org
Works to create a climate of freedom and growth that bolsters a safe, fun, and educational experience in the outdoors.
Peter Rice, Jr.., Executive Director

Garfield Center for the Arts at the Prince Theatre
Chestertown
410-810-2060
garfieldcenter.org
Seeks to foster and promote broad public use of the historic Prince Theatre for educational and cultural purposes in order to provide wide participation and access to the performing and visual arts for the Kent County community.
Lucia Foster, Executive Director

Samaritan Group
Chestertown
443-480-3564
unitedwayofkentcounty.org/thesamaritangroup
Provides emergency winter shelter to the homeless of Kent County and surrounding communities.
Carol Droge, Chair

Sultana Projects
Chestertown
410-778-5954
sultanaprojects.org
Connects people to the Chesapeake Bay's history, ecology, and culture, and inspires them to join in preserving and restoring America's largest estuary.
Drew McMullen, President

United Way of Kent County
Chestertown
410-778-3195
unitedwayofkentcounty.org
Raises funds to support outstanding local charities and nonprofi t organizations serving those in need in our community.
Beth Everett, Executive Director

Upper Shore Aging
Chestertown
410-758-6500
www.uppershoreaging.org
Helps older community members maintain a good quality of life in familiar surrounding, as opposed to long-term-care institutionalization.
Gary Gunther, Executive Director

Women in Need, Inc.
Chestertown
410-778-3844
win-foundation.org
Meets the immediate needs of local women while working toward helping them achieve permanent self-suffi ciency through providing emergency assistance, transitional housing, agency referrals, and mentoring.
Karen Dionisio, Executive Director

QUEEN ANNE'S COUNTY

Bosom Buddies Charities
Stevensville
410-490-0332
bosombuddiescharities.com
Promotes breast cancer awareness, research and prevention, and benefi ts diagnostic mammography, treatment methodology, and healing.
Biana Arentz, Chair

CASA of Queen Anne's & Kent Counties
Centreville
410-758-8610
casaqackent.org
Advocates for the best interests of children who are under the protection of the court system because of abuse, neglect, or abandonment.
Mary Ann Gleason, Executive Director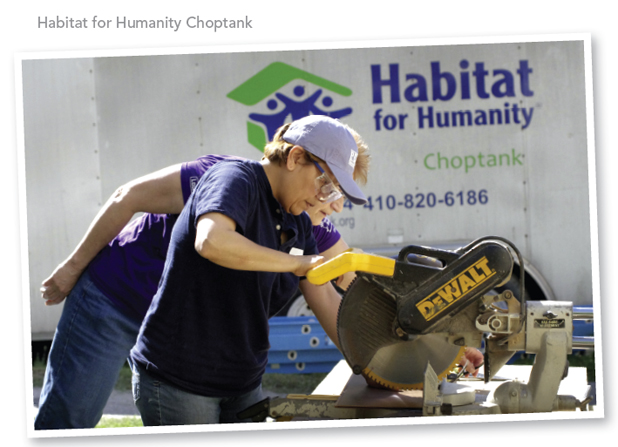 Centreville Rotary
Centreville
centrevillerotary.org
The Centreville chapter of the worldwide network of business and professional leaders, united for fellowship and community service.
Henry Brandt, President

Chesapeake Bay Environmental Center
Grasonville
410-827-6694
bayrestoration.org
Promotes stewardship and sustainability through environmental education and habitat restoration.
Judy Wink, Executive Director

Chesterwye Center
Grasonville
410-827-7048
www.chesterwye.com
Provides a variety of services and support to adults with developmental disabilities, including residential, vocational, recreational, medical, and transportation assistance.
Dan Bungori, Executive Director

Church Hill Theatre
Church Hill
410-758-1331
churchhilltheatre.org
Creates and presents quality performances and educational opportunities for members of our diverse community.
Sylvia Maloney, Chair

Crossroads Community, Inc.
Centreville
410-758-3050
www.ccinconline.com
Offers recovery-focused behavioral health care services—day, residential and community—for children and adults. John F. Plaskon, Executive Director

Eastern Shore Land Conservancy
Queenstown
410-827-9756
www.eslc.org
Conserves the lands that will best preserve the Eastern Shore's farms, forests, fi sheries, and rich rural heritage for the benefi t of future generations.
Robert J. Etgen, Executive Director

Hospice of Queen Anne's
Centreville
443-262-4100
www.hospiceofqueenannes.org
Provides comprehensive, professional, and compassionate end-of-life care and bereavement support.
Heather Guerieri, Executive Director

Queen Anne's County Arts Council
Centreville
410-758-2520
Arts4u.info
Works to promote, expand, and sustain the arts in Queen Anne's County.
Darcey Schoeninger, Executive Director

Talisman Therapeutic Riding
Grasonville
443-239-9400
Talismantherapeuticriding.org
Serves those who can benefi t by the talismanic healing nature of horses and the guidance of professional therapists and instructors in a peaceful farm setting.
Anne Joyner, President and Executive Director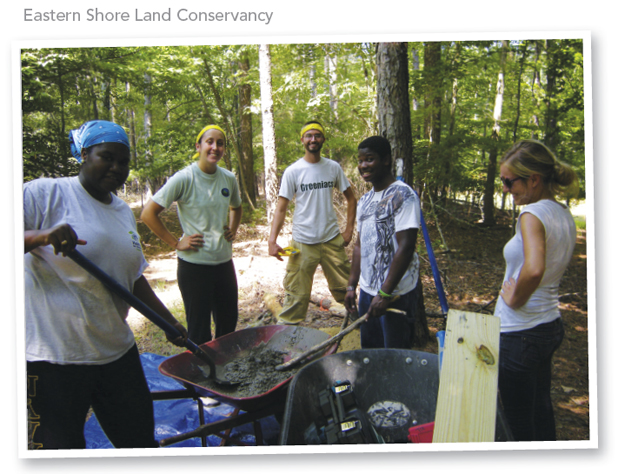 Wye River Upper School
Wye Mills
410-827-5822
wyeriverupperschool.org
Serves bright students bound for college and post-secondary education with dyslexia, ADHD, ADD, and other unique learning styles.
Chrissy Aull, Executive Director

TALBOT COUNTY

Academy Art Museum
Easton
410-822-2787
academyartmuseum.org
Aims to provide the knowledge, practice, and appreciation of the arts, and enhance cultural life on the Eastern Shore.
Erik H. Neil, Executive Director

Ace Mentoring
Easton
410-924-6242
acementor.org
Helps students learn about career opportunities in architecture, construction management, and engineering, while also providing mentoring and scholarships for those interested in pursuing these careers.
Jack Dempsey, Eastern Shore Affiliate

Aguayuda
Easton
410-989-2134
aguayuda.org
Works to improve life in poor, rural communities through clean water, sanitation, and education.
Jean Waagbo, President

American Diabetes Association Tour de Cure
Easton
410-265-0075 (Baltimore Office)
www.diabetes.org
Leads the fi ght against the deadly consequences of diabetes and fi ghts for those affected by the disease.

Avalon Foundation, Inc.
Easton
410-822-7299
www.theavalonfoundation.com
Provides diversifi ed arts and education programs on the Eastern Shore.
Al Bond, Executive Director

CASA of Talbot and Dorchester Counties
Easton
410-822-2866
casaoftalbot.org
Advocates for children who are in the Talbot or Dorchester County Court system due to abuse, neglect, or abandonment.
Robin Davenport, Executive Director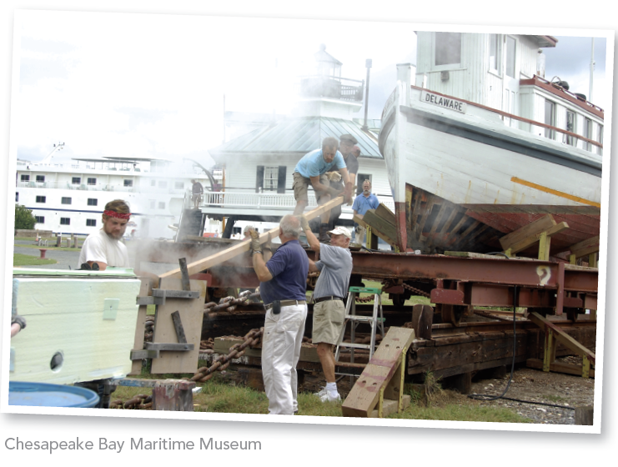 Channel Marker, Inc.
Easton
410-822-4619
www.channelmarker.org
Offers prevention programs and psychiatric rehabilitation services to youth and adults.
Debbye Jackson, Executive Director

Character Counts Mid-Shore
Easton
410-819-0386
charactercountsmidshore.org
Helps foster activities at all levels of the community that will create an environment based in the Six Pillars of Character.
Susan Luby, Executive Director

Chesapeake Bay Maritime Museum
St. Michaels
410-745-2916
cbmm.org
Inspires an understanding of, and appreciation for, the rich maritime heritage of the Chesapeake Bay and its tidal reaches, together with the artifacts, cultures, and connections between this place and its people.
Langley Shook, Executive Director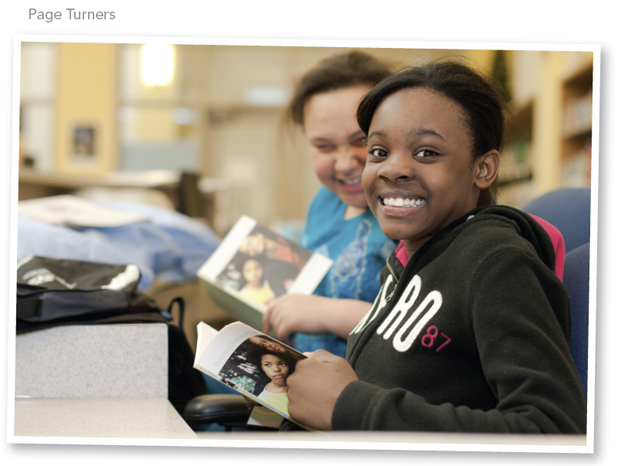 Chesapeake Chamber Music, Inc.
Easton
410-819-0380
chesapeakechambermusic.com
Brings world-class chamber music to a growing audience of young and old on Maryland's Eastern Shore.
Donald Buxton, Executive Director

Chesapeake College Foundation
Wye Mills
410-827-5818
chesapeake.edu
Helps students become successful individuals through scholarship support, funds for technology, rewarding teaching innovation, and other initiatives.
Lauren Halterman, Executive Director

Critchlow Adkins Children's Centers
Easton
410-822-8061
eastondaycare.org
Uses age-appropriate curriculum to engage and nurture children ages 2 to 4 in preschool and pre-kindergarten, and children in kindergarten to sixth grade in before-and after-school programs.
Caron Pons, Executive Director

Environmental Concern, Inc.
St. Michaels
410-745-9620
www.wetland.org
Promotes public understanding and stewardship of wetlands through outreach and education; native species horticulture; and restoration, creation and enhancement initiatives.
Suzanne Pittenger-Slear, Executive Director

Evergreen Cove Holistic Learning Center
Easton
410-819-3395
www.evergreencove.org
Offers classes, workshops, and retreats focused on the areas of maximum health, stress reduction, and self-discovery.
Deborah Pulzone, Chair

For All Seasons Inc.
Easton
410-822-1018
forallseasonsinc.org
Recognizes and responds to community needs in regards to mental health and sexual assault.

Freedom Rowers
Easton
410-829-1691
freedomrowers.org
Boosts self esteem and discipline, and opens doors for scholastic, community and personal achievement through the sport of rowing.
Chris Gill, Executive Director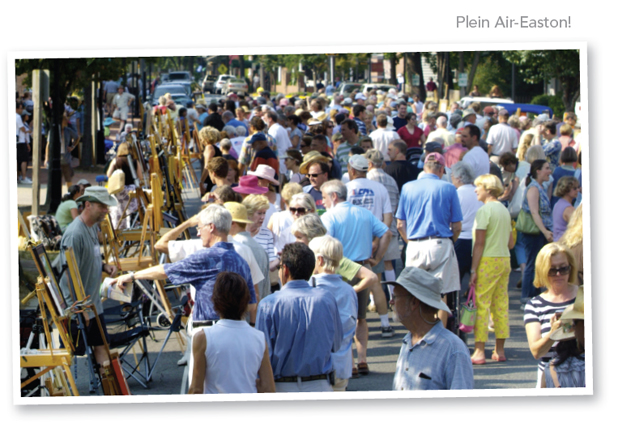 Habitat for Humanity Choptank
Easton
410-476-3204
www.habitatchoptank.org
Builds simple, decent houses with volunteer labor, donated capital, and income from monthly mortgage payments for residents of the area who would otherwise be unable to purchase a home.
Nancy Andrew, Executive Director

Historical Society of Talbot County
Easton
410-822-0773
hstc.org
Preserves, communicates and celebrates the heritage of Talbot County by educating residents and visitors.
Eleanor Magee, Executive Director

James M. Bryan, Jr. Building Dreams for Youth Foundation
Easton
410-820-8175
shorekids.org
Purpose: Help ensure that all children on the Eastern Shore have the opportunity to experience personal growth through participation in youth sports, recreation, and development programs.

Memorial Hospital Foundation
Easton
410-822-1000 ext. 5915
shorehealth.org
Supports and encourages quality health care and medical services in the Talbot County community through Memorial Hospital at Easton.

Mid-Shore Community Foundation
Easton
410-820-8175
www.mscf.org
Connects private resources with public needs to enhance the quality of life for the citizens of Caroline, Dorchester, Kent, Queen Anne's, and Talbot counties.
Stuart Bounds, President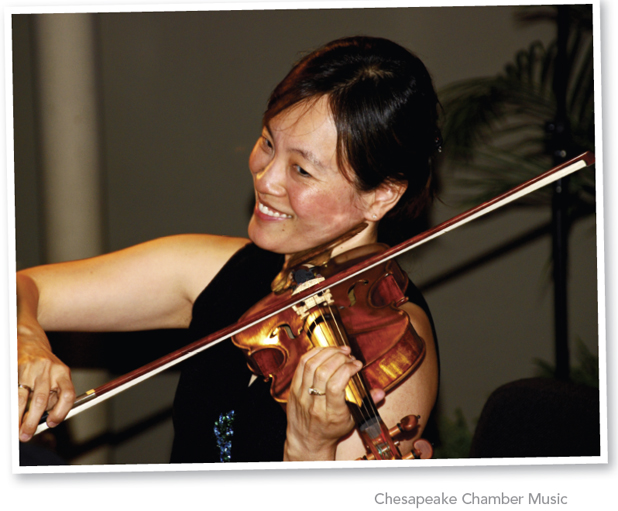 Mid-Shore Council on Family Violence
Easton
1-800-927-4673
mscfv.org
Seeks to break the cycle of domestic violence through intervention and prevention, providing shelter, counseling, services, and advocacy for victims and abusers.
Jeanne Yeager, Executive Director

Mid-Shore Pro Bono, Inc.
Easton
410-690-8128
www.midshoreprobono.org
Provides access to free or reduced-fee legal services throughout the Mid-Shore to qualifi ed litigants in civil matters.
Sandy Brown, Executive Director

Mid-Shore Riverkeeper Conservancy
Easton
443-385-0511
midshoreriverkeeper.org
Patrols the Choptank, Miles, and Wye rivers and tributaries; combats illegal pollution; and serves as guardians for living resources.
Tim Junkin, Executive Director

Neighborhood Service Center
Easton
410-822-5015
neighborhoodservicecenter.org
Seeks to improve the quality of life, both socially and economically, for low-income residents of Talbot County.
Marilyn Neal, Executive Director

Oxford Community Center, Inc.
Oxford
410-226-5904
www.oxfordcc.org
Provides a welcoming place where area residents and visitors of all ages can participate in programs and activities that enrich community life.
Barbara J. Seese, Executive Director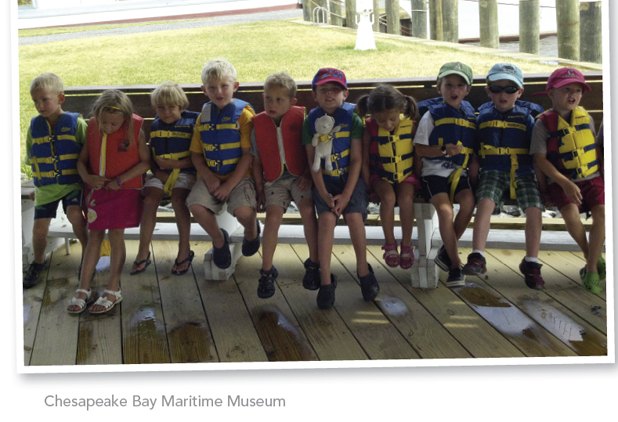 Page Turners: Girls Who Read to Achieve
Easton
Pageturnersread.org
Uses the discussion of engaging, relevant literature to empower middle-school-aged girls to become strong readers and strong leaders.
Elizabeth Devlin, Executive Director

Pickering Creek Audubon Center
Easton
410-822-4903
pickeringcreek.org
Provides environmental and science education programs to students from eight Maryland counties and the District of Columbia.
Mark Scallion, Center Director

Phillips Wharf Environmental Center, Inc.
Tilghman
410-886-9200
www.pwec.org
Seeks to educate and create an understanding of, and appreciation for, the ecosystems of the Chesapeake Bay and the heritage and life of the Chesapeake Bay watermen.
Kelley Cox, Executive Director

Rotary Club of Easton
Easton
eastonrotary.org
An Easton chapter of the worldwide network of business and professional leaders united for fellowship and community service.
Patti Willis, President

St. Michaels Community Center
St. Michaels
410-745-6073
Promotes and provides quality activities and services that will contribute to the physical, emotional, and social well being of the community.
stmichaelscc.org
Trish Payne, Executive Director

Rotary Club of St. Michaels
St. Michaels
rotarystm.org
The St. Michaels chapter of the worldwide network of business and professional leaders united for fellowship and community service. Ted Doyle, President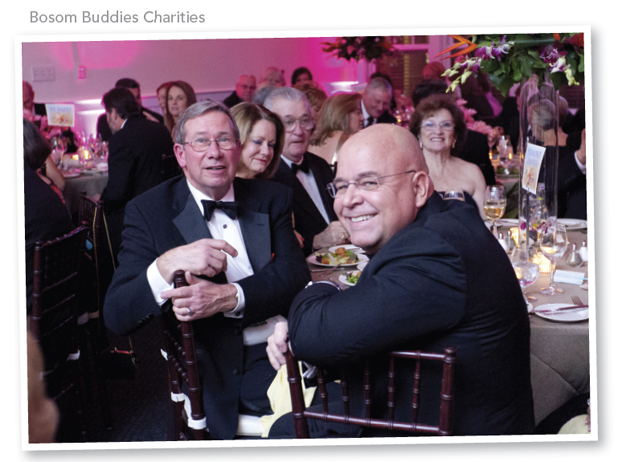 Talbot County Arts Council
Easton
410-310-9812
talbotarts.org
Provides funding and other assistance for arts programs, arts organization, and arts education in Talbot County.
Gerald Early, Executive Director

Talbot Hospice Foundation
Easton
410-822-6681
www.talbothospice.org
Offers hope, compassionate support, and services to all members of the community facing end-of-life issues, including patient/family care, community education and advocacy while.
Julie Crocker, Executive Director

Talbot Humane
Easton
410-822-0107
talbothumane.org
Rescues animals from neglect, places companion animals into loving homes, reunites lost pets with their owners, and reduces pet overpopulation through aggressive spay and neuter programs.
Patty Crankshaw-Quimby, Executive Director

Talbot Interfaith Shelter
Easton
410-820-7030
talbotinterfaithshelter.org
Provides safe, temporary shelter to men, women, and children who lack adequate housing, and raises awareness of the issues of homelessness in our community.
Julie Lowe, President

Talbot Mentors
Easton
410-770-5999
www.talbotmentors.org
Provides mentors to Talbot County children to support them in the challenges and opportunities of adolescence through friendship, guidance, and education.
Paige Jernigan, Executive Director

Talbot Partnership
Easton
410-819-8067
talbotpartnership.org
Encourages the community to recognize the problems of, and implement solutions related to, alcohol, tobacco, and other drug abuse.
Gary Pearce, Executive Director

Talbot Special Riders
Easton
410-604-2290
talbotspecialriders.com
Provides therapy for physically, mentally and emotionally challenged individuals through therapeutic horseback riding.

Tidewater Rotary Club
Easton
facebook.com/tidewaterrotary
An Easton chapter of the worldwide network of business and professional leaders united for fellowship and community service.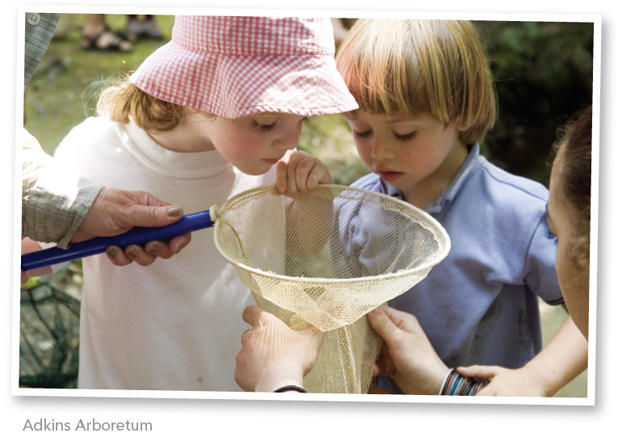 Tilghman Watermen's Museum
Tilghman Island
410-886-2930
Tilghmanmuseum.org
Celebrates the culture and heritage of Tilghman Island's watermen and their families through an ever-growing collection of historical artifacts and boat models.

United Fund of Talbot County
Easton
410-822-1957
www.unitedfund.org
Raises funds to meet the under-funded human service needs of the Talbot County community, benefi ting member educational, recreational, health, character-building, and human services organizations.
Ann Jacobs, Executive Director

Waterfowl Chesapeake
Easton
410-822-4567
waterfowlfestival.org
Dedicated to creating, restoring and conserving waterfowl habitat throughout the Chesapeake Bay watershed and nearby coastal bays.
Judith Warfi eld Price, Executive Director

Women & Girls Fund of the Mid-Shore
Easton
410-770-8347
womenandgirlsfund.org
Targets and funds local programs that address crucial and underserved issues impacting the region's women and girls.
Beth Spurry, Executive Director

YMCA of the Chesapeake
Easton
410-822-0566
middelmarvaymca.org
Works put Christian principles into practice to build strong kids, strong families and strong communities.
Robbie Gill, CEO