The Chamber Music Festival Returns
May 30, 2013 08:09PM ● By Anonymous


On Sunday, June 2nd and Tuesday, June 4th, Trinity Cathedral will be hosting recitals with Trio Cavatina and J. Lawrie Bloom, clarinet, and Ieva Jokubaviciute, piano.

The Academy Art Museum will host two open rehearsals and a four-person recital. On Fridays June 7th and 14th, the Avalon Theatre will host two concerts: Beautiful Beginnings and La Fenice.

Other host sites include St. Paul's Church in Centreville, Christ Church in Easton, Easton Studio and School, St. Michael's High School, Deerwood and another new venue, the River House at Easton Club.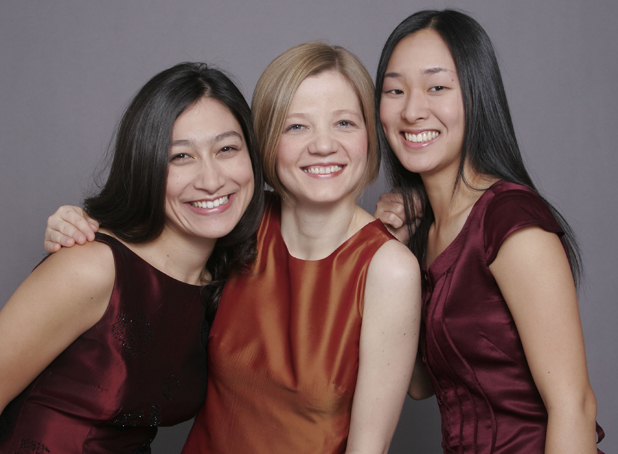 This year's  Chesapeake Chamber Music Festival, held in Easton and at other Mid-Shore locations, will include two new venues during the first week. Trinity Cathedral on Goldsborough Street in Easton will host two recitals. The first recital on June 2 will feature the award-winning Trio Cavatina, including returning pianist Ieva Jokubaviciute, along with new Festival artists Harumi Rhodes (violin) and Priscilla Lee (cello).  They will perform selections from Fauré, Schumann, and Beethoven.  The trio formed in 2005 and was first place winner of the prestigious Naumburg Chamber Music Competition in 2009.  Members of Trio Cavatina, pictured left to right are Harumi Rhodes (violin), Ieva Jokubaviciute (piano), and Priscilla Lee (cello). Photo contributed by Trio Cavatina.

The festival includes an eclectic mixture of performers and instruments. Here is who you will get to see perform over the course of the two weeks:

Week 1 Artists:

Catherine Cho, Violin
Bella Hristova, Violin
Harumi Rhodes, Violin
Todd Phillips, Violin
Dimitri Murrath, Viola
Maiya Papach, Viola
Priscilla Lee, Cello
Marcy Rosen, Cello
J. Lawrie Bloom, Clarinet
Peggy Pearson, Oboe
Robert McDonald, Piano
Ieva Jokubaviciute, Piano

Week 2 Artists:

Catherine Cho, Violin
Daniel Phillips, Violin
Heesun Shin, Violin
Maria Lambros, Viola
Marcy Rosen, Cello
Melissa Meell, Cello
Anthony Manzo, Bass
Tara Helen O'Connor, Flute
Peggy Pearson, Oboe
Diane Walsh, Piano
Adam Pearl, Harpsichord

For full information on the festival schedule, tickets and performers, click here.