Dad's Oysters
May 31, 2013 07:31PM ● By Anonymous

Please tell us the genesis of the Point Crab House. What should we know about the restaurant?

The Point offers dishes inspired from growing up in Maryland, on and around the Chesapeake Bay, while sourcing as many locally grown and produced ingredients as possible. We're located at Ferry Point Marina on the south side of the Magothy River with Mill Creek edging our dining room. It's a beautiful location and a relaxing place to spend time with friends and family.

What is your philosophy on food?

My philosophy on food is about simplicity, balance of flavors, and quality ingredients. It may sound a little squirrely, but I honestly feel that good food really is a gift. Going out to eat can be like a little mini vacation, and as a chef, it's fun to be a part of creating dishes for people to enjoy while unwinding.

What do you consider more important: organic or local?

Since I grew up around the Chesapeake Bay, many of my friends and their families were watermen and farmers. I have a great deal of respect for the amount of work it takes to get the amazing product from their boats and farms to our tables. Both have their benefits, but if I had to choose which is more important, I'd lean toward local because, generally, the product will be fresher and it supports our local economy.

What would you consider the Point's specialty dish?

I'd place our crab cakes and Maryland crab soup at the top of the list. We have a lot of dishes we're proud of and our baked oyster dishes are very popular.

How often do you change up the menu at the restaurant?

Ideally we change the menu each season. Our third menu, the summer 2013 menu, came out in late spring. We keep several core dishes and change about 30 percent of the items based on seasonality.

As a chef, you are an artist. Where do you find inspiration for your dishes?

The menu here was inspired by growing up around the Bay and the food we would eat at my grandparents' house during holidays and special occasions with family. It's fun to reinvent familiar/memorable flavor combinations in different ways.

How did this dish, Dad's Oysters, originate?

Dad's Oysters are a dish that reminds me of my Dad. He passed in 2008 and he loved food. When oysters came into season this past year, I wanted to do a baked oyster dish as an addition to the winter menu. After tweaking all the flavors, I was happy with the result, but had to come up with a name for the dish. I was talking to my wife about what to call it and I thought about how much my father would have loved the flavor combinations in these baked oysters.

What drink pairs best?

I'd reach for a pale lager or a pilsner—something light and dry that doesn't distract from the oyster and other flavors. If you're not a beer drinker you can't go wrong with champagne or prosecco with oysters, whether on the half shell or baked.

What is the most important step when cooking it?

The most important step in cooking the dish is—as a good friend once told me—to enjoy the process.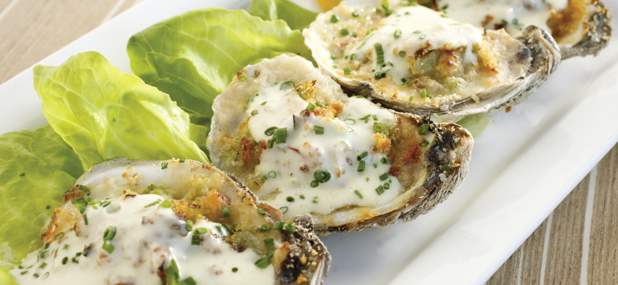 Recipe

DAD'S OYSTERS { Serves 4 }

Baked local oysters with sautéed shallots, celery, Smithfield ham, gruyere and parmesan cheese— baked and topped with sherry cream sauce and fresh chives.

INGREDIENTS:

16 fresh Chesapeake Bay oysters – shucked on half shell
2 Tablespoons extra virgin olive oil
4 Shallots – finely diced
3 Celery ribs – finely diced
1 Cup Dry white wine
1 Cup salt cured Smithfield ham – fine dice
2 Cups fresh grated gruyere cheese
1 Cup fresh grated parmesan
4 Tablespoons unsalted butter
1/4 Cup all-purpose flour
1 Cup of half & half
1/2 cup dry sherry
1/2 cup chicken stock
Fresh bread crumbs
Fresh chives
Salt & Pepper

Directions

Topping:

In a sauté pan on medium high, heat olive oil until oil is shimmering. Sautee shallots and celery, season with salt and pepper until shallots are translucent. Add white wine to hot pan and reduce until liquid is nearly gone. Add the finely diced ham to the pan. We're just heating the ham until it's hot, so it releases some of the fat to the pan. Transfer pan mixture to a sheet pan and cool to room temperature. You can place in fridge or freezer to speed the cooling process. Add gruyere and parmesan to mixture and combine well.

Sherry Cream Sauce:

In a small sauce pan over medium heat, melt butter. Once butter is completely melted, add fl our and stir until completely combined. Stir fl our/butter mixture (roux) for about 3 minutes. While stirring, slowly add chicken stock, dry sherry, and cream. Return to a boil and stir for one more minute. Add salt and pepper to taste.

Assembly

Preheat oven to 425 degrees. Arrange shucked oysters on a sheet pan and top with a tablespoon or two of the shallot, celery, ham, cheese mixture on top of each oyster. Sprinkle topped oysters with bread crumbs. Bake oysters in oven for 10 to 12 minutes until tops are golden brown and crusty. Plate oysters on a serving platter and top each oyster with some sherry cream and fresh finely chopped chives.

Point Crab House & Grill
700 Mill Creek Road, Arnold
410-544-5448
Thepointcrabhouse.com