Ordering Anew at a Classic Icon
Jun 06, 2013 11:32PM ● By Anonymous
Dark wood walls with a gallery of "Old Eastport" photos greet you upon entering, along with a small bar and a pleasant and very professional staff. The atmosphere is plush and I was seated in a comfortable private booth in deep cushy leather with classic jazz music softly playing in the background. First impression from my table was one of a world-class wine selection, as there was a window looking into the "Wine Room" and a collection of magnums on the upper section of the ceiling in my dining room. Lewnes takes their wine list very seriously and has a variety that prompts you to take more than a few minutes to select. I chose a half bottle of Worthy 2007 Sophia's Cuvee that was opened and poured into a carafe to breathe—a light and pleasant taste for my meal ahead. A loaf of warm onion bread, rich in eggs, was brought to the table and made for a great combination.

"Our portions are generous" should not be taken lightly as the steak and seafood entrees are large. The same applies to the appetizers, salads, vegetables, and potatoes. Some are available to split and my waiter was happy to explain what my options were.

Signature dishes have always intrigued me so I started with a Spiro's Greek salad. It came out on a chilled plate with a crisp lettuce bed holding the seven classic Greek ingredients. A light vinaigrette was just enough to make all the flavors work together. Feta cheese was very mild and combined well with the tender potatoes mixed in. My cup of black bean soup arrived hot, with tender beans and small pieces of prime beef, and garnished with a soufflé cup of chopped onion and another of warm rice. Tender beans and small pieces of prime beef made me warm up quickly and forget the cold winter night on which we dined.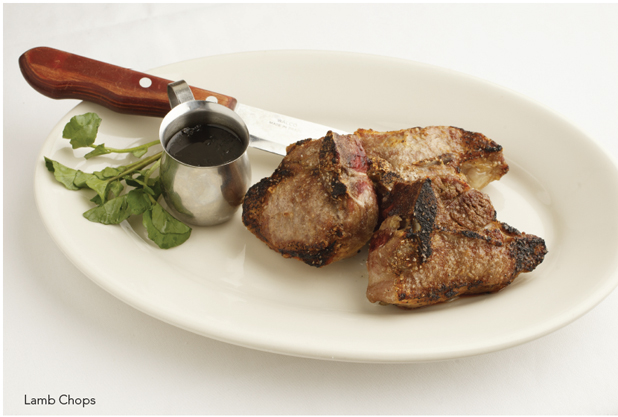 U.S. Prime beef is explained in detail on the menu, as well as the family history of restaurants. Limited in supply, the prime beef market is sought after by only the fi nest steak houses, and this is the Lewnes heritage. But having eaten a beef dinner the night before, I ordered the lamb chops for my entrée and paired them with another signature dish, sauteed spinach a la George, and a half order of Lyonaisse potatoes.

I ordered the lamb medium rare and my waiter took the extra time to be certain I would get it cooked exactly as I requested. It arrived simply garnished and the three perfectly cooked chops, a prime cut of Midwest lamb, went very well with the mint infused au jus served on the side. The Spinach a la George was a generous combination of fresh spinach, olive oil, onions, and lemon juice.

The Lyonnaise potatoes were cooked tender and served in a rich au jus with caramelized onions and paprika. I was happy to have ordered the half portion because I would have eaten a full one. I must mention the whole Maine lobster available on the menu. If this is your seafood choice, be prepared for the 3-to 4-pound giants that are steamed to order. Now that's a lobster. There is a Surf and Turf option available for the truly hungry, paired with one of the steaks, but I recommend a guest help you through it.

I finished my dinner with a warm chocolate brownie topped with vanilla ice cream and whipped cream. This was as good as any brownie I have eaten (and I know brownies). The excellent coffee made a perfect finish to my meal.

The second floor offers a private party room and a very exclusive dining room for any special occasion. With classy atmosphere throughout this icon in the "Maritime Republic of Eastport," I recommend reservations and a good appetite.

LEWNES STEAKHOUSE

401 4th Street, Annapolis
410-263-1617
lewnessteakhouse.com
Appetizers: $4.25–11.95
Entrees: $27.95–41.95
(market price for lobster and crabcake)
Dessert: $4.95
Wine: half bottle $30–160; full bottle $60–1,200