What's Up? With Real Estate
Jun 10, 2013 11:35PM ● By Anonymous


BAY HEAD

Primary Structure Built: 1997
Sold For: $1,080,000
Original List Price: $1,250,000
Last Sold/Price: Sellers tore down and rebuilt 15 years ago for undisclosed amount
Bedrooms: 3
Bathrooms: 2
Living Space: 2,100 square feet
Lot Size: 1.01 acres

Formerly a small rancher on a nice track of land by the water, the sellers razed the original dwelling in 1997, and, with the help of local architects, oriented this Nantucket-style cottage to take advantage of glorious water views. Situated on more than an acre, it provides impressive vistas of the Chesapeake Bay, Gibson Island, and the Magothy River. Both master gardeners, the sellers infused the property with a stunning display of seasonal perennials, adding to the home's curb appeal and—combined with its location and architectural features—prompted lots of foot traffic from prospective buyers, as well as a quick second offer when a first fell through.

The buyers, located in the D.C. metro area, appreciated the home's proximity to Route 50, downtown Annapolis, and the Bay Bridge, as well as its private setting, spacious layout, and water access. They intend to use the Bay Head property as a second home and, for now, plan to replace/repair a pier and grandfathered covered boat slip, both of which suffered damage from Hurricane Isabel in 2003.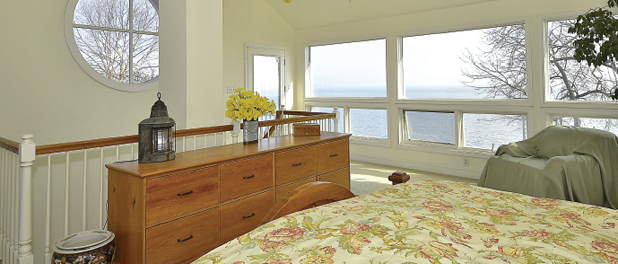 The portico entrance reveals an open first floor, encompassing the living room, kitchen, and dining area. The first level is outfitted with high ceilings and custom windows to take advantage of the seascape. A screened porch and separate patio flank each side of the home, again emphasizing the outdoor element.

While two bedrooms and a bathroom sit on the first floor, the entire upstairs is intended as a master suite. That master space includes a sitting area with additional panoramic windows, a rooftop deck, enclosed washer/dryer room, walk-in closet, and master bath with a soaking tub, separate shower, and its own deck.

Source: Liz Montaner (listing agent), Realtor, Coldwell Banker Residential Brokerage, cell-443-871-1143, office-410-647-2222, emontaner@cbmove.com, LizMontaner.com.

ANNAPOLIS ROADS





Primary Structure Built: 1963
Sold For: $1,250,000
Original List Price: $1,425,000
Last Sold/Price: Built in the '60s, the home never transferred in tax records but was a tenant property at times
Bedrooms: 4
Bathrooms: 2.5
Living Space: 2,347 square feet
Lot Size: +/-1.43 acres (home sits on 1.18 acres and a separate .25 acre lot sits cattycorner to the house)

How does a 50-year-old home with an original kitchen and bath sell for more than $1 million? Annapolis experts will tell you—settings sell. And in this case, the setting couldn't be more spectacular.

Sitting on a peninsula surrounded by the Severn River, Chesapeake Bay, and Lake Heron, the home's three-sided aquatic backdrops evoke the sensation of living on a boat. From the large, multi-level deck, the Bay Bridge is easily spotted in the distance, while quieter lake views with lush trees and foliage are just around the corner. With a generous amount of bulkhead water frontage (300 feet), access to navigable water (4-plus mean low water depths), and a surprising amount of land for a waterside home, the land value sold itself. The new owners particularly appreciate the water features and plan to add a pier.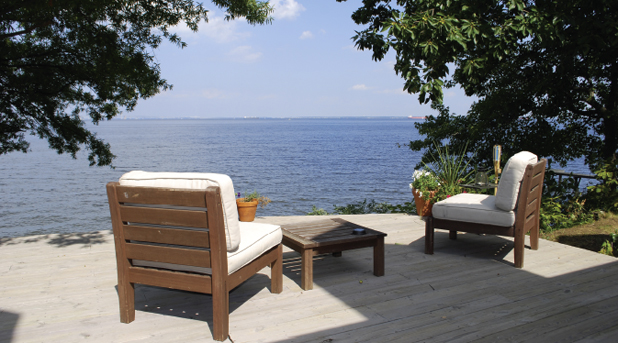 The home is a picture of Cape Cod styling, with its dormer windows, shingle/clapboard/brick siding, and gabled ends. Well maintained for its age, the interior contains equally charming elements. Dark wood beams frame out the ceilings in the family room and kitchen. A massive brick hearth anchors the living area. A large screened porch, with more of those distinctive wood beams, invites indoor-outdoor living. Two kitchens, one on the main floor and another upstairs, are an added convenience. And more picturesque characteristics can be spotted throughout, including accent chair railing, gabled ceilings, skylight windows, and baseboard heating.

Source: Lori Gough (listing agent), Associate Broker, Champion Realty, cell-410-320-0851, office-410-224-0624,lorigough@aol. com, lorigough.com.

DOUBLE HILLS ESTATES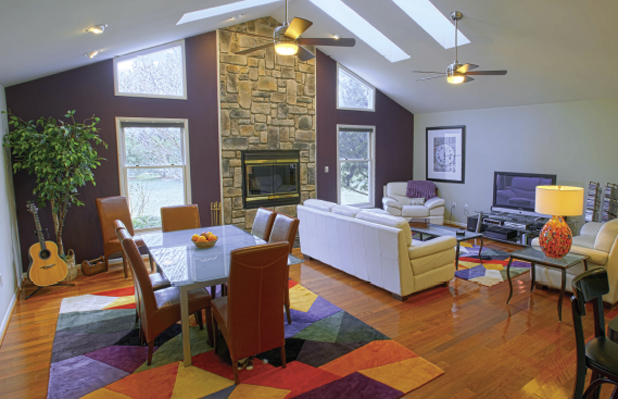 Primary Structure Built: 1989
Sold For: $540,000
Original List Price: $650,000
Bedrooms: 4
Bathrooms: 4.5
Living Space: 5,000 square feet
Lot Size: 5.02 acres

Situated on a quiet lot, it's no surprise that this Denton contemporary is filled with details buyers love since the home was built by a Caroline County Realtor with decades in the business. The residence is outfitted with such features as cathedral ceilings, skylights, A-framed rooms, gas and wood-burning fireplaces, Brazilian cherry hardwood flooring, an open floor plan, and a four-bay garage, just to name a few. The surprise, however, comes in the form of an addition put on in 2000, which included a heated, salt-water, indoor pool and separate in-law quarters. "My mother had a very poor back and swimming was the best thing for her," says seller and agent Bonnie Johnson, explaining the home's unique layout.

The end result is three distinct living areas: an open and airy "main" house with bedrooms, baths, center-island kitchen, breakfast bar, and great room; a large indoor pool room with a stone fireplace and sitting area; and an in-law residence with its own great room, bedrooms, and bath. "The house has been a wonderful multi-generational home," Johnson says.

Dwellings with such unique arrangements can prove challenging to market, but this one sold in less than six months to a family with similar needs. Relocating from upstate New York, Beth Lawton, her partner Dick Hogle, and her parents Bill and Paula Lawton, wanted a home where they could stay independent and have separate spaces, yet interact and share in day-to-day tasks. With "mostly grown" kids coming in and out, and a menagerie of dogs, cats, and fish, the clan especially appreciates the pool and the two soaring-but-not-sterile great rooms.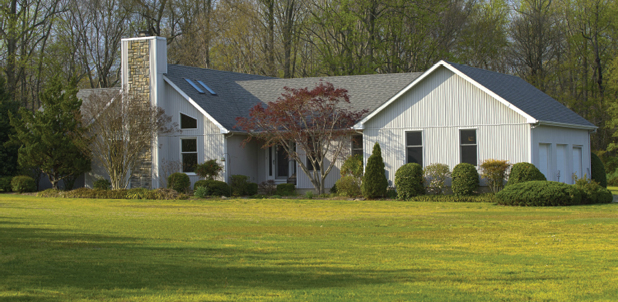 The home is situated within a community of three-to-five-acre lots, offering the comfort of neighbors and privacy. The wooded setting contains abundant wildlife, from foxes to nesting Eastern bluebirds, and it abuts Watts Creek, which offers shallow-water fishing and a kayak route to the Choptank River. The buyers initially were drawn to the Eastern Shore for its unique combination of serene settings and eclectic and artsy areas. Beth and Dick are musicians and Paula is an artist, so they are all excited to take part in the arts environment. Denton, considered a small bedroom community to Annapolis, has a surprisingly lively arts scene, with its performing arts series, Friday Nites in Caroline, art shows, events such as Paddlefest and Summerfest, and gathering spots such as the Fiber Arts Center of the Eastern Shore.

Sources: Bonnie Johnson (owner and agent), Champion Realty, 410-310-0777, bonniejohnson@championrealty.com Pat Neidhardt (buyer's agent), Century 21, 410-212-0685, patneidhardt@gmail.com.

WYOMING ON THE WYE





Primary Structure Built: 1996
Sold For: $1,500,000
Original List Price: $1,950,000
Bedrooms: 3
Bathrooms: 3
Living Space: 4,774 square feet
Lot Size: 16.39 acres

Lucky for us, water-view homes are not uncommon on the Eastern Shore. Water-view and water-access properties are fairly prevalent, yet pricey. But houses with wide water views paired with deep water access are rarer, making this Queenstown gem all the more valuable.

Taking full advantage of its water location, the 17-year-old residence comes with 500 feet of water frontage at 6-plus feet MLW on the Wye River, a tributary of the Chesapeake boasting secluded coves and abundant fishing and crabbing for recreational boaters. The property has a fully rip-rapped (or stone-armored) shoreline with a 265-foot pier, equipped with water and electricity, two 30-foot slips, one 80-foot slip, and two lifts. Naturally, the house is oriented to the west to enjoy water vistas and sunsets.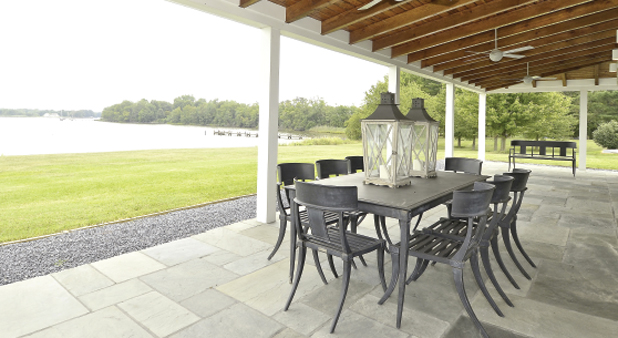 The home sits on more than 16 acres, with tree areas that don't impede views and a long driveway that opens to a contemporary house with five roof lines. This type of horizontally elongated construction is intended to create the impression of a village, says the home's original builder, Keith Neal of Nuttle Builders. Several outbuildings, including a summer house, detached garage with a studio suite, and a garden shed, emphasize this village theme and are a modern emulation of traditional Southern Maryland tobacco farms. Inside, the home is equipped with elements just as striking as the exterior. A grand foyer opens to a massive great room and kitchen with cathedral ceilings, a wood-burning fi replace, and an entire wall of glass for outdoor views. Graduated dormer windows on the top part of the great room add natural light, visual interest, and the illusion of even more size. A first-floor master suite includes "his and her" baths, as well as an expansive walk-in closet. Neutral colors inside and out and understated fixtures are juxtaposed against the arresting backdrops of the architecture and environment. Other unique touches include a lower-level sauna, a secondary kitchen/prep area, an outdoor shower zone, and a large screened porch with a separate blue stone patio.

Sources: Barbara C. Watkins (listing agent), Associate Broker Benson and Mangold Real Estate Office: 410-822-1415, Cell: 410-310-2021 Bbarb.c.watkins@gmail.com, Easternshorehomes.com. Keith Neal, Nuttle Builders, 410-479-2890.