Annapolis on a Canvas
Jun 27, 2013 07:44PM ● By Anonymous


Now in its 12th year, Paint Annapolis features 28 juried artists who are competing for more than $5,000 in prizes. Chosen by M. Stephen Doherty, editor of PleinAir Magazine, the artists juried artists consist of locals ranging from Baltimore to Pennsylvania to even some who travel as far as Washington state, according to Donna Anderson, VP of Marketing and Development at Maryland Hall.

"We want both the artists and the exhibition to reflect the different styles and diversity of local artists," Anderson says.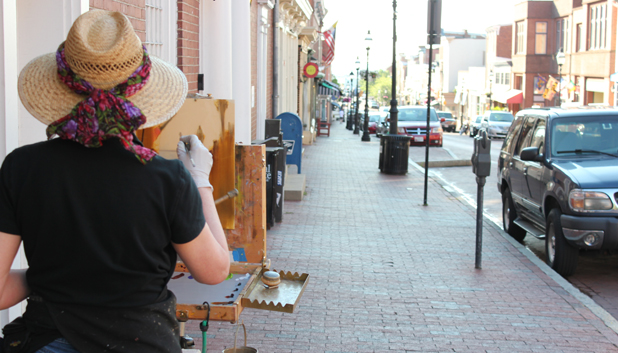 "The goal is to showcase the art of plein air (outdoor) painting," Anderson says. "It's really capturing a site in its natural form with natural light without trying to control the environment."

Artists can choose to craft their work any time of day. It all depends on the artist, Anderson says. Some choose to paint in the morning, while others prefer the afternoon and some decide that nighttime is best for their painting.

Part of the allure of the outdoor experience of Paint Annapolis is the connections developed between the painters, the city and its visitors.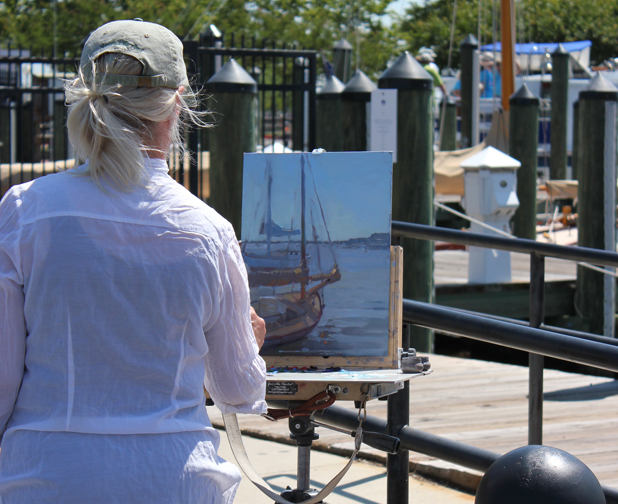 "What we have found is from the public's perspective when they can walk around Annapolis and they see an artist painting around Downtown Annapolis or City Dock painting, they can walk by and see the artist painting and then come back after lunch and see their progress," Anderson says. "It's an interactive experience with the artists out on the street. They'll talk to the public and gladly answer questions."

"There are opportunities for the public to interact with the artists," Anderson says. "It's very community-oriented. The public likes to come and hopefully buy the artwork that the artists create for their hometown."

Paint Annapolis continues through July 14th with an exhibition featuring the plein air paintings at Maryland Hall's Chaney Gallery on the second floor with an MAPAPA Member Exhibit along the first floor hallway.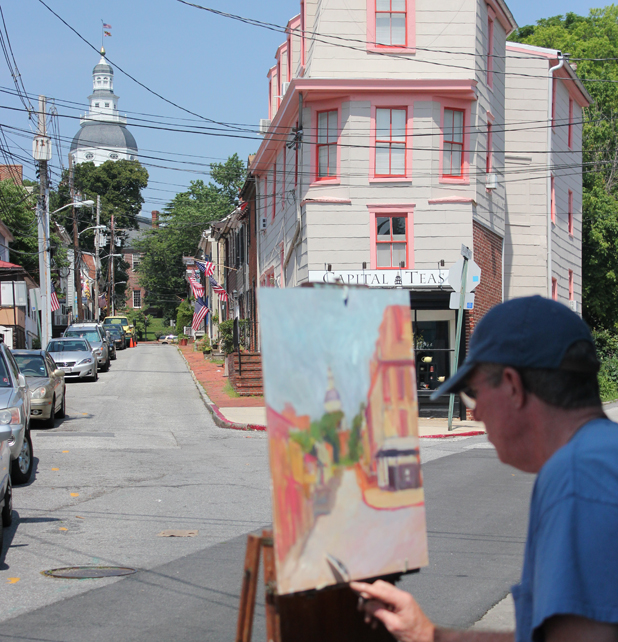 Susan Campbell Park will play host to the Dueling Brushes competition Saturday morning which Anderson says not only emphasizes skill but speed as well because the paintings must be completed in less than three hours.

There will be an Exhibit Preview Gala Saturday night from 5:30-8 p.m. where the Juried prizes will be awarded. Tickets to the gala are $20 for general admission and $15 for MHCA members.

All in all, if you're a fan of local and national artists and want to see how they interpret your city, downtown Annapolis is the place to be this weekend and Maryland Hall is sure to be a must-visit destination over the next two weeks.

Images courtesy of Maryland Hall for the Creative Arts