Crab Cappellini
Aug 29, 2013 01:47PM ● By Cate Reynolds
By Kimberly Cooper // Photos by Tony Lewis, Jr.
Rod 'N' Reel Restaurant
4165 Mears Avenue, Chesapeake Beach
1-877-RODNREEL
chesapeakebeachresortspa.com

The Rod 'N' Reel Restaurant, located at the Chesapeake Beach Resort and Spa, is no stranger to seafood. Open since 1946, the restaurant favors local and sustainable product—using top quality crab, fish, and seafood on their menu. Executive chef Joseph Misero shares his thoughts on fresh, local ingredients and gives us the secret to his tasty Crab Cappellini.

What sort of culinary trends have you seen recently?
Are there any that you feature at your restaurant?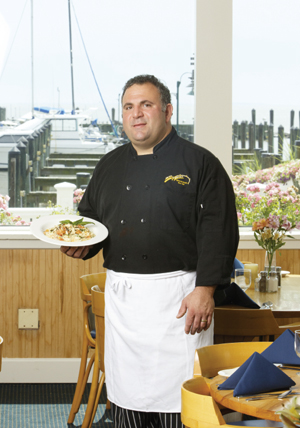 Sustainability and a solid local purchasing program are the most important trends that any restaurant can do for their clientele, local economy, and our environment. We at the Rod 'N' Reel Restaurant are proud to say that we follow both of these practices in every way possible. Another great program that we have partnered ourselves with is the Oyster Recovery Project, through the Oyster Recovery Program. This program takes discarded oyster and clam shells and uses them to create new oyster beds in our Chesapeake Bay and waterways, which allow for the repopulation of our local oyster. As a byproduct of this process, the increased adult oyster population will help clean up our bay by filtering and cleaning up to 50 gallons of water per day—gobbling up algae, and removing dirt and nitrogen pollution. That's good news for the health of the Chesapeake Bay and for us.*



How often do you change the menu at Rod 'N' Reel?

We normally will update the menu twice a year.

How did this dish originate?

Years ago, my wife and I were in Cape May, N.J., for a weekend vacation. After a long walk around the town, we came to a small café and had a simple dish of Pizza Margherita. The refreshing summer ingredients were so outstanding that I tried to come up with a way of incorporating all these flavors into a summer pasta dish that would be attractive to our local clientele. The thought was to add crabmeat. But not just any crab, it had to be the best, Maryland jumbo lump crabmeat. This simple addition took this dish to a new level making it one of our best-selling specials ever.

What is your favorite ingredient?

For me, my favorite ingredient is basil. The smell takes me back to my childhood where basil grew at our back door and you could not help but smell it as you passed down the walkway.

What wine or drink pairs best with this dish?

For a wine, I would definitely recommend a crisp Pinot Grigio.

What is the most important step when cooking it?

The most important step in this dish is not to overcook the ingredients. This is a quick sauce created in minutes not hours like traditional pasta sauce. By quickly sautéing the ingredients you will keep the freshness, lightness, and the taste of summer alive in your pasta dish.

*Information sourced from the Chesapeake Bay Foundation website
________________________________________________

Crab Cappellini

Recipe by Chef Joseph F. Misero III
Servings: 4
Prep Time: 20 Minutes

For the dish you will need:

2 large ripe beefsteak tomatoes peeled and seeded (tomato concasse)
4 cloves of garlic sliced thin
Large bunch of Basil cut into chiffonnade
1 pound uncooked angel hair pasta
1 pound Crabmeat
6 Tablespoons extra virgin olive oil
Salt and Black Pepper to taste

Directions

To make the tomato concasse, bring a small pot of water to boil, core the stem and slice an "X" on the flesh side of the tomato. Then, immerse the tomato into the boiling water for 1–2 minutes or until the skin of the tomato just begins to peel. Shock the tomato in ice water to stop the tomato from cooking further. The skins of the tomato should simply rub right off. Once the tomatoes are skinned, slice through the tomato horizontally at the midline and gently squeeze the juice and seeds from the tomato. Cut the halves into large dice and set aside.

To make the dish, bring water to boil and begin to cook the Cappellini to al dente and strain. Meanwhile, heat a sauté pan on medium high heat and add the olive oil and sliced garlic. Cook the garlic until just lightly toasted, and then add the tomato concasse. Season with salt and pepper. Simmer the tomatoes briefly to warm them through and add the crabmeat and basil. Add the Cappellini to the sauce and toss, incorporating the sauce throughout the pasta, and serve.