When Dinosaurs Roamed Laurel
Sep 19, 2013 12:21PM ● By Cate Reynolds
When Dinosaurs Roamed Laurel [8 Images]
Click Any Image To Expand
By Lisa A. Lewis // Photography by Tony Lewis, Jr.

If it's the first or third Saturday of the month, chances are Dave Hacker, volunteer and amateur paleontologist, can be found at one of his favorite places: Dinosaur Park. Located in Laurel, the park is a unique site, featuring a veritable treasure trove of fossils from the Early Cretaceous Period (about 110 million years ago). Paleontologists have discovered fossilized bones of several species of dinosaurs and early mammals, as well as fossils of trees and early flowering plants.

Hacker, who has been a volunteer at the site even before it became a park and opened to the public in October 2009, conducts open houses with paleontologists and other volunteers twice a month on Saturday afternoons. During the programs, he gives an orientation talk that provides background information about the site. He also explains why it is an ideal area for finding fossils and shows visitors examples, so they have a visual image of what fossils look like. "I really enjoy volunteering at the open houses," Hacker says. "I think the best part is when someone finds a fossil. Everyone gets really excited because they realize that maybe they can find something, too. We have a lot of fun, and it's always interesting to see the fossils that people find."

An Extraordinary Discovery

The site where Dinosaur Park is located has a long and interesting history. According to the Maryland-National Capital Park and Planning Commission, which oversees the park, Dinosaur Park is part of the Muirkirk Deposit, a geologic formation that consists of sediments and rare clays. These clays were rich in iron ore, and iron furnaces operated in the area as early as the 1700s. Although scientists didn't realize it yet, this particular site was special. The land was steeped in history and had a fascinating story to tell; ancient secrets were buried in the earth. In 1858, when African- American miners found strange-looking bones in the iron mines, it was finally time for these secrets to be revealed.

Curious about the origin of the bones, Philip Tyson, Maryland's State Agricultural Chemist, took them to a meeting of the Maryland Academy of Sciences in 1859, where they were identified as dinosaur teeth. This was an especially exciting discovery because the teeth were the first dinosaur fossils ever found in Maryland. Academy member and dentist Christopher Johnston named the dinosaur Astrodon because there was a starburst pattern in the cross section of the teeth. (Astrodon means "star tooth.") The species name johnstoni was later added. Astrodon johnstoni, the first dinosaur found in Maryland, was an extremely large, plant-eating dinosaur known as a sauropod. It had a small head, long neck, long tail, and strong, thick legs. Scientists estimate that an adult was at least 60 feet long and weighed several tons. To pay tribute to Maryland's first dinosaur, the Maryland State Assembly designated Astrodon johnstoni as the state dinosaur in May of 1998.

Fascinated by the discovery of the dinosaur teeth and interested in learning more about these gigantic creatures that vanished from the face of the earth in a mass extinction, scientists continued to collect fossils at the Muirkirk Deposit. Throughout the years, many more fossils have been found at the site, which is now Dinosaur Park.

The land where the park is located was donated by Jackson-Shaw Company and consists of 41 acres, including a fenced-in area where visitors can look for fossils during supervised times. No personal fossil collecting is allowed. A garden with plants and trees similar to those that thrived when the dinosaurs lived helps bring the prehistoric past to life. Signs posted at the park describe Maryland's dinosaurs, the prehistoric environment, the site's industrial history—first, as iron furnaces, and later, as a brick factory—as well as the African-American history of the area.

"People are fascinated by dinosaurs, and Dinosaur Park offers an opportunity for everyone to learn about them," says Park Manager Don Creveling. "Every single fossil makes a contribution to our knowledge of the past. The average person generally doesn't have an opportunity to work with scientists, but at the park, they can work with paleontologists. And they can find fossils—just like paleontologists do. Plus, searching for fossils is a fun activity the whole family can enjoy."

An Ideal Location

During the Early Cretaceous Period, the area that is now Maryland was a tropical or sub-tropical, swampy lowland that most likely resembled Louisiana bayou country or the Mississippi River delta. Slow-moving rivers and streams teemed with fish, turtles, and crocodiles, and several species of dinosaurs flourished, making the area their home. This prehistoric environment was ideal for the preservation of dinosaurs and other plant and animal remains. Although there are many processes by which fossilization can occur, in the case of the dinosaurs that lived in this area, the most likely scenario is that their bodies were buried shortly after death. According to Hacker, when dinosaurs died, their bodies may have washed into the slow-moving waters. They sank to the bottom, where they were covered with mud and were eventually preserved as fossils—usually in the form of bones or teeth. These relics of the distant past remained undetected—buried deep within the earth—until the miners discovered them millions of years later.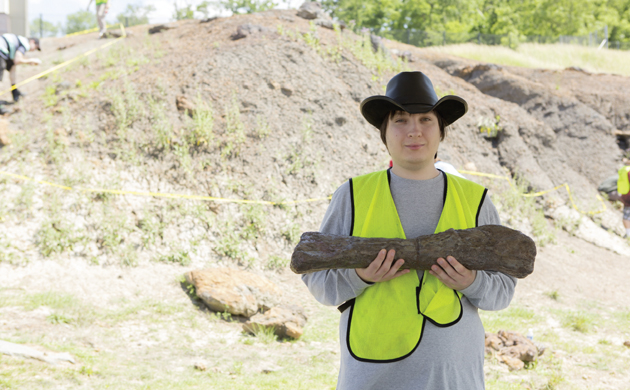 "The formation of fossils is rare, and the conditions must be exactly right," says Dr. Peter Kranz, education program manager of Dinosaur Park and president of the Dinosaur Fund, a nonprofit organization based in Washington, D.C., that helps raise money for dinosaur research in the National Capital Region. "Dinosaur Park's exposed fossil layer from the Early Cretaceous Period makes it the single most important site for collecting dinosaur fossils east of the Mississippi River."

Fossils Found at Dinosaur Park

Although many fossils have been found at Dinosaur Park, some are especially significant and have been donated to the Smithsonian Institution.

"We have a nice collection of fossils from Dinosaur Park," says Dr. Matthew Carrano, curator of Dinosauria, National Museum of Natural History, Smithsonian Institution. "A number of finds represent things that had not been found before from the Early Cretaceous Period in Maryland, so those are especially exciting and important. They include teeth from fresh-water sharks, the jawbone of a four- to five-foot long, meat-eating dinosaur, and bones of frogs and salamanders. The donations from the park have probably added 50 percent to our collections of fossils from the Cretaceous [Period] of Maryland in just the past three years."

Coprolites, or fossilized feces, are also significant finds. These fossils play an important role in helping paleontologists learn about a particular animal and its relationship with other animals. For example, by analyzing shark coprolite found at Dinosaur Park, paleontologists saw fish bones and were able to determine what the shark ate.

Fossils frequently found at the park include teeth, vertebrae, and toes. Turtles and crocodiles are the most common fossils, but there are a number of dinosaur fossils as well. Lignite, or brown coal, formed from conifer trees is also a common find.

A Remarkable Legacy

Maryland residents are fortunate that Dinosaur Park—a fascinating symbol of our region's prehistoric past—has been preserved for present and future generations to enjoy. The park offers visitors the amazing opportunity to stand on the same land where dinosaurs once stood. They can learn about prehistoric life and work alongside paleontologists and volunteers as they search for fossils—perhaps making an exciting discovery of their own.

"Dinosaur Park is a very special place, especially for children," Kranz says. "Children have vivid imaginations, and they love to pretend. But they don't have to pretend to be paleontologists. They don't have to dig in their sandbox, pretending to look for fossils. They can actually do it. At Dinosaur Park, they are, in a sense, real-life paleontologists."

Dinosaur Park

Visitor Information
Where: 13201 Mid-Atlantic Boulevard, Laurel
When: Open the first and third Saturdays, noon – 4 p.m., each month
For general information: Call 301-627-1286 or visit pgparks.com
For group and school programs:
Reservations are required by calling 301-627-7755