Partners In Care Celebrates 20 Years Of Volunteer Service
Sep 26, 2013 12:28PM ● By Cate Reynolds
Many of us are familiar with the concept of "paying it forward." When you do something nice for another person, they, in turn, do something kind for someone else. A chain of good deeds is created, making for a more positive and productive community.
For the past 20 years, the Maryland nonprofit Partners In Care has taken the idea of paying it forward and increased its viability and visibility within Anne Arundel County (and several others) using a unique concept called time-banking: every time you volunteer to help someone, be it a ride to the doctor or repairing a leaky sink, you "bank" time you can use to request help from another volunteer member in the future. The dedicated team at PIC is in charge of organizing these service "matches," ensuring each exchange is smooth and practical. So who exactly are the volunteers helping and being helped? With a mission to empower senior citizens to live independently and happily in their own homes while fortifying community ties, Partners In Care mainly serves older adults. Barbara Huston, one of the founders of PIC and current president, explains the importance of this service: "Older adults are an integral part of a vibrant society. Partners In Care offers a caring network of support where older adults can receive help with dignity and be affirmed of their worth…The program was conceived with the idea that older adults want to age in the homes and communities that they love, that everyone has valuable gifts and talents, and that within a lifespan we have times of need and times when we can help."
One of the oldest and most popular services is the transportation program, Ride Partners, in which volunteers drop off and pick up fellow members to and from wherever they need to go. The transportation program has expanded recently to include the PIC-up Bus, a 24-hour wheelchair accessible bus for the more than 2,000 members of PIC today.
Repairs With Care is another service that has seen immense growth. Beginning in 1997, with the help of The United Way of Central Maryland, this program allows members to request jobs they need done around the home, such as lawn work, cleaning, and repairing appliances.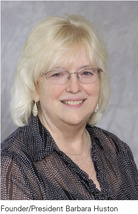 There also is The Boutique, PIC's own thrift store that brings in 30 percent of the funds for all of the organization's programs. Jewelry, clothes, furniture, books, and accessories are donated and sold with the help of more than 100 members who volunteer to help operate the store. An implicit benefit of all the programs of PIC is the camaraderie and sense of community fostered when people come together to help each other. This fights the social isolation that often occurs with older folks living on their own—another fervent goal of the nonprofit. However, PIC has recently developed a new social initiative called Member Care to address this goal more directly, providing older adults with social opportunities and visits, along with help in finding community resources. 2013 is a special year for Partners In Care, as the organization is celebrating its 20th anniversary of making a difference in people's lives.
Considering the recent economic recession, this is a feat worthy of commemoration for a nonprofit such as PIC. Huston is deeply satisfied with the achievement: "This organization has not only survived, but has thrived, continuing to provide important neighborly services to hundreds of older adults every month. On a personal level, it is extremely gratifying to see that an idea on paper conceived by the three founders has developed into a vibrant network of caring support."
Huston is looking forward to increasing awareness of the organization's mission in the community in the future, as well, especially within an aging population such as the United States'. She plans to make this happen through collaboration with several other groups focused on supporting older adults, one being the national Coming of Age initiative at its new site in Maryland. This program will assist adults 50 and older with exploring options for their future, and train businesses and other nonprofi ts that wish to hire more of the population from this age group. But fi rst, Partners In Care will be taking a much deserved night to celebrate its accomplishments. On September 21st at the Chartwell, PIC will hold an anniversary dinner to mark 20 years and honor volunteers. Visit www.partnersincare.org to learn more about the event and organization.

—Karlie Frank