Something Old, Something New
Oct 23, 2013 11:10AM ● By Cate Reynolds
By Beth Rubin // Photography by Larry French
Charming Ellicott City is rich in history and culture.
Historic Ellicott City, a pocket of tranquility and quirkiness tucked inside a corner of eastern Howard County, mere minutes from the Anne Arundel County line, is an enigma. To call it unique is no exaggeration.
Arriving here for the first time, some visitors have likened it to a European hamlet, in part for its old-world appearance, and also because this is a walking town where friendliness abounds. Along Main Street and Old Columbia Pike, charm oozes from the pores of buildings constructed of granite that formed about 480 million years ago, at least 15 miles down, according to local historians. A granite specimen, mined from a quarry on the nearby Patapsco River, is on view at the Howard County Tourism Center, at 8267 Main St., an excellent place to begin a tour of this charming hamlet straddling the past and the present.
Like Rome, Ellicott City is surrounded by seven hills and has a Tiber (here the Patapsco River) running through it. John Wilkes Booth performed at the old Opera House. Robert E. Lee is said to have ridden the B & O Railroad from Baltimore to the historic Ellicott City Station (now a museum) in 1869 and 1870 to visit a relative descended from Martha Custis Washington. He stayed at Linwood, a nearby estate. Author Washington Irving arrived via the B & O to overnight at a friend's nearby.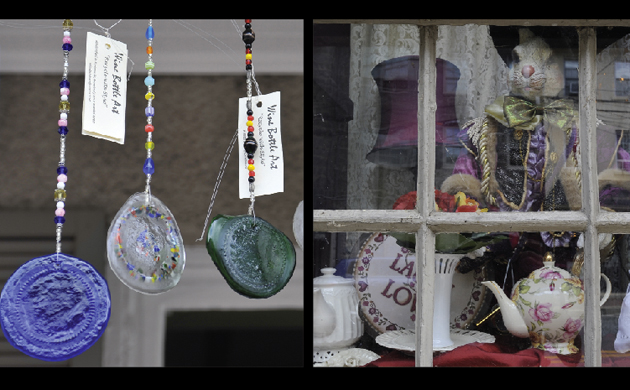 On a promontory overlooking the burg, St. Paul's Catholic Church, dedicated in 1838, was the site of Babe Ruth's first wedding in 1914 (to a former waitress he met in Boston, according to those in the know). Journalist-author-social critic and Baltimorean H.L. Mencken, best known for his biting satire, wrote with uncharacteristic warmth in his autobiographical Happy Days of spending two pleasant summers in Ellicott City.
Founded in 1722 as Ellicott Mills by the three Ellicott brothers from Bucks County, Pennsylvania, the trio built a gristmill and began to fashion a thriving mill town. Using friendly persuasion, they charmed the local farmers into raising wheat for the mill and established a Quaker meetinghouse. The factory town grew and prospered. Mount Ida, the last home built for the Ellicott family in the historic district was erected in 1825 and is the headquarters for the Friends of the Patapsco Female Institute, a girls' boarding school established in 1837. There, young women were instructed in the Quaker tradition in history and the arts and sciences, not just homemaking. Since closing in 1891, it has been a hotel, hospital, and theater.
The first mill for the manufacture of woolen and cotton goods was erected in 1840. By 1850, the town included 106 residents and their homes, a church, and a school. With the advent of the Civil War the mill prospered, producing canvas tents. Remnants of the mill, ravaged by Agnes, can be seen in nearby Patapsco State Park. The town was incorporated as Ellicott City in 1867.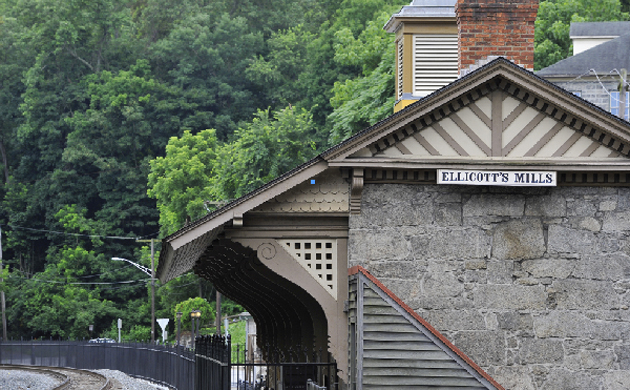 The B & O Railroad Station—the area's best-known attraction and "the oldest surviving railroad station in the U.S."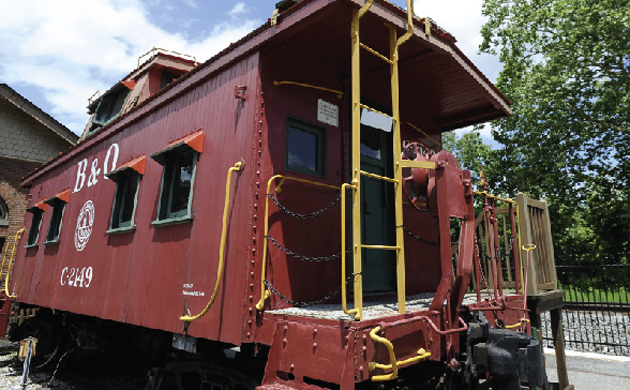 A strong preservation group founded 30 years ago keeps a watchful eye on "growth." The town has survived three major fires and two major floods; flood heights are noted on markers at the old railroad bridge. To date, there are no fast-food eateries or chain stores in the historic district. Bronze plaques denote historic buildings throughout town.
The B & O Railroad Station—the area's best-known attraction and "the oldest surviving railroad station in the U.S."—was the group's first major restoration project. The station reopened in 1976 as a museum known for its HO-gauge model train layout depicting the original 13 miles of track from Baltimore to Ellicott City, special exhibits, and a grand Christmas display. A second restoration was completed in 1999. While the museum is a big draw, especially for model-railroad enthusiasts and families, many come to town to scour the numerous antiques shops and boutiques, or catch a live theater or music performance.
Speaking of performances, the hills of Ellicott City are alive with the sounds of Shakespeare. Every year, spring to fall, Chesapeake Shakespeare presents plays by the bard on the grounds of the former Patapsco Female Institute (a finishing school for young women, founded in 1837). In July 2013, ground was broken in Baltimore for the company's permanent home. But the outdoor shows will go on next summer, as they have since 2002, when Ian Galanar started the company after successfully introducing a touring Shakespeare company to Minneapolis parks. So says Lesley Malin, managing director of the company who sometimes acts in the productions. The company is the recipient of several Greater Baltimore Theater awards and has outreach programs, including school performances and workshops, summer camps, and internships.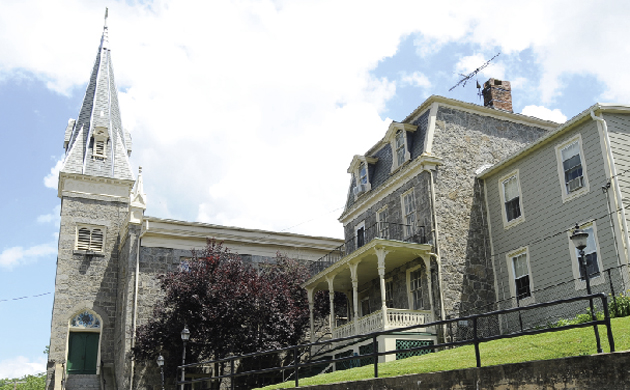 St. Paul's Catholic Church, dedicated in 1838, was the site of Babe Ruth's first wedding in 1914.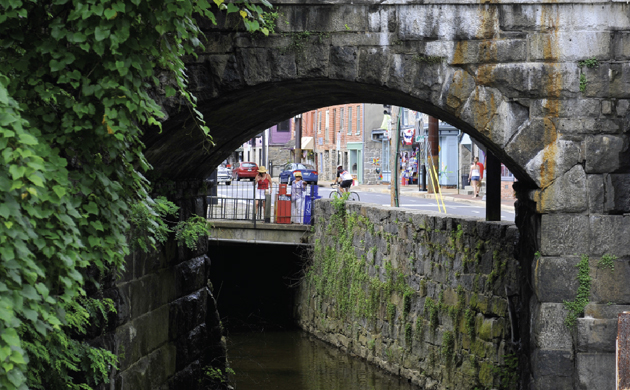 "It's such a great melding of talents and enthusiasm," Malin says. As in Shakespeare's time, the audience participates in the plays, pumping up the already high-caliber productions. "We love being in Ellicott City," Malin says. "Having a town that's a destination and being able to develop a relationship with business owners has been special for us. It's such a beautiful place─and we feel very lucky."
Where Diversity Flourishes
Shoppers converge on Main Street and Maryland Avenue, perusing the many antique dealers. The offerings are wide ranging and plentiful, including furniture, collectables, and glassware; unique wares await your sleuthing. Stylish contemporary merchandise juxtaposes the antiques at several retailers who display high-end furniture, lighting, rugs, and accessories. Several even offer the advice of an experienced interior design team.
Further down Main Street, children of all ages are enchanted by a toy store, a fantasyland of toys, games, plush animals, costumes, puzzles, dolls, books and the stuff of dreams. On the sidewalk, the Bubble Man dispenses bubble therapy weekends from 1 to 5 p.m., March through October. A visit here should be on everyone's bucket list.
Older kids dig a wine boutique occupying the 1930 firehouse, also on Main Street. The community-minded shop holds tastings and special events throughout the year. Movies in the parking lot take place Saturday evenings June through September (just BYO chair and picnic). Every first Friday from April to November, four-legged friends show up with their masters at Yappy Hours (pets required to wear leashes) for wine and live jazz. A portion of sales goes to animal welfare charities.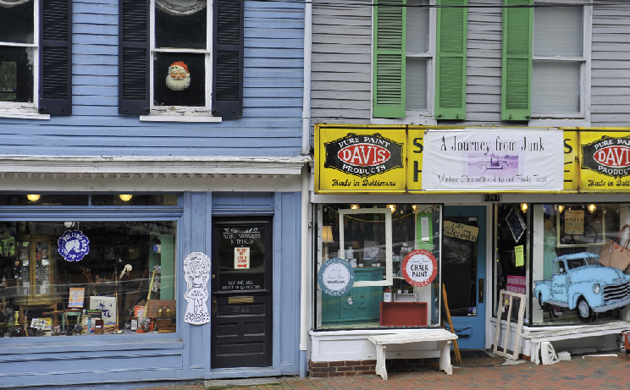 ...many come to town to scour the numerous antiques shops and boutiques, or catch a live theater or music performance.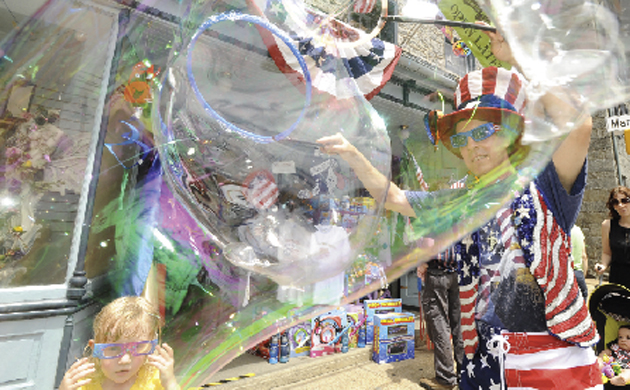 At yet another unique shop, well-priced women's casual apparel is designed by the owner and manufactured in Indonesia. Over the years, I've plucked many a good-looking sweater from the shop's shelves and sidewalk sales. (Some have set me back only $10 or $20 dollars apiece.)
Not surprisingly, the hallowed granite walls of Ellicott City are supposedly haunted, making the popular ghost tours (second Thursday of every month) among the most heavily attended in the state─especially around Halloween. Literary types gravitate to the Literary Pub Crawls held the first Thursday of the month. And, during Girls Night Out, the third Thursday of the month, shops serve free snacks and desserts, and the Wine Bin supplies complimentary wine.
For more information, contact
Howard County Tourism,
8267 Main Street
Visithowardcounty.com
and Historic Ellicott City at
Historicec.com
.
______________________________________________________
Because travelers do not live by sightseeing and shopping alone, we offer a potpourri of Historic Ellicott City restaurants and cafes:
Bean Hollow
8059 Main Street
Coffee, pastries, desserts, light fare.
Diamondback Tavern
3733 Old Columbia Pike.
Pub fare, entrees, daily specials.
Ellicott Mills Brewing Co.
8308 Main Street
Craft beers, burgers, sandwiches,
seafood, daily specials.
Johnny's Bistro
8167 Main Street
Sandwiches, paninis, pizza, tapas, salads.
Judge's Bench
8385 Main Street
Craft beers (17 on tap), wines,
soups, sandwiches, snacks.
Lala's hot dogs, ice cream, beverages
Look for carts on Main Street and Ellicott Mills Drive. 
A storefront at 8054 Main Street should be open by the time you read this.

Little French Market Café
3744 Old Columbia Pike
Coffee, pastries, sandwiches,
outdoor seating.

Portalli's
8085 Main Street
Italian fare. Nightly specials.

Tea on the Tiber
8081 Main Street
Victorian tea room and gift shop.

Tersiguel's
8293 Main Street
Country French, fine dining in
19th century home.