What's Up? With Eastern Shore Real Estate
Nov 21, 2013 09:58AM ● By Cate Reynolds
By Lurdes Abruscato
Waterfront or water-access property certainly doesn't come cheap, but it may come as a surprise that many Eastern Shore water residences carry a much lower price tag than those of comparable Annapolis neighbors to the East. This month's profiles in What's Up? with Eastern Shore Real Estate illustrate that new construction on popular waterways can still be had, at least on this side of the bridge.
SCOTT'S POINT
Primary Structure Built:
2009
Sold For:
$690,000
Original List Price:
$749,000
Last Sold/Price:
N/A: new construction
Bedrooms:
4
Bathrooms:
3.5
Living Space:
2,800 square feet
Lot Size:
N/A: condominium
We don't often feature condominiums in our real estate column, but this residence, with its perfect blend of new construction and historic location, was too interesting to pass up.
Built as part of a six-unit grouping in 2009, the condos originally were intended to be million-dollar, water-access homes, quietly situated two blocks off Chestertown's main street, and close to downtown dining, arts, and entertainment. Chestertown, an 18th century shipping port, has been recognized by various organizations as a unique historic and well-preserved community, and is home to Washington College, the schooner
Sultana
, as well as such fun traditions as the annual Chestertown Tea Party Festival.
With the housing market crash, high-end homes in sleepy water towns took a hit, and the condos languished on the market, going through different listing agents and prices. Recently, the town has seen renewed real estate activity, and this purchase seems to have jumpstarted the condo demand, as another unit just went under contract. The purchase process on this home went so smoothly, in fact, that it took less than a month from the offer date to the move-in date.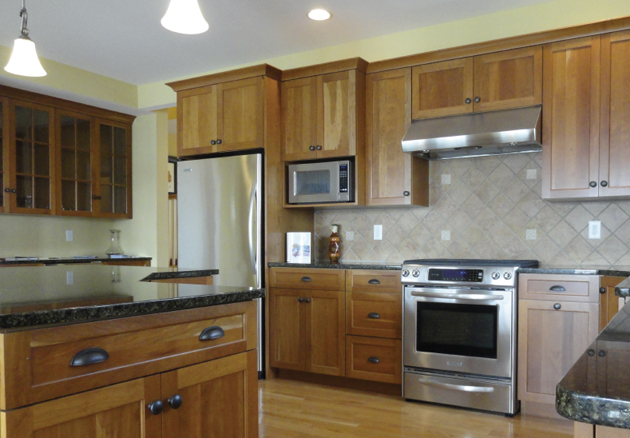 The buyer had been visiting the area for the past 13 years, and was interested in a vacation home within walking distance to town, yet with water access for his boat. Built on the waterfront, the newly constructed, multi-story home includes two boat slips with 4-plus MLW access. Views of the boat dock, as well as the Chester River, can be had from any of the condo's three back decks. Directly next to the condominium is Fountain Park, which adds to the vista and central location of the property.
This unit was used as the model, showcasing such high-end features as a den with built-in bookcases, a gourmet kitchen with dark granite and neutral-tiled backsplash, and a butler's pantry with a wine refrigerator. The condo was sold furnished, an added benefit for the buyer, whose tastes synched with the existing décor. The buyer notes the condo fees, a little more than $200 per month, are reasonable for the amenities provided. The only detail still to be determined, he adds, is whether to use the top floor bonus area as an additional bedroom or entertainment space.
Sources:
Mary Carlisle (listing agent), Coldwell Banker Chesapeake Real Estate, office: 410-778-0330, cell: 410-703-3820, mfcarlisle@aol.com. Jennifer Mobley (buyer's agent), Gunther-McClary Real Estate, office: 410-275-2118, cell: 443-350-5917, jenmobley@mris.com.
_________________________________________
COX CREEK/KENT ISLAND
Primary Structure Built:
2013
Sold For:
$763,650
Original Listing Price:
$749,900
Last Sold/Price:
N/A – new construction
Bedrooms:
4
Bathrooms:
2.5
Living Space:
3,500 square feet
Lot Size:
.41 acre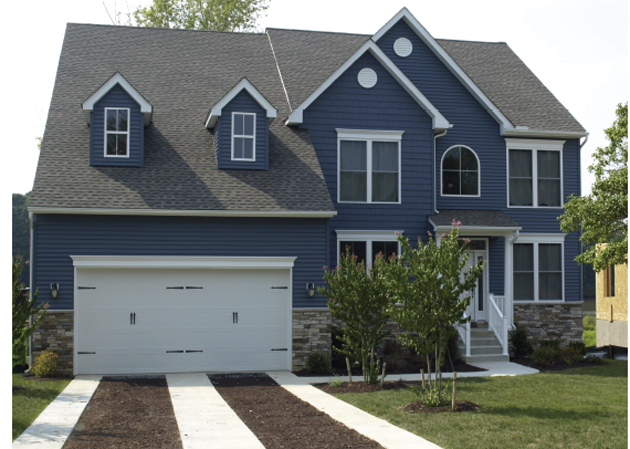 Proving that waterfront deals still can be had, this newly constructed colonial sits on the edge of Cox Creek, a tributary to Crab Alley Bay, which feeds into the Chesapeake. Certainly, a 3,500-square-foot home on a flat lot with a pier and deep water access would go for double this price if it were located in Annapolis, says Dudley Dixon, a residential builder with projects in Anne Arundel and Queen Anne's counties. The final sold figure of nearly $14,000 above the list price reflects upgrades purchased by the buyer.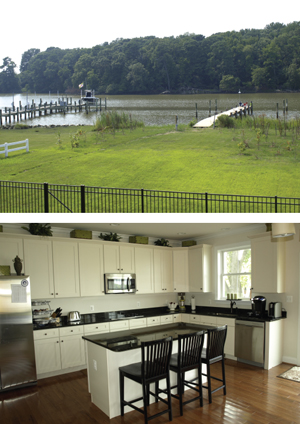 Built in an older section of Kent Island, the property is not part of a planned community, and as such, has no homeowners association restrictions. The same small, locally based builder is in the process of constructing a similar home on the lot next door.
The residence, much of which is oriented toward the water, includes several elements popular with today's buyers: a first-floor master suite, open concept floor plan, 9-foot ceilings, gourmet eat-in kitchen, hardwood fl oors throughout, and a great room with fireplace. The homeowner opted to build a dance studio for the children during the construction process in the "bonus" area on the second floor.
Relocating to the area, the buyer specifi cally sought a waterfront property, and made sure the back of the home took full advantage of its location. A large deck opens to a long, even yard and 67 feet of water frontage. The pier includes a dock slip and has 4-plus feet MLW access.
Sources:
Lisa Longest (listing agent), Exit Gold Realty, office: 410-643-4111, cell: 443-786-4200, lisalongest@exitgoldrealty.com.
Dudley Dixon (builder), Independence Housing Group, office: 443-249-3664, ddixon@independencehousing.com. Joe Bray (buyer's agent), Mr. Waterfront Team, Long & Foster, 410-266-6880, joe@waterfronthomes.org,
waterfronthomes.org
.