What's Up? Teachers Annapolis
Jan 06, 2014 01:20PM ● By Cate Reynolds
Each January,
What's Up? Annapolis
publishes the annual Private School Guide, introducing readers to the wealth of alternative education options available within Anne Arundel County. There are, no doubt, many amazing teachers at these institutions. And we would like to introduce you to some of them.
Meet our
What's Up? Teachers
—private school teachers who go above and beyond their classroom duties to not only educate and inspire their students, but engage the school community as a whole. We all remember a special teacher during our own formative years who guided us in and out of the classroom and had a profound influence on our development and that of others. The following teachers are doing the same for this generation of students.
Photography by TONY LEWIS, JR.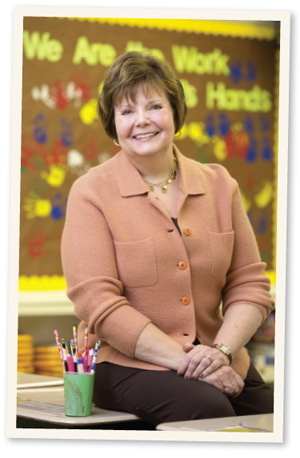 Lynn Miller
ST. MARTIN'S LUTHERAN SCHOOL OF ANNAPOLIS
Degree:
Concordia Teacher's College, River Forest, IL
Years teaching:
39
Years teaching at current school:
20
Grades and subjects taught:
Language Arts, Math, Science, Social Studies, and Religious Studies (1st/2nd); Gifted and Talented program (1st–8th)
Proudest teaching moment?
Each day I have the honor and joy of teaching alongside one of my former first grade students. She is now the second grade teacher at St. Martin's. She told me she wanted to spend her first years as a teacher in the school where she spent some of her happiest days. That is an amazing tribute, not only to me, but to all the teachers who touched her life in our school.
Summarize your teaching philosophy:
I strive to model what I endeavor to teach.
In your opinion, what is the toughest challenge educators have and how are you working to overcome it? Creating balance in education. As technology becomes a larger factor in classroom instruction, it is important to balance the use of these amazing tools with a continued focus on what are still the essentials of a good education. Mastering the basics of phonics, reading, and math facts; good social interaction; and good study habits will continue to remain important regardless of the tools used to enhance any classroom. At the root of all of this is the continuing need for students to learn self-discipline and self-confidence.
"Mrs. Miller engages and nurtures each child to prepare them for a great start with their education. It is not unusual for her to work with a child during her lunch or after school if she can assist them. She makes learning fun and has a wonderful manner that connects with her students. She is a real blessing."