Rockbridge Academy Players on stage in The Music Man
Feb 26, 2014 03:23PM ● By Cate Reynolds
Rockbridge Academy Players present The Music Man. Barbershop Quartet members left to right: Daniel Bakare, Jonny Brenninkmeyer, Ian Cripe, Thomas Schueckler (Photo by Alyssa Bouma)
For Immediate Release by Rockbridge Academy, Millersville, MD
What:
The Music Man by The Rockbridge Academy Players
When:
February 27-28 @ 7:30 pm, and March 1 @ 2:00 pm and 7:00 pm
Where:
Bowie Center for the Performing Arts, Bowie, MD
Tickets:
Purchasing and seat selection at www.rockbridge.org $16 for adults and $12 for children 12 and under.
Taylor Craig (as Constable Locke) performs in the number Wells Fargo Wagon in The Music Man at Bowie Center for the Performing Arts (Photo by Alyssa Bouma)
The Rockbridge Academy players take to the Bowie stage in The Music Man. The students will be singing and dancing their hearts out at the Bowie Center for the Performing Arts this week for four performances only. The show is produced by Rockbridge as part of their music/drama arts program and will run February 27th and 28th at 7:30 pm and on Saturday, March 1st with a 2:00 pm matinee with the final evening performance at 7:00 pm.
Set in the fictional town of River City, Iowa in 1912, The Music Man centers around one character, Professor Harold Hill, (played by senior Schuyler Kitchin of Laurel), a smooth-talking traveling con-man who sells musical instruments and provides free lessons to seal the deal. The upshot is Hill doesn't know a thing about teaching music, giving audiences a moment of hilarity when he declares, "You don't have to bother with the notes."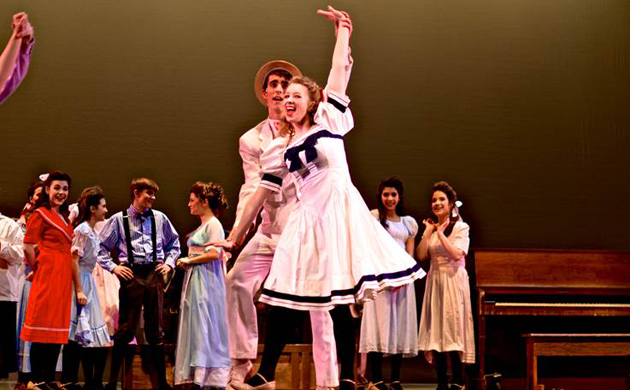 Schuyler Kitchin (as Harold Hill) and Anna Kraus from the ladies' ensemble of Rockbridge Academy Players in The Music Man (Photo by Alyssa Bouma)
Along the way, there are many beloved songs to be played, sung, and danced to, and of course, a love story between Hill and the town's librarian, Ms. Marian Paroo, (played by senior Alexa Cripe). A delicious irony is that Paroo is a part-time piano teacher who does know music, but as they say, love is blind or in this case, deaf, and Marian falls completely for the absolutely charming Hill.
The Music Man was originally a book coauthored by Meredith Willson and Franklin Lacey. It was adapted to a musical and became famous on Broadway in 1957, winning many awards, including five Tony Awards and a Grammy for Best Original Cast Album. Many further successes included a film version and a return to Broadway in 1980 and 2000. The Music Man is truly one of the most well-loved musicals in the world.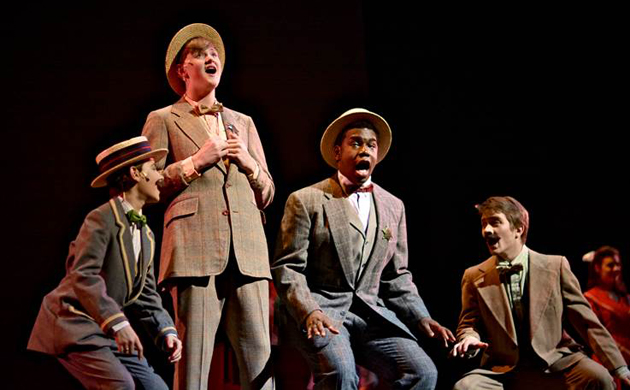 The Barbershop Quartet in The Music Man in the musical number Sincere on stage at Bowie Center for the Performing Arts. (Left to right: Ian Cripe, Jonny Brenninkmeyer, Daniel Bakare, Thomas Schueckler) (Photo by Alyssa Bouma)
This local production is directed by the school's headmaster, Mr. Michael. J. McKenna. The show's choreography is by Mrs. Kellie Diekemper, and Mrs. Mandy Ball will conduct the orchestra.
If you're looking for great family entertainment, then be sure not to miss The Music Man. You will leave the theatre humming and whistling some great American show tunes, and glad you came.
To purchase tickets for the show visit
www.rockbridge.org
.
Show times are as follows:
· Thursday, February 27th @ 7:30 p.m.
· Friday, February 28th @ 7:30 p.m.
· Saturday, March 1st @ 2:00 p.m. and 7:00 p.m.
Ticket prices are $16 for adults and $12 for children 12 and under.