Maryland Day Weekend
Mar 20, 2014 12:02PM ● By Cate Reynolds
By Jake Russell // Photos by Carol Benson
Few, if any, people around the country take more pride in their state and its flag than Marylanders. The red, white, black and gold that emblazon the Calvert and Crossland family arms symbolize a historic tradition throughout the seventh state of the union.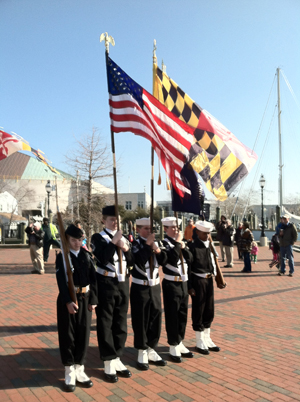 Maryland Day 2014 will be celebrated throughout Annapolis and southern Anne Arundel County this weekend from Friday, March 21st until Sunday, March 23rd. The weekend commemorates March 25th, 1634, the day English settlers first set foot on Maryland soil in St. Clements Island, which is now St. Mary's County. This weekend reexamines the state's storied past beginning with its foundation.
Tours of the Annapolis Maritime Museum, Maryland State Archives, Hammond-Harwood House, Naval Academy,
Historic London Town and Gardens
, William Paca House and Garden, and other locations will all help tell centuries of tales of this great state.
Educational lectures will take place at the Chesapeake Bay Foundation and
St. John's College
during the weekend.
A pamphlet with the full listing of Maryland Day events and location can be downloaded
here
. Visit
Marylandday.org
or call
Take a gander at other big events taking place throughout the area this weekend:
To view more events occurring this weekend, please browse our
online calendar
. Be sure to also follow What's Up? on
Twitter
and like us on
Facebook
.