Hillman, Brown & Darrow, P.A.
Mar 20, 2014 01:03PM ● By Cate Reynolds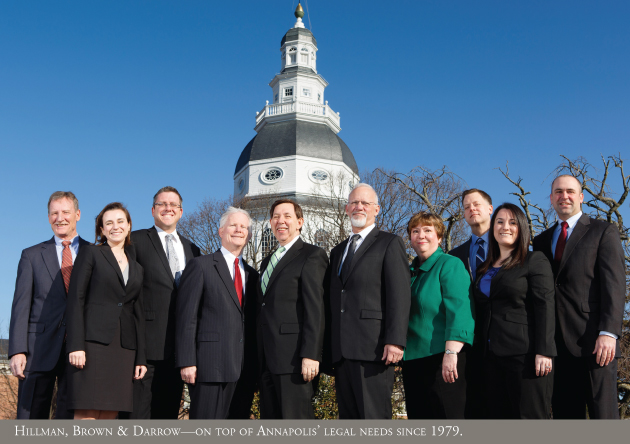 Thirty five years – a milestone in any profession and an even greater accomplishment in the legal community. The law firm first opened its doors as Hillman, Brown & Darrow on October 1, 1979, but the seeds of success were first planted 85 years ago when founder Noah A. Hillman began his career. The deep roots, traditions and core values of Hillman, Brown & Darrow are as enduring as the 110-year-old building the firm occupies just steps from the Maryland State House.
How does a small business thrive in a competitive town like Annapolis for 35 years? Just ask the clients of HBD. Comments cited on avvo.com highlight the firm's character and humanism.HBD attorneys "always have your best interest in mind," one states. Another mentions the firm's attention to detail and guidance "through every step of the process, ending with a successful outcome." The collective goals of Hillman, Brown & Darrow could not be better expressed than by this client:
"Representing the best interests of the client while striving for positive results."
Behind their principles and satisfied clients, are the attorneys and ever-present staff who make up the firm, another important reason why HBD has been active and respected for so long, starting with its five partners—all of whom have been named
2014 Leading Lawyers
.
Samuel J. Brown
, a graduate of Annapolis Senior High School, Anne Arundel Community College, the University of Virginia, and American University's Washington College of Law, concentrates in domestic relations, administrative and real estate law.
Michael P. Darrow
, a University of Baltimore Law School graduate and a Harvard University- trained mediator, has represented many local businesses and contractors, concentrating on civil and corporate litigation, construction law, contract disputes, real estate law, collections and personal injury.
Daniel J. Mellin
, a graduate of Georgetown University and University of Maryland School of Law, concentrates his practice in real estate development and transactions, zoning and land use, business, commercial and collections law,estate planning and probate law.
M. Evelyn Spurgin
, a graduate of Duke University and the University of Maryland School of Law, focuses her practice in the areas of personal injury litigation, workers' compensation, family law, civil litigation, and appellate work.
Jonathan E. Pasterick
, HBD's newest partner, is a graduateof St. Mary's College of Maryland and University of Maryland School of Law, and has more than 15 years of experience withhis concentration in estates and trusts, probate, collections,corporate law, real estate law and administrative law.
Along with the established expertise of its partners, HBD is additionally able to offer clients the energy and acumen of its rising-star associates,
Brian D. Lyman
(2014 Leading Lawyer),
Marietta B. Warren
(2014 Leading Lawyer),
Crighton A. Chase
(2014 Leading Lawyer) and their newest addition,
Lauren A. Torggler
, who comes to the firm with fresh ideas.
The firm of Hillman, Brown & Darrow exemplifies the fusion of a legal heritage steeped in tradition with the imagination and forward thinking required to navigate and conquer 21st century challenges.
For more information about the firm and its attorneys,visit
www.hbdlaw.com
.

Hillman, Brown & Darrow, P.A.
221 Duke of Gloucester Street
Annapolis, Maryland
410-263-3131 |
www.hbdlaw.com
Q. I want to expand/renovate my home or office, where do I begin?
A.
There are many steps necessary to prepare for an expansion. Before hiring a contractor you need to acquire an updated property survey. An experienced real estate attorney should review the plats to ensure you are in compliance with the county zoning requirements and all setback and critical area restrictions. If you violate these restrictions during your expansion, it can be very difficult and costly to correct the problem. When beginning your search for a Home Improvement Contractor, you should obtain multiple bids and have your attorney check each contractor's MHIC licensing status. Upon hiring the contractor, ensure that a written contract is drawn up and executed, to protect all parties and help prevent surprises through the rest of your expansion.
Daniel J. Mellin, Hillman, Brown & Darrow
Q. My Partner and I were married in a state that allowed same sex marriage before it became legal in Maryland. Can I file for divorce in Maryland?
A.
Yes, provided you meet the legal requirements for a divorce in Maryland. Married same-sex couples are treated no differently than married heterosexual couples in divorce and custody cases. If jurisdiction is available in two states, however, you need to determine which state is more beneficial to you. A competent attorney can help you navigate the best course and can also help with other issues affected by the new laws, such as inheritance, insurance and other benefits.
Marietta B. Warren, Hillman, Brown & Darrow