Mulrenin & Associates, LLC
Mar 20, 2014 04:23PM ● By Cate Reynolds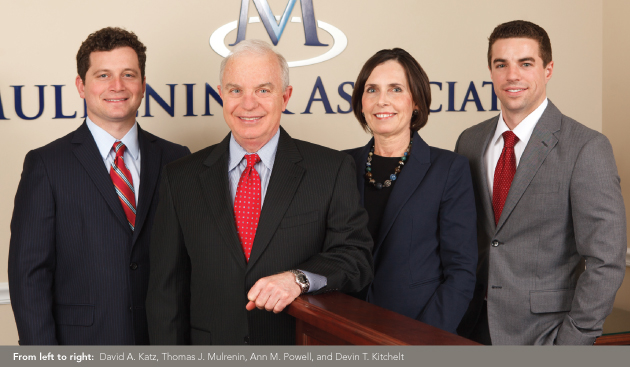 MULRENIN & ASSOCIATES
is a transactional law firm primarily focused on commercial real estate transactions, including the acquisition, sale, financing, development and leasing of large scale projects in the Mid-Atlantic and Northeast regions. The firm actively represents businesses, real estate owners, developers, landlords,tenants, lenders, and franchisees in structuring and implementing commercial transactions.
Thomas J. Mulrenin
, the founding partner, commenced private practice in Annapolis in 1992, concentrating on real estate development, leasing, finance, and general business counseling. Known by his clients and colleagues as "TJ," Mr. Mulrenin has more than 34 years of legal experience in the field of real estate development. He was awarded the 2010 Martindale-Hubbell AV Preeminent Rating, which is the highest possible peer review rating in both legal ability and ethical standards. Mr. Mulrenin graduated from the University of Maryland at College Park and with honor from the University of Maryland School of Law. He advises clients in the acquisition, financing, development, leasing and sale of commercial projects and in corporate and business structure and strategy. Mr. Mulrenin has served as a member of, and counsel to, several nonprofit boards of directors and is currently a director on the Foundation Board of the Anne Arundel Medical Center.
David A. Katz
, a partner of the firm, focuses his practice in commercial real estate acquisitions, sales, financing, development, and leasing. His clients include publicly traded Real Estate Investment Trusts, retail corporations, and private owners and developers of all classes of office buildings, regional malls, shopping centers, and mixed use projects. He also provides counsel in the negotiation of corporate and commercial banking transactions. David acquired his transactional experience as associate general counsel to Severn Savings Bank, FSB, a publicly traded financial institution. Mr. Katz is a graduate of the College of Charleston, received his law degree from Nova Southeastern University and is currently a real estate graduate student at Georgetown University. He has also been recognized as a two time "Rising Star" by Super Lawyers Magazine, Maryland Edition.
Devin T. Kitchelt
focuses his practice in commercial real estate leasing, acquisitions, and financing for national and regional developers as well as owners of local shopping centers and office buildings. Mr. Kitchelt also advises clients in business formation and organization. During law school, Mr. Kitchelt served as an Associate Comments Editor for the
University of Baltimore Law Review.
Mr. Kitchelt gained his transactional experience clerking with Mulrenin & Associates, LLC for two years while a law student.
Ann M. Powell
advises clients in commercial and residential real estate transactions in the areas of acquisition, financing, leasing, development, and due diligence. She further advises business clients and nonprofit organizations regarding entity formation and documentation. Ms. Powell began her legal career as in-house counsel for The Michael Companies, a prominent Maryland real estate developer and broker.She also writes for local publications and serves on the boards ofseveral nonprofits.
To discuss how the firm's experience and capabilities can serve yourneeds, please contact us at www.mulreninlaw.com

Mulrenin & Associates, LLC
1919 West Street, Suite 200, Annapolis, MD 21401
410-573-5005
Q. My partner and I are starting a business venture and acquiring a business location. Do we need an attorney?
A.
Yes. Your attorney can help you choose a limited liability company, partnership, or corporation as your business entity. The attorney can prepare the organizational documents and address financial, governance, licensing and business succession issues. An attorney should review your real estate lease or purchase agreement and your bank loan documents to limit your personal liability. As your business matures, you will need contracts with clients, employment and non-competition agreements, merger and sale contracts, and organizational document modifications.
Thomas J. Mulrenin, Mulrenin & Associates, LLC